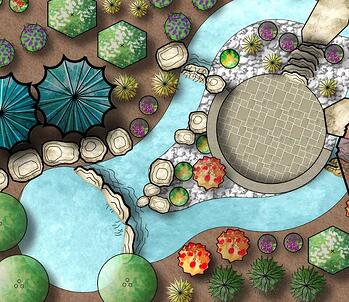 At the start of a new year there is always a lot of talk about planning. The process of planning is an important one with many benefits and can be used in just about any situation including helping resolve or improve any issues you may be having in your landscape.
Installing a new landscape or renovating an existing one can be complicated. There are so many decisions to make and things to think about that it can quickly become overwhelming. However, the process of planning or designing your landscape helps you work through all of those decisions, and dramatically improves the installation process and the success of a landscape after installation.
Think of your landscape as an extension of your home. No one would build a house before having blue-prints drawn up. Having a plan helps you decide where things will go, how they will be connected, and helps you visualize the end product. Putting your ideas on paper also helps to identify and even prevent possible pitfalls. Even if you plan on installing or renovating your landscape in stages, it is helpful to have an overall plan to work towards so that when completed your landscape will flow together seamlessly. Other benefits of a well-designed landscape include:
Save Time, Money And Stress
During the design process challenges will be identified early on which will help you avoid expensive mistakes during the installation process. It is so much easier and less expensive to make or find mistakes on paper than it is once construction has already begun, or even worse, when construction is complete.
Better Final Product
This occurs mainly because of the collaboration between the owner and the designer. This collaboration is so important and it produces a hybrid design that is often better than what either party would have come up with on their own. Also, since the layout of the landscape was thought of holistically all of the spaces and functions you want in your landscape will be there and will flow together seamlessly, even if you installed in stages.
Reduced Maintenance
Whether you have your yard professionally maintained or you do it yourself, the cost of landscape maintenance is ongoing and after time can surpass the cost of the installation itself. Simple things like the shape of your planters can affect how long it takes to mow, trim, and edge your lawn. A good design will reduce your maintenance costs.
Unique Landscape
Proper landscape design will create distinctive and unique landscapes that respond to, incorporate, and compliment unique features and functions of a site, as well as the owners' needs, preferences, and style. No two sites and no two owners are the same, so no two landscapes designs should be the same.