Fenced-in yard, plenty of fresh water, a bouncy ball for rousing games of fetch — your dog has it made in the shade, right?
Time for some tips to make sure your backyard oasis is really fit for your furry best friend.
Pet safe lawn care means knowing the rules about safe fertilizer application, avoiding toxic plants, banishing fleas and being aware of winter dangers while your lawn slumbers.
Lucky for Lucky, we know this stuff.
What's The Doggone Deal With Fertilizer?
Lawn fertilizers come in granule or water-based products. Granules are sprinkled on top, while liquid is sprayed directly on the lawn.
When our crews apply these products, we post signs warning that children and pets should be kept off the grass for at least 24 hours.
The signs can seem kind of scary, but these warnings look more serious than they really are.
Actually, fertilizers are pretty safe.
You may still smell the residual fertilizer, but as long as you wait until the spray fertilizer has dried — about four hours — or until the granules have been watered in, your pets are safe to go outside.
A good watering from either your irrigation system or rain forces the fertilizer down into the soil.
If you're still concerned, we can do spot treatments in your yard, only targeting areas that really need it or avoiding areas where Lola spends the most time.
Or, Opt For Organic
If you want to play it extra safe, choose organic lawn products for the ultimate in pet safe lawn care, but be aware they take longer to work and may not offer the results you'd like.
Avoid Toxic Plants
Some pretty plants, and garden favorites, are poisonous to Lady.
American holly. Begonia. Geranium. Azalea. Vinca. Marigolds.
The American Society for the Prevention of Cruelty to Animals offers a list of plants that are poisonous to pets and a list of safe plants.
Leave A Path for Princess
Dogs love to take the same path through your yard, trampling down the grass and stomping on foliage.
If you have a fenced-in yard with landscaping lining it, leave a path between the fence and the plants for Rover to romp. Make it extra obvious with mulch or gravel. But avoid cocoa mulch— it's toxic to dogs, even though the chocolatey aroma is extra appealing to them.
Flee, Fleas
Fleas breed outside, and they love to hop onboard your unsuspecting pet.
And they don't just chill. Their pesky bites cause sores and rashes, and they can lay as many as 50 eggs a day.
Patrol your yard for likely breeding spots. Fleas love shady, damp areas.
Ticks hang out in tall grass, where it's just a quick hop onto Fido.
You can keep these pests at bay by keeping your landscaping tidy. Get rid of debris and old leaves. Clear out under decks. Trim those overgrown shrubs. Keep your grass cut. Remove thatch — fleas love to lay their eggs in there.
Resist the urge to overwater your lawn. Fleas crave moisture.
Consider a lawn treatment that includes insect control to kill fleas.
Another tip: opt for cedar mulch in areas where Buddy lounges. Fleas hate the stuff.
A Note About Winter Dangers
The ice melt products you — or your neighbors — use in the winter can be harmful to pets. If the main ingredient is either sodium chloride or calcium chloride, it can irritate Rover's paws or hurt him if he ingests it.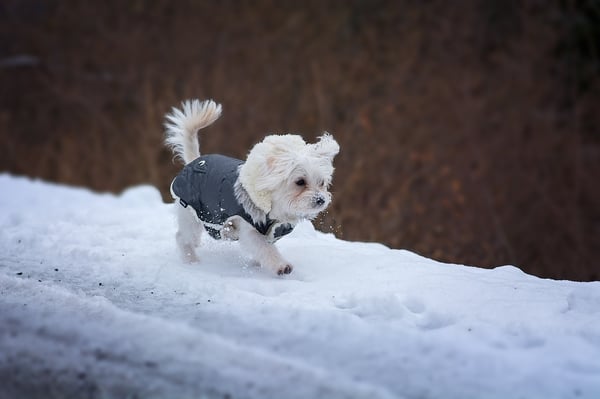 What to do? Wash your furry pal's paws after walking outside on snowy days. You don't want him licking the harmful stuff off his paws.
And don't let him eat snow or drink from puddles while out on your daily walks.
Pet Safe Lawn Care
With Outback
Do you share your yard with a furry family member? Be sure it's safe out there.
The experts at Outback can help with all your pet safe lawn care, from painstaking fertilizer application to tidy landscaping to the best backyard mulch.
Located in Idaho Falls, Idaho, we serve residential and commercial properties in Idaho Falls, Rexburg and Pocatello, Idaho, as well as Bonneville, Madison and Bannock counties.
Contact Outback Landscape at 208-656-3220, or fill out the contact form to schedule an onsite consultation.
We'd love to hear from you.
Image sources: dog walking in snow