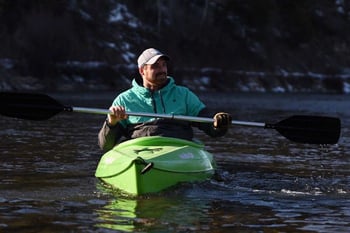 Years in the landscaping industry: 2.5
How did you find your job at Outback? A friend from college was leaving Outback for graduate school and recommended Kirk apply to replace him
Hobbies: Catching trout on the Snake River, volleyball, tennis, snowmobiling, snowshoeing, snowboarding
A Typical Day for Kirk
It might start with him snooping around your house.
Don't freak out. It's part of his job.
He's checking out your personal style, so he can incorporate it into an outdoor space that thrills you.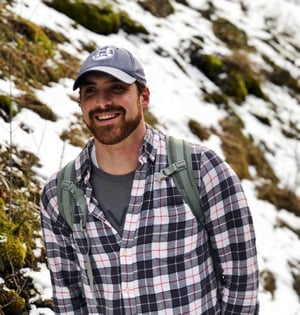 "I like being artistic, creating something new," he says.
When he's not wandering through client yards taking notes and gathering inspiration, he's at the office creating landscape designs, or maybe on a commercial project site estimating the cost for a landscaping job.
"The dream client has an unlimited budget," he says with a laugh.
That's not you? No problem. Kirk loves the challenge of creating a wow-worthy space with your realistic budget.
Maybe the pergola has to go, but you'll still have an outdoor entertaining space that makes your backyard the Friday night hot spot.
Think a patio has to be square or rectangular? Think again.
Kirk loves shaking things up with graceful curves and winding paths, creating outdoor rooms that flow naturally into each other the way your indoor rooms do.
His go-to plants include spruces and evergreens, double Knockout roses, black-eyed Susans, coneflowers, linden and honey locust trees.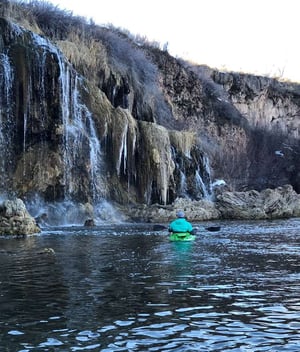 Feeling adventurous? Craving innovative landscaping that looks nothing like your neighbor's place?
Kirk's your guy.
He lived in Ghana, Africa twice, including a six-month stint helping aspiring entrepreneurs start and grow small businesses.
"It took me out of my comfort zone," he says. "I stayed in huts with people I barely knew." He traveled across the jungle canopy on rope bridges, eye to eye with monkeys.
He loves bringing his adventurous spirit to his landscape designs.
"When the paper plan turns into reality, people get so excited," Kirk says. "It's really rewarding to see them enjoy what I came up with for them."
Be Adventurous With Outback
Do you love creating totally unique landscapes? Like Kirk, do you thrive on trying new things?
You might be a great fit for our Outback team.
Need skilled, creative landscaping experts to tackle your property's needs? We're on it.
Located in Idaho Falls, Idaho, we serve residential and commercial properties in Idaho Falls, Rexburg and Pocatello, Idaho, as well as Bonneville, Madison and Bannock counties.
Contact Outback Landscape at 208-656-3220 or fill out the contact form to schedule an onsite consultation.
Want to join our team? Apply here.
We'd love to hear from you.