By this time of year, when summer's over and winter's looming, you might not be thinking too much about your lawn.
It's been watered and mowed all season, right? Time to turn your attention to football and maybe write a check for snowplowing. So long till spring, lawn.
Not so fast.
A few fall lawn care mistakes can do a lot of damage between now and spring.
Avoid these common mistakes.
Leav

ing Debris On The Lawn

It's tempting to just mulch those leaves and twigs and forget about them. Don't be lazy.

If you don't collect all that lawn debris before winter, all the leaf litter, grass clippings and debris is an open invitation for pests, like voles and mice.

These rodents love messy lawns in the winter — it's home, sweet home to them. They'll happily tunnel all over your lawn — and destroy it.

And don't forget — grass needs sunlight to thrive. Leave that mess on your lawn, and it will weaken, attract weeds and maybe even die.

Collect all the debris, then mow your lawn a bit shorter than usual for winter.

Yes, we know — this is a time-consuming task. We call it fall lawn clean-up, and this last mowing of the season takes about twice as long as a regular mowing.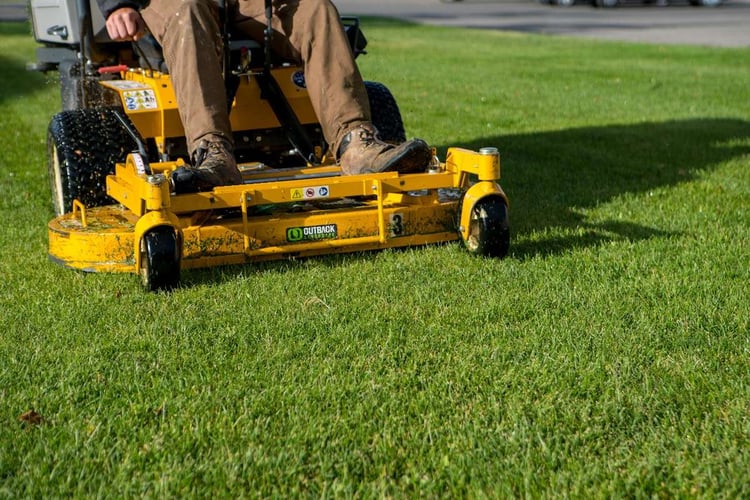 Not up for it? Give us a call. Our expert crews can do it faster than you can on your own.
Messy Planting Beds
Ignore your planting beds and all those leaves and debris will create a real mess by spring. Soggy and wet, they'll settle in, stick to the ground and start to rot.
Yuck.
Or, if it's a mild winter, they'll blow out of those beds and onto your clean lawn, making you wonder why you bothered to do fall lawn clean-up at all.
Skipping Fall Fertilizing
You might have heard us say this before, but it's worth repeating: fall fertilizing is the most important feeding of the year.
Don't skip it.
This fertilizer burst, which happens around Halloween, is all about feeding your lawn's roots. While you sip cider and dig out your cozy sweaters, this feeding goes to work making your grass strong and healthy from down below the soil's surface.
The slow-release fertilizer will make your lawn emerge in the spring strong, healthy and green.
Don't send your lawn into winter hungry. And be sure to use a fertilizer specifically designed for autumn.
Neglecting Sprinkler Winterization
This is another one of those lawn care mistakes that are easy to make, once your thoughts turn from summer to fall.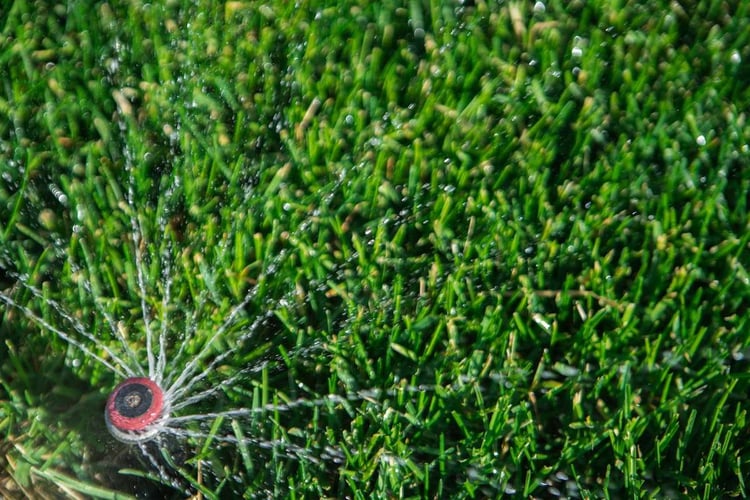 Think you have a self-draining system? Sorry — there's no such thing.
You should always blow out your sprinkler system. If you don't get all the water out of the pipes, valves and sprinkler heads, that water can freeze and expand. Then, your pipes break, and you face a costly repair.
Neglect this task, and expect extra valve problems and repairs next spring.
Leaving Sprinklers On Too Late
Maybe you're a watering fanatic, and you want to water your lawn until the very last second before winter sets in.
Big mistake. Yes, your lawn still needs water in the fall, so it heads into winter well hydrated. But it doesn't need as much water now, during the cool weather, as it does during the hot summer months.
Go ahead and shut your system down, so you don't have to worry about components freezing and getting damaged.
It's OK — we promise.
Skipping Fall Aeration
Fall is a great time to aerate your lawn. Take advantage of it. The tiny cores of soil that are removed to allow better air circulation and moisture break down nicely during the winter, and will help feed your lawn and soil.
Even better, follow up that healthy aeration with the fall fertilization we mentioned earlier. A freshly-aerated lawn allows fertilizer even better access to your lawn's hungry roots.
Make No Mistake — Trust Your Fall Lawn To Outback
At Outback Landscape, we love fall. While it's easy for homeowners to make fall lawn care mistakes, we know it's a great time to give lawns a boost, setting them up to be healthier, happier and greener come spring.
In addition to expert lawn care service, we offer landscape design, construction, maintenance, irrigation and lighting services to enhance your property.
We serve residential and commercial properties in Idaho Falls, Rexburg and Pocatello, Idaho, as well as Bonneville, Madison and Bannock counties.
Call us at 208-656-3220. Or fill out the contact form to schedule a no-obligation meeting with one of our team members.
We'd love to hear from you!