Landscape Maintenance Services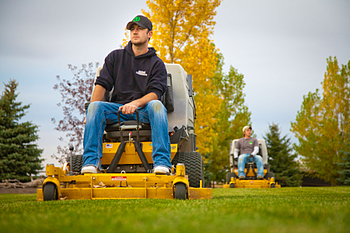 A beautiful yard is a great place to hang out.
Enjoy your morning coffee in the garden. Relax on the deck after work to the soothing sound of a bubbling fountain.
Clean the muck out of your pond filter. Prune all your trees.
Oh, right. It isn't all fun and relaxation. Your landscape takes work.
Let Outback do it for you.
We don't want to beautify your property then never see you again. We'd sort of miss you.

Pond maintenance? No problem
We'll drop by to check on your pond, keep your filters clear of debris, maintain the water quality, and winterize it for you in the fall.
Sprinkler system? We're on top of it.
Don't ignore your sprinkler system. We can start your watering season off on the right track with a spring irrigation start up. We'll turn on your water in the spring, set your clock, adjust all your sprinklers and check the irrigation zones. We'll be back in the fall to winterize it to prevent freezing.
Weeding? We love weeding!
Your flower beds could be the talk of the neighborhood. But not without some effort. At Outback Landscape, we love getting our hands dirty. We'll deadhead, clean up perennials, weed. We can set up a weekly schedule to make sure your beds are blooming, big time.
Messy lawn? Not anymore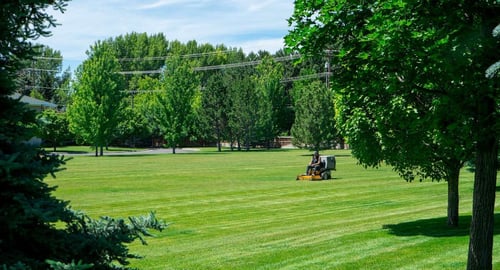 Once you have the lawn of your dreams, it's still sort of needy. It grows. It creeps over onto the sidewalk. It loves to collect leaves from all the neighbors' yards. No worries. Our weekly lawn maintenance program includes weekly mowing, trimming, edging, and blowing off of all walks and paved areas. We collect and haul away all of our grass clippings.
We specialize in full-service lawn care, from spring cleanup through summer mowing and sprinkling through fall fertilization and aeration. If we take care of every inch of your lawn through all of the seasons, we'll get to know it pretty well. That makes for a happy, healthy lawn.
Ask us about our total care package with a price we divide into monthly payments.
Whatever works for you. We specialize in custom maintenance programs and offer 12-month billing for our year-round customers.
We'd love to hear from you.
Located in Idaho Falls, Idaho, we serve residential and commercial properties in Idaho Falls, Rexburg and Pocatello, Idaho, as well as Bonneville, Madison and Bannock counties. Call us at 208-656-3220. Or fill out the form here to schedule an onsite consultation.