If you had to choose one winter safety issue to be concerned about on your property, it would be slippery, invisible, treacherous ice.
Ice means falls. Property damage. Traffic accidents.
When it slicks up your sidewalks, driveways, parking lots and patios, your number-one need is for it to disappear.
It takes a whole menu of ice melt products to do the job right. Here's a look at how the crews at Outback Landscape keep surfaces safe.
Rock Salt: Does Anybody Still Use It?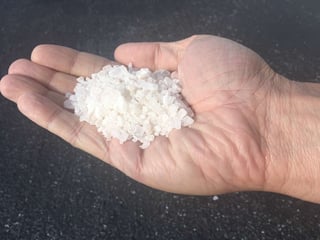 Everybody's familiar with rock salt. Maybe there was a bucket of it by your side door when you were a kid and it was your job to sprinkle it by the door and on the driveway.
But most professional snow and ice management crews don't use straight rock salt anymore. It damages just about everything — concrete, brick, asphalt, stone and surrounding grass and plants.
Instead, they use an ice melt mixture that's less corrosive than straight salt and friendlier to the environment.
Apply it before a storm, and it prevents ice and snow from sticking to pavement. It's a time-released formula, so it hangs around longer on surfaces, working longer and harder than traditional rock salt.
Does One Product Do The Trick?
Ice melt products come in different formulas, with slightly different methods of attack.
At Outback Landscape, our professional de-icing strategy includes a variety of products, depending on the situation. Here's a look:
Liquid Magnesium Chloride
We use this for pre-treating concrete or parking lot areas. This prevents the ice from bonding to the pavement. When plowed or cleared, it's just wet underneath — not icy.
Ice Slicer
This product, produced in Redmond, Utah, is great for parking lots. It's actually mined and then treated with magnesium chloride.
This product includes three different sizes of ice melt — fine, medium and larger pieces. While the fine pieces quickly melt light, thin ice, the larger pieces burn through thick ice and break the bond with the pavement to allow for ice removal.
Ice Slicer won't allow re-freeze like other ice melt products and is much more environmentally safe.
Treated Rock Salt
We use a treated rock salt on sidewalks. This is a finer product, which makes it good for places with foot traffic. The treated rock salt we use is extremely safe for both concrete and landscaping.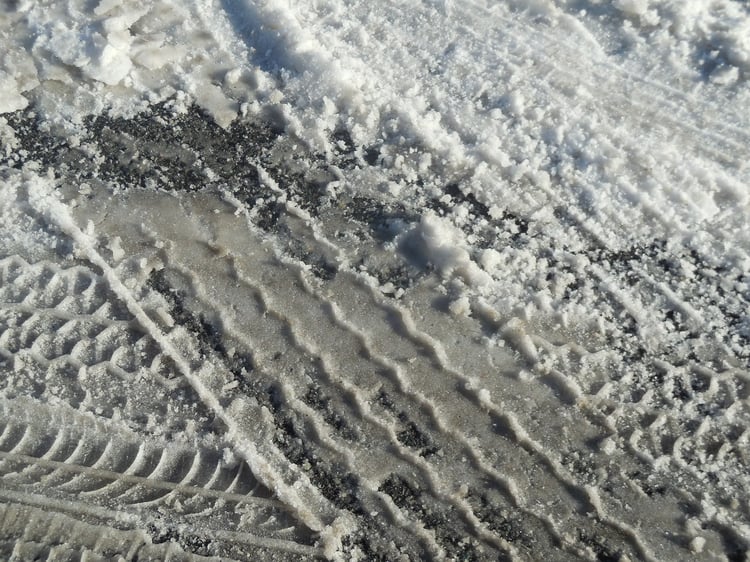 Where Does Brine Fit In?
You may have heard about brine, one of the latest arrivals to the ice melt scene. Brine is a liquid mixture of water and salt. Crews spray it on pavement before a storm moves in, and it helps prevent snow and ice from sticking.
Because it's already in solution form, it starts to work as soon as it hits the ground.
It keeps that first extra-slippery inch or two of snow from sticking, as well as preventing treacherous slicks of ice from forming.
But salt is bad, right? Brine uses just one quarter of the amount of salt as traditional rock salt, so it's better for the environment.
Lots, Driveways, Sidewalks — Am I Forgetting Anything?
Yes — don't forget about tree branches in your fight against ice. You can't treat them with ice melt products, but be aware that tree branches get coated with ice just like other surfaces.
Snow and ice are heavy. Any tree branches that are already damaged or frail could easily topple once weighed down with ice or snow.
And that's dangerous for people and property.
Have a professional inspect the trees on your property before the snow season, so they can prune and trim any branches that pose a hazard.
What About The Environment?
A huge reason to move away from straight rock salt as a de-icer is concern for the environment. Yes, salt melts ice, but then it seeps into area waterways and creates a hostile environment for any wildlife living there.
At Outback Landscape, we only use environmentally friendly ice melt products that won't harm your lawn or plant material.
Outback Will Keep Your Surfaces Safe
Huge parking lot? Lots of sidewalks? We can handle it.
At Outback Landscape, we're snow and ice removal experts. We have crews on call 24/7 all winter long who are trained to look for ice build up and identify safety hazards.
We're insured for snow removal, and all our snow removal equipment has GPS systems on board, so property managers know we were there.
We know your business is important. We promise to have you opened up and ready for business in the morning. If a storm hits during the afternoon, we'll show up to clear your walks and keep your parking lot safe throughout the day.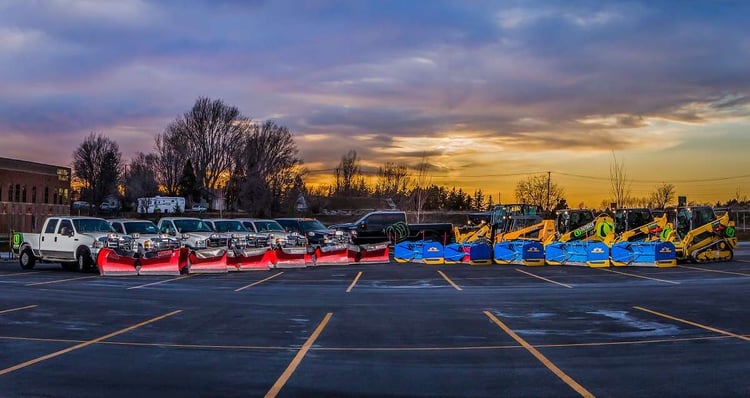 Give Us A Call
We offer a complete menu of snow removal services, including snow plowing, hauling and ice melt applications. Located in Idaho Falls, Idaho, we serve residential and commercial properties in Idaho Falls, Rexburg and Pocatello, Idaho, as well as Bonneville, Madison and Bannock counties.
Contact Outback Landscape for a free snow removal estimate at 208-656-3220, or fill out the contact form to schedule an onsite consultation.
We'd love to hear from you.