Soon, you'll have an exciting new place to ponder, plan and perfect your dream landscaping.
This fall, Outback Landscape will have brand new digs — a sleek, contemporary new company headquarters and design center at 2436 East 26th North in Idaho Falls.
We've been creating and maintaining vibrant, healthy landscaping since 2003, when owner Chase Coates started the business from his parents' home and shop in Rexburg.
As Outback grew bigger and better, we needed a lot more room. So, we're building exactly what we need.
We can't wait to show you.
But for now, here's a sneak peek.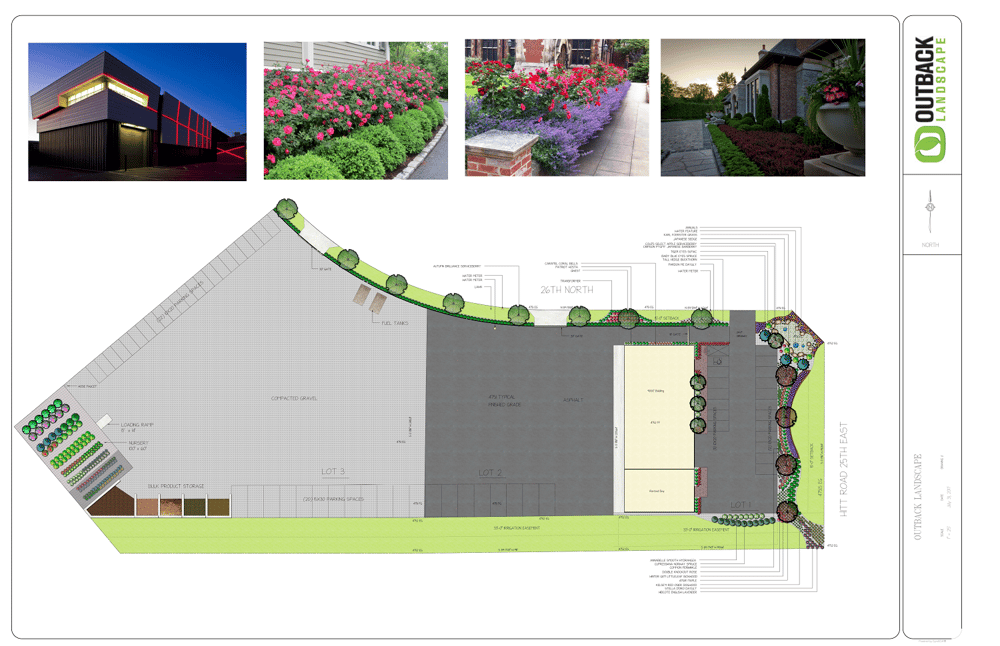 Welcome To The Design Center
We're excited about our new design center, a creative, welcoming space where clients can meet with our designers, review ideas and see materials up close.
Relax and get inspired in our spacious conference room. Want to tweak your design? We'll have a large-format printer on site so we can make changes and print your new version on the spot for your review.
Linger Over Our Landscaping
Of course, we'll have great landscaping. Expect the unexpected.
"We'll have mass plantings and hedges that are very different than most landscaping around this area," Coates says. "There are a lot more plant options for this area than people think."
See for yourself. Come on over and stroll through our plantings. You might fall in love with our 'Tiger Eyes' sumac, 'Caramel' coral bells or 'Pardon Me' daylily.
See something that wows you? Plants will be labeled, so you'll know exactly what to ask us to install at your place.
Expect Even Faster Service
For the first time, all of Outback's operations will be under one roof, instead of spread out at several locations.
"It will make us more efficient," Coates says. "We'll dispatch crews faster. We'll be more efficient in snow removal. We can store salt on site and load it into our trucks. We can store more materials for larger projects." Maintenance on equipment will be easier, he says, and crews will be able to communicate even better.
Employees can track the progress of each job in real time, on a 60-inch flat screen TV monitor.
"We'll be able to provide faster, more efficient service," Coates says, "and be able to serve more clients."
Questions? No Waiting
We'll be adding a full-time customer service maintenance representative to answer customer questions on the spot.
Need information about billing, pricing or scheduling? You'll have it, lickety split.
Wonder how much it will cost to have us service your property? We'll get your address and measure it instantly, via satellite, and give you a price.
What's Up At Our Construction Site
Crews broke ground on our new place March 1 and have been making steady, exciting progress.
The building is framed and concrete work is done.
Next up: the roof, and roughing in the utilities.
After that comes sheetrock, interior finishes, paint and flooring.
We should be based at our new headquarters by mid- October.
Coates put a lot of thought into the striking contemporary design of our new site.

"I wanted it to be noticeable," he says. "We don't want to blend in. We're on a busy road. I want it to look different than the buildings around us.
"We take care of nice properties that look great," Coates says. "Where we work should look great, too."
Pride and Professionalism
We visited landscaping companies all over the country to get ideas. There's a professionalism at East Coast landscaping firms that impressed us.
"They're run like a business, and we're bringing that professionalism to our area," Coates says.
"This is a business — not just guys mowing grass."
Why We Can't Wait To Move In
Coates started Outback in 2003 working out of his parents' house and shop in Rexburg. The company was based there until 2011.
After we outgrew that space, we moved to Idaho Falls, but rented office space separate from our unheated equipment yard, about 15 minutes away.
Coates has been looking for a new, bigger, consolidated space for five years.
"I wanted all of us to be under one roof," he says. "So we can work as efficiently as possible, with crews, materials, and maintenance. I want it to feel like everybody works for the same company, with everything we need at one location."
While our current location is 1,800 square feet with a 40 by 40 foot equipment garage, our new headquarters will be 12,000 square feet, on four acres.
Plenty of room for Outback's growing business and its 30 employees — who are pretty excited to move in.
"A lot of people have been with me for five to 10 years," Coates says. "There's a significant amount of work everyone has put into the company.
"The best part is seeing us come this far and watching everybody be excited about moving into a place this nice," he says.
"They'll be proud to bring clients here. It'll be a showpiece."
Get In On The Excitement
As our business has flourished over the years, we're grateful for all our loyal customers who helped make us a success. We're looking forward to our continued partnership with you in bigger, better surroundings.
New customers, we can't wait to meet you — and help make your landscaping dreams a reality at our new place.
Located in Idaho Falls, Idaho, we serve residential and commercial properties in Idaho Falls, Rexburg and Pocatello, Idaho, as well as Bonneville, Madison and Bannock counties.
Contact Outback Landscape at 208-656-3220, or fill out the contact form to schedule an onsite consultation.
We'd love to hear from you — and we'll see you at our new place soon!