Water Feature Construction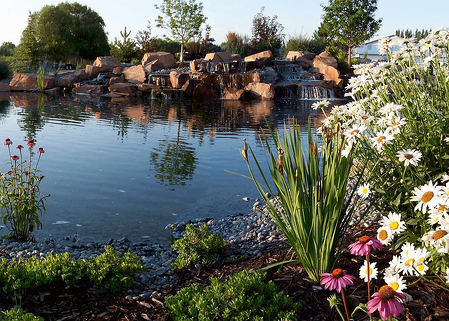 Nothing soothes the soul after a long day at work like the sound of moving water. At Outback Landscape, we know all about water features, from small fountains perfect for a patio to ponds stocked with darting koi to waterfalls that make you feel like you're away on vacation.
Water features are completely customizable, so we'll work with you to find a perfect fit for your landscape.
Soon, you'll have company. Songbirds love water. You'll see them sipping and splashing in your fountain. Frogs and dragonflies will visit your pond — or maybe move in. Love the graceful movements of koi? We know just what they need in a pond, and can set you up. Worried about the maintenance? We're happy to stop by every week or so to clean up your pond, check the filter, make sure everything is running smoothly.
Located in Idaho Falls, Idaho, we serve residential and commercial properties in Idaho Falls, Rexburg and Pocatello, Idaho, as well as Bonneville, Madison and Bannock counties. Call us at 208-656-3220. Or fill out the form here to schedule an onsite consultation.