Ready to turn your backyard into an inviting entertainment space all of your friends and family will enjoy? Installing a deck can give you a place to grill out, enjoy drinks after a long day, watch the kids play or just enjoy being outdoors.
You have a few choices when it comes to the type of deck you can install. The most popular material options are composite decking, wood decking and pavers (if you decide to go the patio route).
Each material looks, feels and, of course, costs different, so compare your options before constructing your dream deck or patio space.
Here's a look at the cost of wood vs. composite decking vs. a paver patio to help you decide which is best for your Idaho Falls backyard.
Cost Of Wood Deck Construction
The main draw for installing a wood deck vs. composite decking is probably its cost:
Pressure-treated wood:

$16-$18/square foot (lasts 10 to 15 years)

Cedar or redwood:

$20-$22/square foot (lasts 15 to 20 years)
Although it will have a lower initial cost to install, wood can end up being more costly because of its maintenance requirements. Wood needs to be cleaned and stained every few years, and it can also get warped or buckle during time.
Cost Of
Installing
Composite Decking
While natural wood decks have been a top choice in the past, composite decking is beginning to catch up in popularity because of its durability.
The cost to construct a composite deck ranges from $20 to $28 per square foot, and it can last 25 to 30 years. There are a variety of color, texture and style options with composite decking, so you can achieve the look you're after.
Composite decking is normally made up of some kind of plastic material, making it more low-maintenance than wood. You don't to worry about rot or insects damaging this material, which is a big bonus. However, it can still get scratched and warped like wood during time.
How A Paver Patio Compares
Paver patios have a way of really enhancing and adding value to homes. Since these are on the ground, you can also surround them with eye-catching plants to create a stunning outdoor room.
You could create a deck that leads down to a paver patio or a stand-alone patio (either connected or disconnected from your home), depending on your preferences and landscape design.
A paver patio can cost anywhere from $9 to $20 per square foot depending on things like its size, the type of pavers used and the level of detail involved.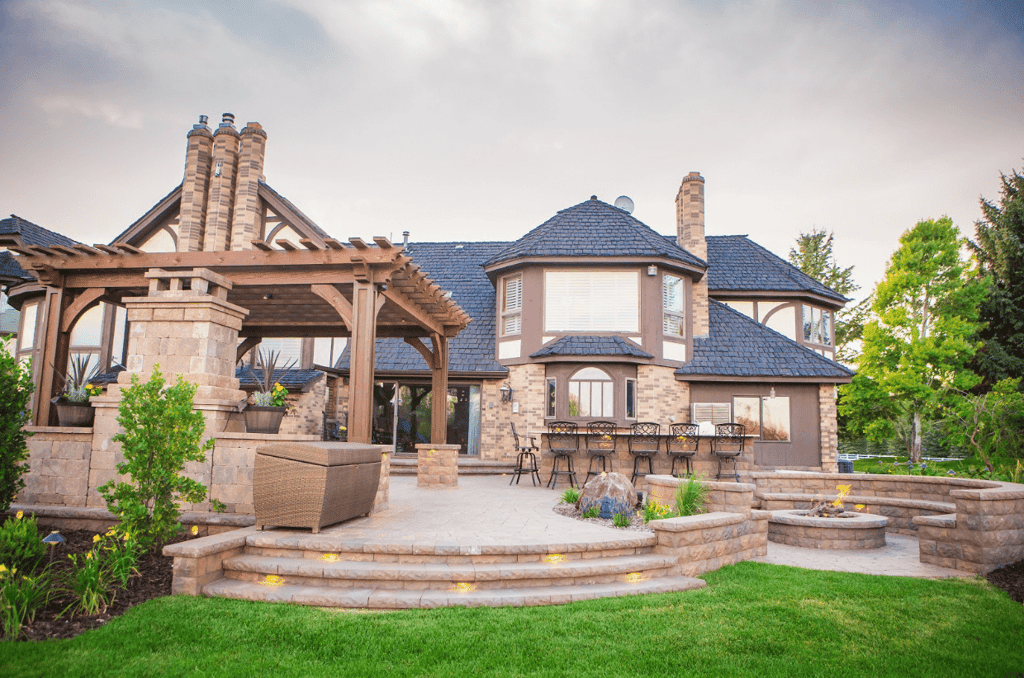 A professionally installed paver patio can last decades if it's well maintained. You'll just need to reseal and clean your pavers every two to three years, depending on the amount of traffic it receives. And if a stone gets cracked or damaged, you can replace it with a new stone.
Find Qualified
Deck Builders In Idaho Falls
The most costly mistakes you can make when it comes to constructing a deck or paver patio are choosing an inexperienced contractor and low-quality materials. If you do either one of those things, you could end up paying a lot more to fix mistakes or redo the entire project. And there's no reason to pay for something twice.
That's why we start our construction projects at Outback Landscape with a professional landscape design that incorporates your ideas and the logistics of the deck.
Once you sign off on the design, we'll get started on the construction process and then move onto installing your hardscape feature.
We can also add landscape lighting, seating walls, fire features, shade structures or plants to further enhance your outdoor space and extend its use.
Ready to install a deck you can enjoy for years to come? Call us at 208-656-3220, or fill out a form online to hear from us shortly!