If you're a property manager responsible for keeping your facility safe during winter's onslaught of snow and ice, peace of mind is everything.
Turns out you can buy it — with a seasonal snow removal contract.
Pay one fixed price to have your property plowed for the season, no matter how many — or how few — times it snows.
You lock in the price for three years. Then, rest easy. You know Outback snow removal crews will show up every time it snows at least one inch, from November 1 through March 15.
"It's Like Buying an Insurance Policy"
A seasonal snow removal contract is easier for budget planning, because your snow removal costs won't vary wildly month to month through the snow season.
You pay the same fixed amount, no matter how many times your snow removal contractor ends up plowing your property.
"It's like buying an insurance policy," says Outback president Chase Coates. "Instead of guessing at how much you'll spend on snow removal each month, you'll know exactly how much, up front."
What if it's a really mild winter, and you've paid money but hardly need any snow removal?
Trust us, it all evens out.
Chances are, the next winter will be plenty blustery. Or the one after that.
A Three-Year Promise
Most commercial businesses are happy to have a set snow removal budget, Coates says, especially HOAs and apartment complexes, which work on monthly budgets.
Sign that seasonal contract, and you can relax about your snow removal.
You know the plows will show up once there's an inch of snow, with the right equipment, materials and crews to do the job right.
That's the promise they made you with that contract.
"It basically buys you a spot in the lineup, guaranteeing you service," Coates says. "We're making you a promise. We'll have the right equipment. We'll take care of you. And you lock in the price for three years."
Outback customers also have the option to fold in a snow removal contract with their summer maintenance agreement and spread that cost over 12 months.
Seasonal contracts are great for property managers who want to arrange for snow removal, then forget about it. No worries about draining your budget bit by bit every time the snow piles up. And no pesky invoices to deal with every time it snows.
Pay for Peace of Mind
As a commercial property owner, you know how crucial it is to keep your property free of snow and ice. You need to safely open your business on time, even after a storm.
You want skilled, trained and prompt crews to keep your walks and lots safe, no matter what winter dishes out.
At Outback Landscape, we know you're paying for more than just snow and ice management — you're paying for peace of mind.
Safety and accessibility are crucial for a commercial property owner. It has a huge impact on your business.
You want fast, skilled, reliable commercial snow removal that will keep everyone who works at or visits your property safe.
Trust Your Snow Removal to Outback
Our team monitors the weather and prepares for storms three to four days out for our clients.
Our staff includes certified snow professionals, and we're also insured for snow removal. All of our snow removal equipment has GPS systems on board and is well maintained.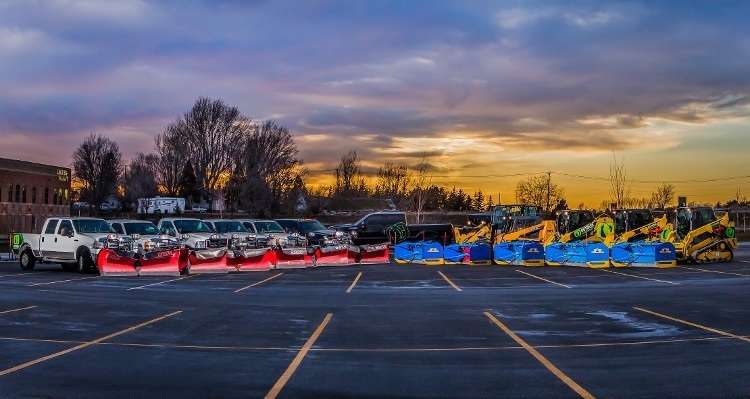 We give you what you pay for — a complete menu of snow removal services, including snow plowing, hauling and ice melt applications. We only use environmentally friendly de-icing products, so they won't harm your property's turf or plant materials.
Located in Idaho Falls, Idaho, we serve residential and commercial properties in Idaho Falls, Rexburg and Pocatello, Idaho, as well as Bonneville, Madison and Bannock counties.
Contact Outback Landscape for a free snow removal estimate at 208-656-3220, or fill out the contact form to schedule an onsite consultation.