Everybody loves saving money. So when you're comparing commercial snow and ice removal companies, it's tempting to choose the cheapest one.
But a lot of factors are involved when it comes to commercial snow removal pricing.
What's included in the services? Deicing? Plowing parking lots? Hauling snow? Clearing sidewalks? Applying a pre-wetting agent?
Then there's snow removal insurance coverage and workers' compensation. And the cost of top quality equipment.
Let's take a look at the average cost of commercial snow removal in Idaho Falls — and what factors go into that pricing.
What's The Average Cost?
Here in Idaho Falls, expect to pay $110 to $150 per hour to clear a large lot, depending on the loader or plow size.
De-icing costs are based on the pound, and cost will vary, depending on the ice melt products used.
More expensive ice melt products require less product to do the job and don't damage sidewalks and landscaping. The cost ranges from $550 to $800 per ton.
Why Do Commercial Snow Removal Rates Vary?

Lots of reasons. Be sure you know exactly what you're paying for before you hire a commercial snow removal service.
Commercial snow removal rates vary because not all companies offer the same level of quality and service.
Here are some factors that help determine commercial snow removal pricing — and why some companies may cost less.
Maybe They Don't Have Required Insurance
If a company doesn't have snow removal insurance and one of their crew members is injured on your property, you'll be liable. Trust us — that's no cost savings.
Do They Have GPS?
If a snow removal service has GPS systems installed on their equipment, they can track where their machines are at all times and how long they were there.
This comes in handy if you ever have questions about when and where the equipment was on any given day.
And, if someone is injured and says they slipped on the ice in your parking lot, your contractor should be able to provide court-admissible GPS reporting on their plowing and deicing crews.
All Equipment Is Not Equal
Not every commercial snow removal company has top-notch equipment, and that may be reflected in their lower price.
You want a company with a variety of snow removal machines, all in good working order. When the snow moves in, you want to be sure they'll show up, equipment ready to tackle the snow.
If your property has parking lots, sidewalks and walkways, it's going to take a mixture of plows and blowers to maintain the site.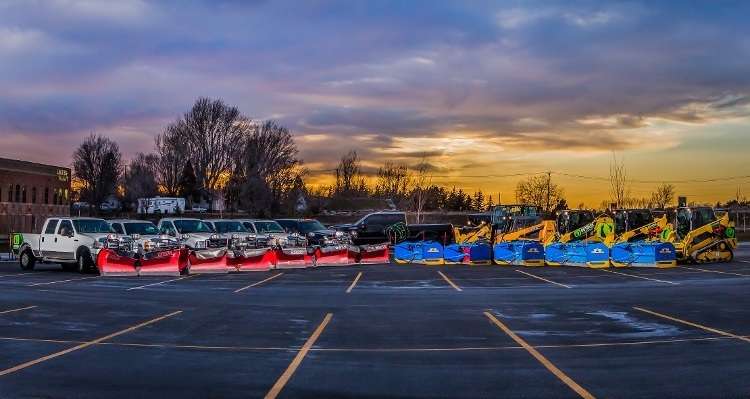 Make sure your company has the equipment they need to handle your entire property.
Do They Train And Certify Their Crews?
The best snow removal equipment is only as good as the operators behind the wheel. Employing and training top-notch crews costs money — an investment not all snow removal companies may be willing to make.
Are You Really Saving Money?
You might think you're saving money by hiring the snow removal company that charges $25 per push less than everybody else.
But is it really a good deal when they miss a plowing because they don't have back-up equipment, or their crews don't have the training or skill to handle a big storm?
Included In Our Rates: Peace Of Mind
At Outback Landscape, we know you're paying for more than just snow and ice management — you're paying for peace of mind.
Safety and accessibility are crucial for a commercial property owner. It has a huge impact on your business.
Our team monitors the weather and prepares for storms three to four days out for our clients.
Our staff includes certified snow professionals, and we're also insured for snow removal. All of our snow removal equipment has GPS systems on board and is well maintained.
We give you what you pay for — a complete menu of snow removal services, including snow plowing, hauling and ice melt applications. We only use environmentally friendly de-icing products, so they won't harm your property's turf or plant materials.
We'd Love To Hear From You
Located in Idaho Falls, Idaho, we serve residential and commercial properties in Idaho Falls, Rexburg and Pocatello, Idaho, as well as Bonneville, Madison and Bannock counties.
Contact Outback Landscape for a free snow removal estimate at 208-656-3220, or fill out the contact form to schedule an onsite consultation.