What really sets a good, professional landscape company apart from everyone else who calls themselves a landscaper? Great planning and design. The fact is that you can collect as many proposals on a project that you would like from every landscaper you can possibly think of, Google, or find in a newspaper.
Without a clear picture of what you are looking for and some great ideas from a reputable company you have absolutely no idea what you're going to get in the end. That's why every project at Outback Landscape starts with a design, It is much cheaper to make all of your mistakes on paper than during actual construction.
This particular patio installation started with a design and a clear vision of what was trying to be achieved. This patio features the three-piece Dublin paver by Belgard in Bella.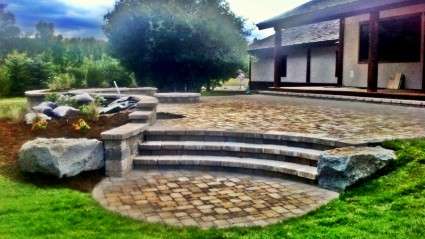 Features:
400,000 BTU Propane Hot Wire Ignition Fire Pit
Almost 30′ of built in seat wall for entertaining large groups
Three stainless steel weirs built in under the seat wall – These pour directly into the patio and recirculate
L.E.D. Outdoor lighting system installed under all steps and seat walls
L.E.D. lit fountain in patio
Outback Landscape employs full time in house designers capable of rendering your projects in 2D and 3D, Creating a plant selection list for you to choose from, and putting together samples of materials for you to pick from. If you would like to work with us on a project please call the office (208) 656-3220 to set up a no obligation meeting with one of our talented team members.