One of the biggest decisions you will make about your landscape is which hardscape material to choose for your patio and other outdoor areas.
Unlike plantings and furniture, hardscape materials are not easy to change once they are installed, so it's a big commitment. Many of our clients ask us, "What is the best hardscape material for my new patio?"
It's not an easy answer. It really depends on your style, vision and budget. And you have three very distinct choices when it comes to hardscape materials in Idaho Falls.
To help you decide which hardscape material is the best choice, we're going to discuss pavers vs. natural stone vs. concrete.
Your patio is where you'll spend most of your time in your landscape, so you'll want to pick a hardscape material that creates the right atmosphere for your landscape design.
What Style Patio Are You Looking For?
As you think about your patio function and size, you'll want to consider what each material offers and how that fits in your overall landscape design.
Do you want a symmetrical or more natural look? Do you want colors that blend with or contrast the colors of your home?
Hardscaping materials come in a variety of colors and textures. Some materials are more suited for traditional and historical homes while others are perfect for modern and contemporary designs. For patio installations in Idaho Falls and the surrounding areas, you'll need to be sure the materials you pick hold up in various weather conditions and with installation.
And is some cases, you may want to blend pavers, natural stone, or concrete to create accents, patterns, borders or even combine a mixture of sizes and contrasting shapes.
Now that you've determined the style of your patio, here are the hardscaping materials you need to consider.
Concrete Pavers For Your Patio
Concrete pavers offer a multitude of style choices — from modern to classic —that are beautifully suited to many patios, outdoor kitchens and pool areas and offers many choices for designs. Classic style pavers that mimic the look of brick are a popular choice for traditional and historic style homes because it is the ideal paving material if you want to create an established and authentic look. But the modern style — with irregular shapes and precision cuts — can be used in modern and Mediterranean landscapes as it is easy to adapt for use in more contemporary designs.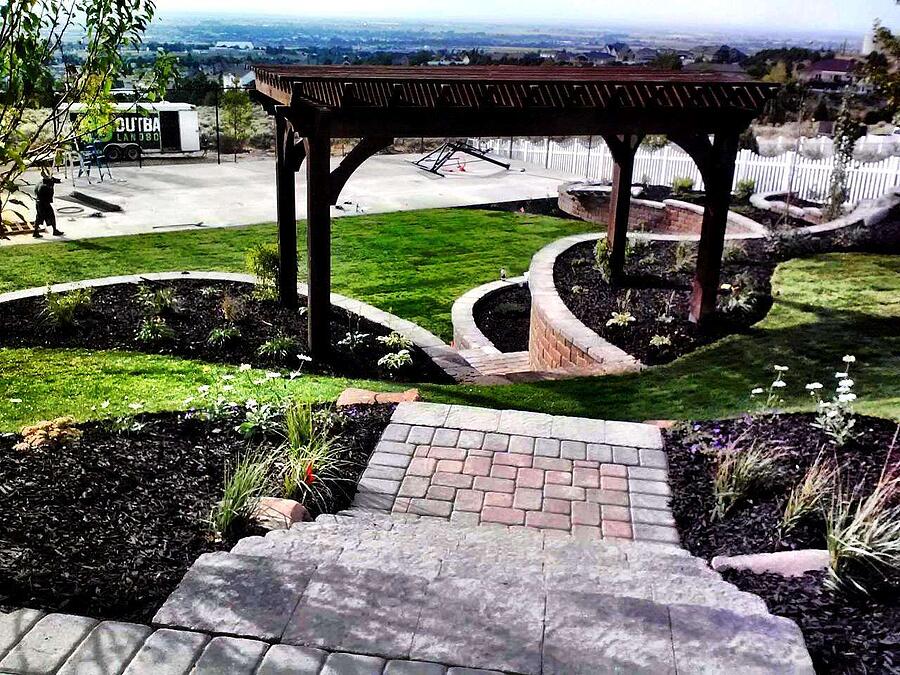 Traditionally rectangular in shape, Concrete pavers can also be irregular or square shaped and laid in many patterns including herringbone, basket weave and even circular patterns. The biggest advantage to concrete pavers is the variation of colors — from white wash to grays and browns to red — so you can choose to mix and match colors or alternate depending on your pattern.
Concrete pavers are ideal for Idaho Falls' climate because they can rise with the winter freeze and settle back into place during the summer thaw, allowing them to "flex" with the temperatures, whereas regular concrete would crack. If damage does occur, pavers can also be pulled up in isolated sections and re laid without tearing out the entire area.
Concrete pavers will cost up to $24.00 per square foot to install depending on the size of the project, access, slope, shape and other variables.
What are the Cons of Installing Concrete Pavers?
Concrete pavers are often more costly than other pavers because it requires a lot of grading, backfilling and labor to install and is prone to shifting and breakage — though with skilled installation and regular maintenance, your landscape installer can curb the adverse affects of weather and age.
Natural Stone Pavers For Your Patio
It can be difficult to choose the best stone for patios — as you have a lot of options when it comes to natural stone pavers. You can choose flat-topped uniform stone or rough-edged irregular shapes. Natural stone pavers can be made of slate, flagstone, travertine, and limestone — colors vary naturally and offer a rich, textured, earthy appearance. Stone quarried in Idaho tends to be high in iron, so natural colors skew more towards oranges and blacks.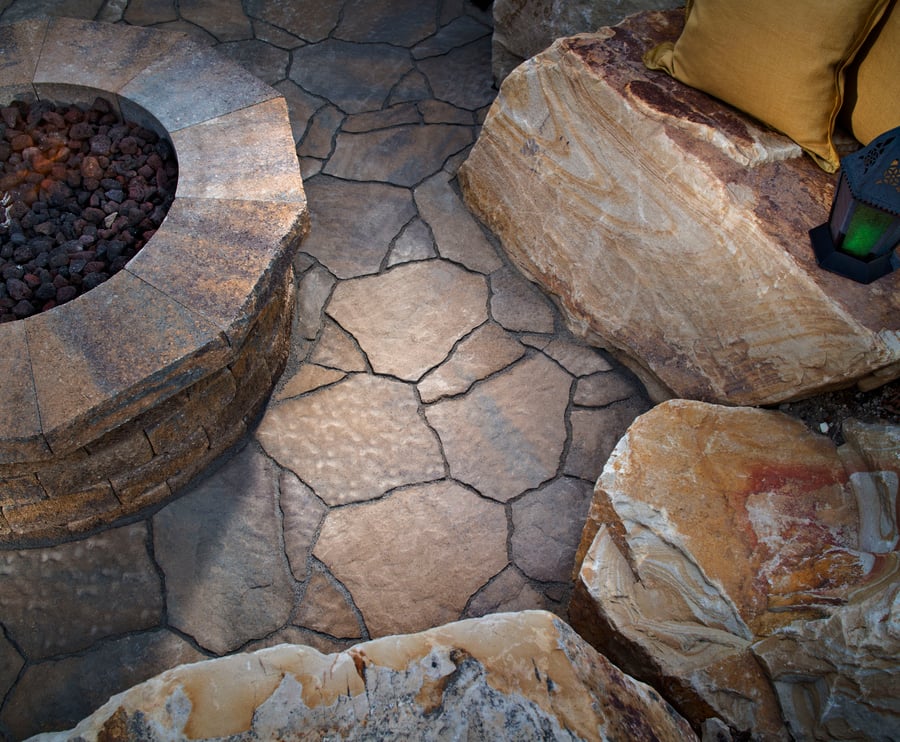 The type of natural stone you choose depends on the look and feel of your patio and landscaping. Irregular flagstone can create a gorgeous, rugged look with a lot of detail, while uniform dimensional stone offers a more linear and symmetrical patterns.
Natural stone pavers will cost around $24.00 per square foot to install depending on the size of the project, access, slope, shape and other variables.
What are the Cons of Installing Natural Stone Pavers?
Because it needs to be excavated from a quarry, natural stone is expensive. It also requires more labor to install and level due to the uneven thickness and irregular shapes of the stones. Some types of stone can discolor unevenly in the sun and incur damage by snow and ice removal techniques.
Natural stone can shift and move over time — especially if your landscape requires a lot of grading or backfilling — but if they've been installed properly they'll last a long time without cracking. Depending on the spaces and fill between stones, you'll need to watch out for expanding gaps and weed growth. Stones can be set in concrete, which can also crack and require repair.
Poured Concrete Patios
Traditional, textured, gray poured concrete is the most inexpensive yet versatile option. Poured concrete patios can be formed into any shape and thickness, which means you can have an affordable patio to suit any function in your yard, from simple dining to a pool surround.
If you want to add more style to your poured concrete patio, you can have it stamped, scored and colored to accommodate any pattern and color scheme. Like concrete pavers, concrete is ideal for creating level surfaces. It's also an environmentally conscious choice because it's made from limestone — which is an abundant natural resource — and is available locally. Additionally, it's the easiest material to take care of because it's durable and only needs to be resealed every few years.
Traditional gray poured concrete will cost around $4.00 per square foot to install depending on the size of the project, access, slope, shape and other variables. And stamped, scored or colored concrete will cost around $12.00 per square foot to install.
What are the Cons of Installing Poured Concrete?
Due to weather changes, extreme seasonal temperatures and age, concrete can crack — no matter how well it was initially installed and how many joints were put in place to prevent it. It can also be slick when wet, so you'll need to consider this if you are planning to install it around spas or pools.
Though concrete is the most economical option, the cost to repair cracks in stamped concrete is usually higher than other materials and the repairs are often noticeable. It can be difficult to color match patches for cracks and other damage and if the crack is in a large area you may need to have the concrete removed and re-poured.
Natural Stone vs. Concrete vs. Paver Patio?
Your patio will be where you will spend most of your time outdoors. Whether you are hosting outdoor parties or just enjoying a relaxing day around the pool, your choice in materials will most often reflect your home's style and architecture. And there are many other factors to consider when you are comparing pavers vs. natural stone vs. concrete — including price, design options and maintenance.
And your patio might not be the only hardscaped feature in your yard. Hardscape materials can also be used in these areas to create retaining walls, outdoor kitchens, fireplaces and fire pits — and even paths, walkways and driveways. If your landscape has several of these elements, you may want to consider materials that can easily blend all of these elements together to create an inviting and natural atmosphere — and increase curb appeal.
The best way to determine which hardscape material is right for you is to have one of Outback's hardscape specialists come out and visit your property. As a certified Interlocking Concrete Pavement Institute (ICPI) paver installation company, Outback Landscape will help you to pick the right shapes and patterns to build the patio, walkway or driveway of your dreams.
Located in Idaho Falls, Idaho, we serve residential and commercial properties in Rexburg, Pocatello and Idaho Falls, Idaho, as well as Bonneville and Bannock counties. Call us at (208) 656-3220 to set up a no-obligation meeting with one of our talented team members. Or fill out the contact form and we'll be in touch.