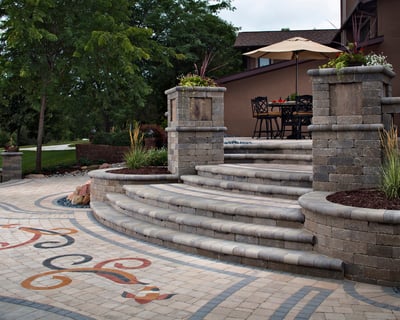 Pavers are a great way to add more interest to the patios that make up your outdoor rooms, but there are so many pattern and design options available. Based on the style of your home and your décor preferences, the possibilities are endless.
A patio should be designed as a true extension of your home. Even if the house wasn't built at the same time as the patio, you want the end result to look like the two go together.
Luckily, there are a couple of tried-and-true patio paver patterns that are popular in Idaho Falls and fit all of the common home styles.
You can even enhance these prevalent patterns with your own unique features, such as the area rug we describe below, to make your patio one of a kind. Since we are a Belgard certified installer, we'll also list the Belgard products that go best with each paver pattern.
Here is a list of the top patio paver patterns:
The Rustic Look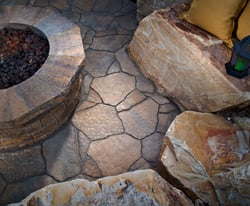 The rustic patio paver pattern looks very natural, using irregular shaped pavers like flagstones that are pieced together for a truly natural look — as if the patio has been placed there by Mother Nature herself.
Some homeowners like to have this rustic look in the center of their patio but then edge it with a solid soldier row (which is exactly as it sounds — pavers stacked vertically right next to each other) to add some formality and a clean finish. The rustic look matches well with farm homes or ranch-style homes.
Belgard's Arbel pavers that look like flagstone work perfectly here. You choose this style if you like an informal, natural look.
The Running Bond Pattern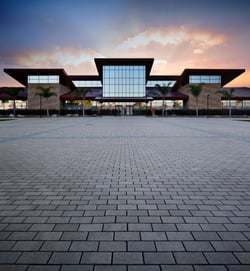 This simple pattern can be straight or curved and is reminiscent of bricks laid out in rows where the seams don't line up from row to row, like a traditional brick schoolhouse.
This is why it usually pairs nicely with a brick home or traditional style home to continue the same look.
Belgard's Holland pavers that look like true brick work well with this pattern.
You choose this style if you are a traditionalist who likes order and matching your brick home to your pavers.
The Basket Weave Pattern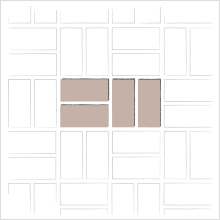 The basket weave pattern is similar to an Easter basket. If you have eight similarly shaped pavers, imagine a square where two pavers are vertical in the top left and bottom right of the square and the remaining pavers are horizontal in the top right and bottom left of the square.
As you repeat this pattern, you create the basket weave. Belgard's Holland pavers also work well with this pattern. You choose this style if you like a traditional, organized look.
The Herringbone Pattern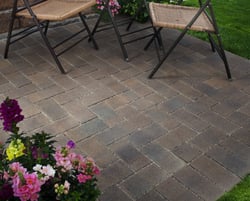 For this one, think of your grandfather's old tweed jacket. The herringbone pattern is basically an organized zig-zag pattern. Pavers are laid in alternating directions creating a "V" shape.
This pattern, which would go very well with a colonial style home, is known for being strong and durable, so it's recommended in high-traffic areas.
Just like the other patterns, a herringbone style patio using Belgard's Holland pavers can be edged with a soldier row to complete the look. You choose this style if you prefer a classic, trendy look.
Area Rug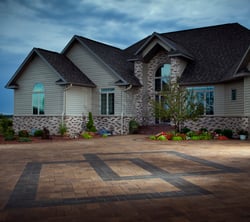 A very popular trend today is to create a smaller rectangular or oval shaped patio paver pattern that is in the center of another opposite pattern. Designed with different colors and shapes, it creates a classic area rug effect in the patio and can be used on any style of home.
Belgard's Cambridge Cobble or Dublin pavers that come in three different sizes could create a nice area rug. You choose this style if you like to create a living room feel and dress up your outdoor room with a little something special.
No matter which pattern you choose, any of these paver patterns will match well with almost any style of home. The herringbone paver pattern may work great with a colonial style home or traditional style landscape, while rustic pavers may go well with a home accented with stone, but these paver patterns can be adapted and mixed and matched with your home to create your perfect look.
The texture of the paver used is what really complements the house, such as tumbled or weathered pavers to go with rustic homes or smooth, sleek, polished pavers to match more modern homes.
What Does A Paver Patio Cost?
For a paver patio, a homeowner should expect to spend $16 to $27 per square foot. At the higher end of the price range is more intensive labor, more expensive materials, as well as extras such as seat walls, area rug pavers and extensions such as steps. All of these additions can be built with pavers and matching retaining wall blocks.
The most challenging part of patio paver installation is the creation of the foundation. We start with 8 inches of compacted road base and then add a 1- to 2-inch setting bed of sand, followed by the pavers. These steps are essential for a long-lasting patio. If there is more material to dig out and haul away to create this base, then that adds to the labor required.
Maintaining A Paver Patio
Maintaining a paver patio starts with a sealant applied at installation completion to maintain color and protect the pavers from wear. From there, we like to reapply sealer every two to three years, particularly when using a flat look or matte sealer. You can also opt for the super high gloss sealer that gives that wet look, but this is a higher maintenance product that needs to be reapplied annually to preserve the look.
Some people also prefer to pressure wash paver patios at the start of each spring season to clean off any salt and ice melt. If the base was installed properly, the patio shouldn't shift during winter. We can always come in to assess the paver patio and ensure it's still performing well and doesn't need additional maintenance, adjusting or re-sealing.
Need Some Paver Patio Help?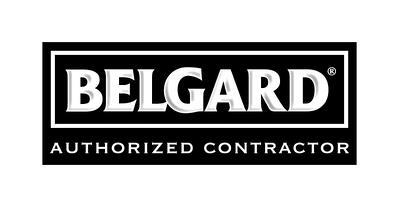 From creating a strong, solid base to determining the right paver patio pattern that matches your home and landscape to creating those extra special details you need to make your patio unique, Outback Landscape can help!
We are a Belgard Authorized Contractor. We'll assess your space and provide creative ideas to help you build the patio that meets your aesthetic wants and entertaining needs.
Contact our experts at 208-656-3220, or fill out the contact form to set up a no-obligation meeting with one of our Belgard paver experts.
Image Credit: Belgard.com