You have enough things to worry about when it comes to managing your commercial property, so don't let snow removal be one of them.
When there's snow and ice blanketing your site this winter, you want to know who is going to clear it and that they can manage it efficiently.
But how can you ensure the company you choose for snow removal services is the right fit for your property?
Here are five things you should ask your commercial snow removal company.
What Services Do You Offer?
One of the first questions you need to ask is what snow removal services they provide. You want to make sure they can meet your property's needs.
Here are some services they should offer:
Deicing, liquid and dry

Pre-wetting agent

Parking lot plowing

Clearing sidewalks

Hauling snow
You should also think about future services your site might need. For example, you may only want a snow contractor to plow at the present time, but later, you may need someone to handle sidewalks.
Find a contractor that can meet your commercial property's needs now and in the future.
What Type of Equipment Do You Use?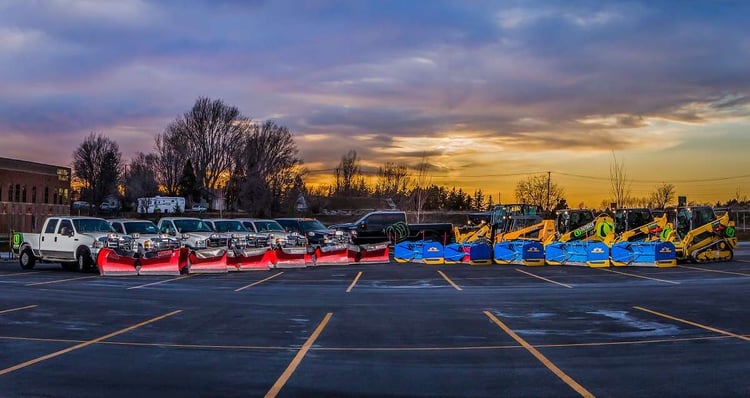 The company should have a range of equipment, from smaller sidewalk blowers to large plows. They need to have a large fleet to make sure their equipment is always at the ready for any snowfall.
But beyond asking if they have the right equipment for the job, you also want to make sure their equipment is reliable and well maintained. It doesn't matter if they have machines if they aren't working.
Some contractors might cost their services 10-percent less than others, for example, but that's not worth it if their equipment breaks down and they don't show up on your property when it counts.
Do Your Vehicles and Equipment Have GPS?
In addition to having the right type of working equipment, you should also see if the contractor has installed GPS on their trucks and machines.
GPS allows them to track where their machines are at all times and how long they were there. It's something we have on all of our trucks and equipment.
This comes in handy if you ever have questions about when and where the equipment was on any given day.
So, if you want to verify your bill or know when the trucks were on your site, you can do that if the contractor has GPS installed.
Do You Have an Experienced Crew?
Even the best equipment isn't worth much without the right operator behind the wheel.
Start by asking how many years of experience their crews have acquired. Do they regularly check their employees' driving records? You want the best people on your site.
Also, see if their employees are trained in spreading and managing ice melt.
How Often Will You Call?
This might not be a question you think to ask at first, but you want someone who is responsive and timely.
Once snow and ice hit your site, you want someone who is there and in contact with you. You need a contractor you can rely on.
We are usually in touch with property managers before and after the storm.
Start Asking the Right Questions
You need to interview snow removal contractors to make sure they are the right fit for your commercial property, and these are five of the top questions to ask them.
We welcome your questions at Outback Landscape and would love to talk with you about our services and how we can manage your site. We know how important it is to be reliable and prepared, and that's evident in all of our work.
Our team watches the weather closely and prepares for it three to four days out: We try to never be caught by surprise. If it snows 1 inch, our crews are out at the site clearing snow and deicing.
We take care of all snow removal, snow hauling and ice melt applications for commercial clients 24/7. Our professional de-icing strategy applies both granular and liquid de-icing agents in one pass, preventing re-freeze in subzero temperatures. We only use environmentally friendly de-icing products that won't harm your lawn or plant material.
We have certified snow professionals on staff, and we're insured for snow removal. All our snow removal equipment also has GPS systems on board, so property managers know we were there.
Located in Idaho Falls, Idaho, we serve residential and commercial properties in Idaho Falls, Rexburg and Pocatello, Idaho, as well as Bonneville, Madison and Bannock counties.
Contact Outback Landscape for a free snow removal estimate at 208-656-3220, or fill out the contact form to schedule an onsite consultation.