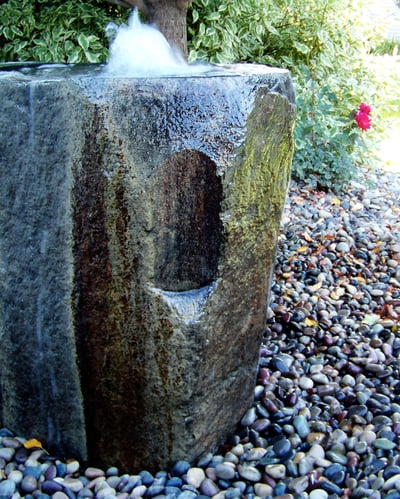 When you want to create a unique accent piece in your backyard, a water feature is a great choice. And the only limit to the design is your imagination. From bubbling columns, to cascading hardscapes, to garden ponds teeming with koi, and even water walls —water features and ponds can be designed in a multitude of shapes, textures, sizes, and serve many different functions.
Water features and ponds also attract wildlife and add ambiance to any space. Add a waterfall or bubbling accent to any water feature and you instantly add the feeling of intimacy by drowning out external neighborhood noises.
No matter which size you choose, water features and ponds can be soothing and easy to maintain. They also range in price depending on the level of detail or addition of fish and plants.
If you're not sure what type of water feature suits your yard, we'll explain the different types and let you know the costs associated with each option and size.
How Much Does a Pondless Water Feature Cost?
We offer many different types of pondless fountains and water features made out of natural materials that blend into your landscape design. Pondless water features are perfect for patios and small backyards because these small water features can be included in sitting areas, or tucked away into the smallest corners of the property — adding interest, but not taking up too much valuable space.
Our pondless water features are created by drilling out boulders or basalt columns to add a flowing or bubbling water feature and placing the boulders or columns in a shallow lined basin. Pricing for these pondless water features begins at $1,800 and increases as you add complexity.
For a more complex feature — a larger tri-column drilled fountain with auto-fill valves to regulate water levels, for example — these types of water features cost $6,000 to $8,500.
How Much Does a Small to Medium Sized Pond Cost?
Small and medium sized ponds provide a serene accent piece for a larger backyard. Visible from the house and located away from trees — so falling leaves don't contaminate the water — we blend these water features into your landscape by selecting natural rocks of various sizes around the edges and adding plants to bring color and interest to a pond.
Additions to the pond, such as streams and waterfalls are easily incorporate and provide extra surface area for planting on edges and rock shelves. A waterfall will also provide aeration of the water to prevent stagnation while providing a soothing sound of running water.
Small to medium sized ponds with a waterfall which range in size from 50 to 5000 gallons typically cost $9,500-$25,000 depending on size of the pond.
How Much Does a Large Specialty Pond Cost?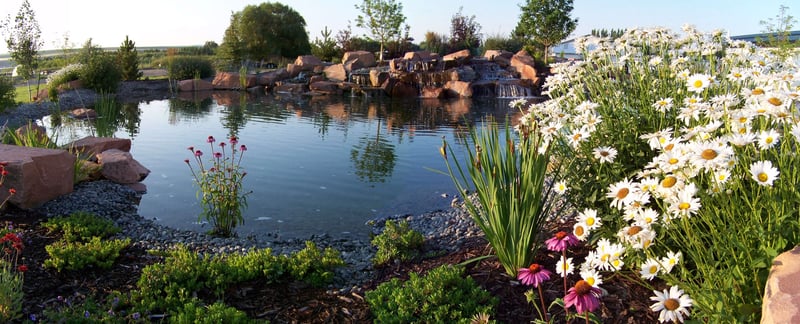 There are many things to consider when building a large specialty pond, such as filtration, water turn over, water source and additional pumps and electronic equipment to make sure the pond is easy to clean and to maintain. With a large specialty pond, you also have the option to include fish depending on the water quality and depth. However, ponds without fish are less expensive and require less maintenance over time.
If you decide to add fish to your new pond, special equipment and add-ons are needed. Fishponds need to be treated with different chemicals and require special mechanical filters that allow backwashing of the pond. In addition, fishponds require more care and upkeep as they need to be deeper for the fish to winter. A deeper pond will also require an aeration system or a waterfall to keep enough oxygen in the water for the fish to survive.
They also require a heater to maintain an open hole to allow the exchange of gasses between the water and air during the winter months, as well as a UV light to prevent excessive algae from growing.
Larger specialty ponds made specifically for fish and range in size from 6,500 to 20,000 gallons typically start around $25,000 and increase in price as they increase in width and depth.
What Is Included In The Cost Of a Water Feature or Pond?
All of our pondless water features or waterfalls include the plumbing, hoses, pumps, electronics and other components to allow the water to flow and filter.
An average small to medium sized pond without a waterfall will include these components:
Skimmer - keeps the surface clean and houses the pump and a filter

Pump - installed in the skimmer or externally depending on the pond.

Flexible rubber liner - contains the water

Two layers of pond underlayment - protects the pond liner from rocks and other types f damages. Consists of one layer below and one above the liner.
For medium to large sized ponds, we install a bottom drain in the lower end of the pond. An external pump sucks water from this bottom drain as well as a skimmer at the same time. This does two things:
Keeps the pond cleaner and allows it to be emptied completely using the existing pump if needed.

Protects the pump from burning out if the skimmer becomes plugged with debris or the water level drops -- the pump will still be drawing water from the bottom of the pond.
Also, pond pricing includes excavation, which increases the cost of a pond as it gets deeper and requires more liner and underlayment.
Conclusion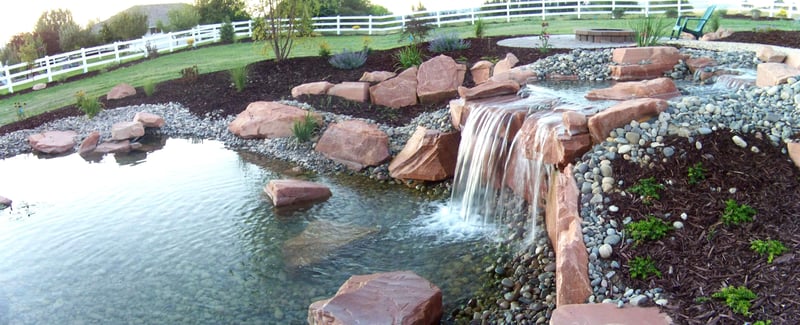 We're all drawn to water. Just imagine the sound of bubbling columns, cascading hardscapes or even a gurgling garden pond teeming with koi. The sound of water makes everything better.
No matter which type you choose, water features and ponds can be soothing and easy to maintain and adding a water feature to your backyard is an inexpensive way to create intimacy and serenity while benefitting the surrounding ecosystem. And to extend the enjoyment of your water feature after the sun sets, we can add LED or fibre optic lighting to any size of waterfall or pond.
If you're not sure what type of water feature suits your yard, we'll explain the different types and let you know the costs associated with each option and size.
See how Outback Landscape can enhance your property with a beautiful water feature by having one of our landscape designers come out and visit your property.
Located in Idaho Falls, Idaho, we create breathtaking water features and ponds for residential and commercial properties in Pocatello, Idaho Falls, and Rexburg Idaho, as well as Bonneville and Bannock counties. Call us at (208) 656-3220 to set up a no-obligation meeting with one of our talented team members. Or fill out the contact form and we'll be in touch.