Looking for inspiration to light up your landscape? Chase Coates, president of Outback Landscape, has five landscape lighting ideas that will take your backyard to the next level.
When you gaze out into your back yard after dark, what do you see?
Go ahead — take a look. We'll wait.
Nothing to report?
That's too bad. There are a bunch of great things going on back there that are worth illuminating.
Think about all your favorite backyard features. Your cool deck. Your beautiful garden plants. Your home's architectural features. Your stately old trees.
Check out these 5 expert landscape lighting ideas and tips.
1. Uplighting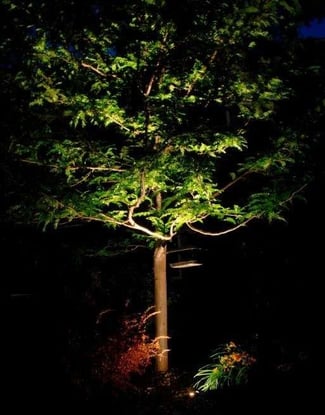 Uplighting is a landscape lighting design idea where lights are installed on the ground close to the base of your subject to throw a cascade of light on plants, shrubs, trees or landscape structures.
You might already have uplights on your house, but consider adding them to the trees at the perimeter of your yard, Coates says. Uplighting is great for landscape tree lighting.
"This adds a depth to your landscaping at night," he says, and a sense of welcoming that a pitch black yard just doesn't offer.
Lighting a tree from the ground up shows off its interesting bark texture and branch structure. You'll love how the light casts pretty shadows with the leaves.
Garden features are great candidates for uplighting, too. Beautiful fountain? Elegant statue? A prized plant? Why leave them in the dark?
2. Downlighting
With this outdoor landscape lighting idea, you can downlight your back patio from above, either from lights attached to your house or from nearby trees, Coates says.
Downlighting, installed by an expert, can mimic moonlight, adding a romantic quality to your patio after dark.
3. Light Your Garden Plants
This is one of the greatest outdoor lighting ideas that nobody does, Coates says.
"It makes your landscaping look completely different than it does during the day," Coates says.
Even simple plants look extra special when illuminated at night. Lighting a bed of beautiful hosta from above shows off their big textured, variegated leaves after dusk.
Expert landscape lighting helps plants cast intriguing shadows. Stroll through your garden at night when lighting illuminates plants' leaves, stems and blooms and you'll enjoy their beauty in a whole new way.
"It's hard to describe," Coates says. "You really have to see it."
4. Deck Lighting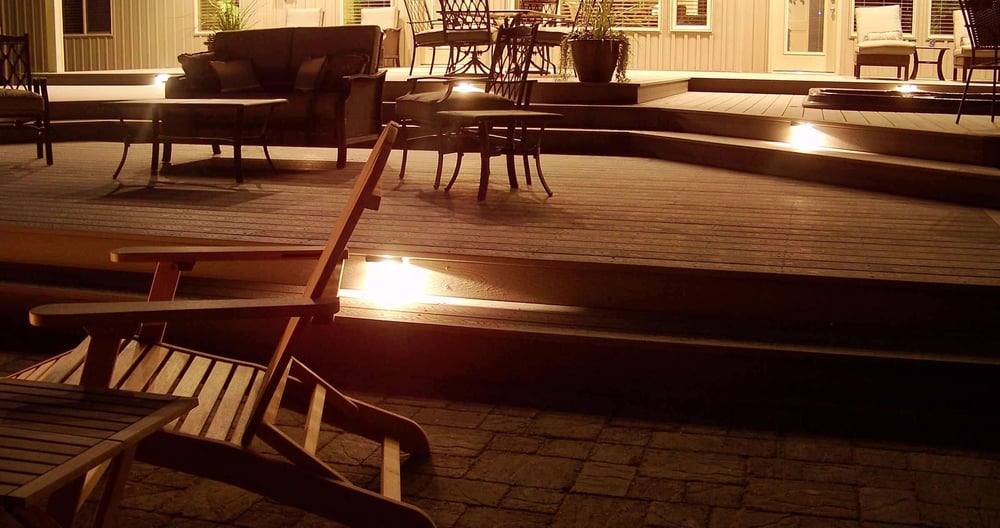 Lighting your deck isn't just a beautiful thing. It's a safety thing.
"I like putting a step light under each step," Coates says. "And there are really cool deck post caps that have lights built right in. They cast a nice light downward onto the deck."
You'll get twice as much use out of your deck if it includes professional lighting that makes it both inviting and safe after dark.
5. Landscape Lighting Zones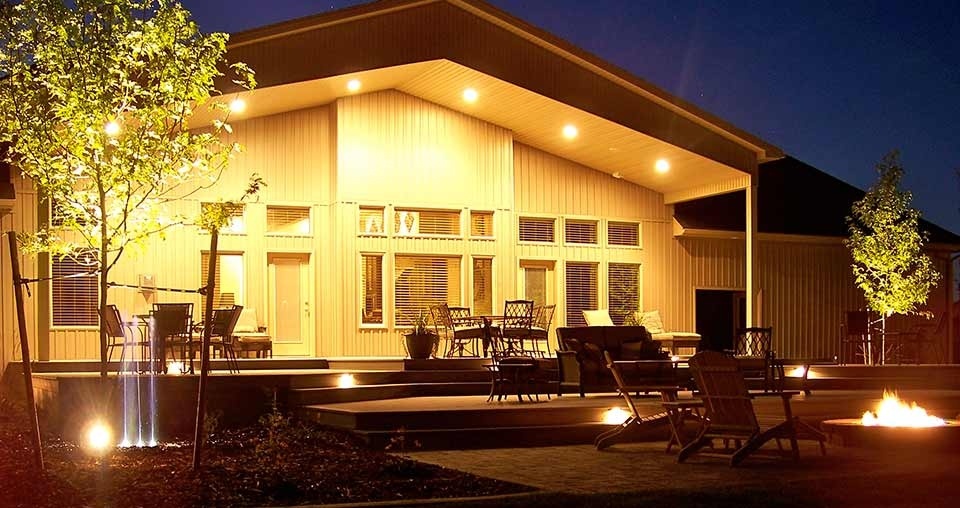 Using lighting zones in your landscape is a great way to personalize your backyard lighting, changing the lighting to fit your activity and mood.
"Your lights don't have to be all on or all off," Coates says.
Hot tub on the patio and you'd like some privacy? Dim the path lights to 50 percent and turn off everything else. You'll have enough light to see, but you won't feel on display to the neighbors.
Having a party for a crowd? Turn on everything.
Planning a cozy evening at the fire pit? Turn off the surrounding lights so you can enjoy the warm glow of the flames.
And you can do all this lighting wizardry with your smart phone.
Light Up Your Night With Outback Landscape in Idaho Falls
Here at Outback Landscape, we know lighting plays a key part in the most stunning landscapes. We have lots of landscape lighting ideas and tips to take your backyard to the next level.
We also bring years of experience, skill and the best quality materials to every job.
Our experienced team can bring your landscape to life at night by lighting patios, arbors, steps, decks, walkways, trees, driveways and planting beds.
Located in Idaho Falls, Idaho, we serve residential and commercial properties in Idaho Falls, Rexburg and Pocatello, Idaho, as well as Bonneville, Madison and Bannock counties.
Contact Outback Landscape at 208-656-3220, or fill out the contact form to schedule an onsite consultation.
We'd love to hear from you.