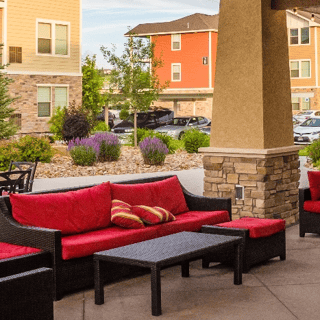 Office buildings are often big expanses of concrete, brick and glass.

Great landscaping can bring them to life.

Think serene garden courtyards where employees can meet with

colleagues, relax with a book or enjoy lunch with a cool breeze.

Don't underestimate the power of landscaping for an office building. It could make all the difference to a potential tenant who has viewed five places. Or to a customer who may either pass right by — or stop in.

Let's take a look at some great landscaping ideas for office buildings.
Welcoming Front Entrance
A vibrant, welcoming front entrance sets the stage for your office's whole environment.

How to make it pop?

Colorful flowers are a great first step. They attract attention and add a dose of instant cheer. They should be low-growing varieties so they don't block your signage.

Native plants are a huge trend now. They're low maintenance — hardy, sturdy and once they're established they typically need less water than non-natives.

Large planters are another big trend. They're versatile — change their whole look with the seasons by planting exotic tropical plants in the summer and fall flowers in autumn. Dress them up for the holidays with decorative branches, evergreens and twinkling lights.

They're perfect flanking your entrance.
Seasonal Color Rotation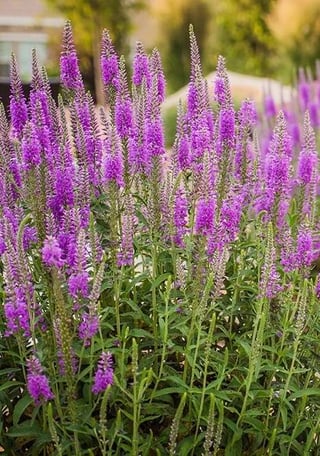 People notice color. Change your colorful flowers with the seasons and you offer intrigue year-round.

Interesting plants and colorful flowers make a huge impact — at main entrances, around signage and any place you want to draw attention.

Summer color is a given — but don't forget the other seasons. Frilly purple ornamental cabbage and bright yellow mums can usher in autumn. The bright red berries of holly add a pop of color for winter interest.

Cheerful, bright tulips and daffodil are perfect to welcome spring.

Outdoor Seating/Common Area
Create a space your employees will love. Boost worker morale by offering a peaceful, beautiful outdoor common area where employees can enjoy lunch or hold an outdoor meeting.

Seating can be simple picnic tables or more permanent built-in sitting walls. And everybody appreciates shade and privacy. Get it with trees, shrubs or large-scale planters. Consider fragrant plants and flowering shrubs to offer a bit of pleasant scent in the air.
Water Features
There's nothing like the sound of moving water to soothe away the stress of a busy work day. And water features always impress visitors. Attract passersby to your entrance with a waterfall. Not in the budget?

Even a simple fountain near the front door, in a courtyard or placed in your common area for employees to enjoy makes a big and memorable impact.
Don't Forget To Freshen Up
Landscaping can look lackluster after a number of years. Take a look around. Have you been staring at that same row of shrubs for years?

It's time for a re-do.

Keep things looking updated with new flowers and grasses. A fresh layer of mulch each year does wonders to keep beds looking tidy and well-tended. And, as it breaks down, it enriches your soil.
Trust Your Office Landscaping To Outback Landscape
At Outback Landscape, we have all kinds of great landscaping ideas for office buildings.
We know how to highlight entrances, install dramatic flower beds, and create compelling common areas.
We'd love to talk with you about your landscape ideas, needs and goals. We serve residential and commercial properties in Idaho Falls, Rexburg and Pocatello, Idaho, as well as Bonneville, Madison and Bannock counties.
Call us at 208-656-3220. Or fill out the contact form to schedule a no-obligation meeting with one of our team members.
We'd love to hear from you.