Colorful flower beds, appealing outdoor seating areas, maybe an impressive water feature — landscaping retail properties involves curb appeal and interest.
But safety is even more important — and your landscaping is a key factor.
As a property owner, you're legally liable if a customer gets injured on your site. How can your landscaping keep your visitors and tenants safe?
Take a look.
First, A Note About Premises Liability
Premises liability involves the legal responsibility that a property owner or occupier has to protect visitors from dangerous conditions on their property.
The owner or occupier is responsible to carry out "reasonable care" in managing the property so that people are safe from harm.
An example? Say you neglect to fix a crumbling step, and someone tumbles down the stairs and gets hurt. The property owner can be held liable for the person's medical expenses — and possibly more.
The most common types of these liability cases include slip and fall mishaps, road and sidewalk defects, poorly lit staircases, icy entrances and inadequate outdoor lighting.
Now, A Look At What You Can Do
Landscaping plays a key role in keeping your visitors and tenants safe. Keep these key factors in mind:
Lighting
You probably already have lighting on your property. But it is enough?
Proper lighting deters criminals — it takes away their potential hiding spots and increases the chances someone will spot them.
Visitors are less likely to trip and fall if they can see where they're going.
Everybody feels safer when a property has good lighting — it's human nature. Certain spots are prime candidates for lighting, including parking lots, sidewalks, entrances and common areas.
Pretend you're a visitor and take a stroll around your grounds at night. Pay attention to each area. Do you feel safe? What areas need a lighting boost?
Properly Trimmed Plants And Trees
Out-of-control shrubs and bushes can cause all kinds of problems on a retail property. They have a way of blocking the view of both drivers and pedestrians. They provide a nice dark hiding spot for potential intruders. They can snag passers-by.
The fix for this potential hazard? Regular trimming and pruning.
Think about your signage and lighting, too. Overgrown trees and bushes can easily obscure them.
Older trees need extra attention. You don't want damaged or dead branches to crash down, potentially injuring people or damaging buildings. Proactive pruning can prevent disaster.
Inspect Walkways For Cracks
If your sidewalks and steps are cracked and crumbling, they're dangerous. Add a layer of ice, and the hazard increases. Don't neglect repairs.
Clear Debris
Debris on your property is more than just an eyesore. It's dangerous. Pedestrians can easily slip on wet leaves. Litter can be a tripping hazard. Keep sidewalls, driveways and other pathways free of debris.
Safe Traffic Flow
Be sure drivers can see traffic signs on your property and that nothing obscures their view of oncoming traffic. Do delivery truck drivers have enough room and a clear view so they can get around safely and find their destination?
It's nice to offer attractive islands of trees and landscaping in your parking lots. Just be sure they don't block traffic flow.
Stay On Top Of Drainage Issues
It's easy to forget about drainage issues when landscaping retail properties — until your site is filled with huge pools of standing water. In the winter, they transform into treacherous slicks of ice.
Even ordinary puddles can cause pedestrians to slip and fall.
Make sure you have proper grading and drainage. Deep puddles in your parking lot make for grouchy visitors.
Snow And Ice Removal Plan
Snow + ice + a retail property is a dangerous equation. One of the most common injury and liability issues on commercial sites? Slip-and-fall accidents.
You need a trusted company to provide top-notch snow and ice removal. Hire a company that prioritizes safety, quality work and quick response.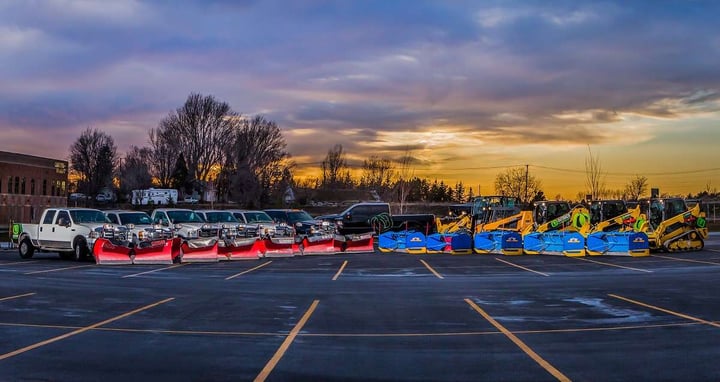 Don't dawdle on this one. There's communication involved. Allow enough time for your company to devise a comprehensive plan for your property before it's covered in snow.
Keep Your Property Safe With Outback Landscape
We know how important it is to keep your visitors and tenants safe when they visit your property. We're experts in landscaping retail properties. We have the skills and knowledge to ensure your landscaping isn't causing any hazards.
We offer landscape design, construction, maintenance, irrigation and lighting services to enhance your property and keep it safe.
We serve residential and commercial properties in Idaho Falls, Rexburg and Pocatello, Idaho, as well as Bonneville, Madison and Bannock counties.
Call us at 208-656-3220. Or fill out the contact form to schedule a no-obligation meeting with one of our team members.
We'd love to hear from you.