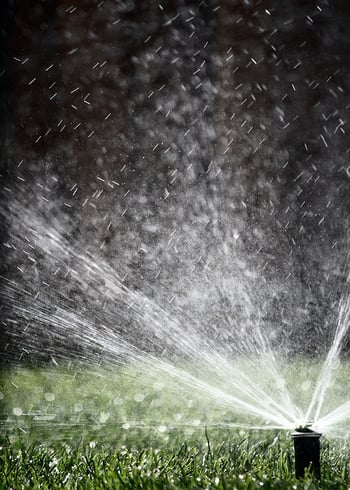 Irrigations systems can be simple or complex. The purpose of installing an irrigation system is to provide adequate cover and absorption for your landscape without wasting water.
Your ideal irrigation system will reside mostly underground, but your sprinkler heads (the components that are visible above or flush with the ground) won't, so your first step is figuring out which sprinkler heads are the best for your application.
Visit any irrigation manufacturer's products page and you'll find a list of sprinklers, rotors, rotators, pop-ups, etc. — the list goes on and on. Not to mention that each component offers a spec sheet that includes so much detail it will make your head spin.
So we're going to address the three best residential sprinkler heads to include in your irrigation system.
Sprinkler Head Terms You Should Know
Before researching the best sprinkler heads for your residential property, you'll need to familiarize yourself with some common irrigation terms.
Impact Drive - A sprinkler head with a weighted, spring-loaded arm which is propelled by water pressure retracting the arm allowing the weight to hit the sprinkler body causing circular movement.
Gear-Driven Rotors - A sprinkler head with a full circle arc pattern that applies water to the surrounding area when water pressure turns a driven gear mechanism within the rotor body.
Pop-up Rotator - A sprinkler head with a specific radius arc that rises from its protective rotor body when water pressure is applied to the sprinkler. It also retracts when the pressure is removed.
PSI - Water pressure rates expressed in pounds per square inch which affects the type of pipe and sprinkler head required for the system to run efficiently.
Radius arc and arc patterns - Similar to arc patterns, this is the degree of coverage a sprinkler head applies. If the pattern is a 360 degree circle, a 90 degree arc would be a quarter pattern and a 180 degree arc applies a half-circle pattern.
Precipitation rate - The rate at which a sprinkler head applies water to the landscape, commonly referred to as depth per hours of operation, i.e. 2 inches per hour.
Now that you know these terms, let's discuss the three best sprinkler heads for your property.
Traditional Impact Rotor Sprinkler Heads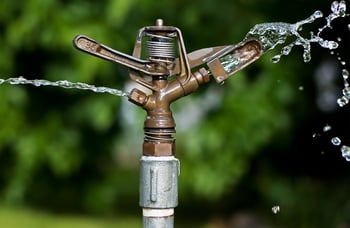 Impact rotor sprinkler heads have been around for a long time. You'll recognize impact drives as the rotating sprinklers that make the classic sprinkler head noise. Over the years, these sprinklers have not changed very much. The simple design makes them the best residential sprinklers for properties fed by well water, ditches, or hard water — which might seize up other types of sprinkler heads.
With arc patterns ranging from 40 to 360 degrees and a water pressure range of 25 to 50 psi, impact rotors provide single or multiple streams of water to distribute water to your landscape. They are designed to cover a larger area by offering a coverage distance of 20 to 150 feet and a precipitation rate between 0.1 to 1.5 inches per hour and the radius arc is easily adjusted.
However, the spring mechanism of impact rotors is usually too noisy for residential sites — especially when multiple heads are required. Since the majority of the rotor resides above ground, they make it very difficult to maintain grassy area with mowers and other equipment.
Impact Rotors are the Best Sprinkler Heads for:
Large residential properties with access to only hard water or ditches
Large garden beds
Commercial properties
Impact rotors can be more expensive than the newer plastic sprinkler heads because they are constructed out of bronze or brass, but they are durable and can last for years. They also require less maintenance than plastic rotors.
Gear-Driven Rotor Sprinkler Heads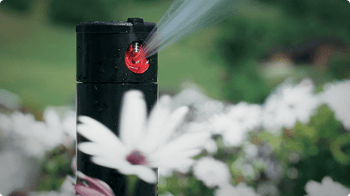 For medium to large properties, gear-driven rotors are one of the most commonly used sprinkler heads. They offer a multitude of advantages over impact rotors, such as low cost, quiet operation, and various spray patterns. Gear driven rotors often require less maintenance because the enclosed body protects the drive mechanism from dirt and lawn debris.
Gear-driven rotors do not spray water as far as impact rotors because they have a distance range of only 18 to 55 feet, but their arc rotation is identical at 40 to 360 degrees. They also offer a wider range of water pressure to operate — from 25 to 75 psi — and precipitation rates range from 0.2 to 0.8 inches per hour depending on water pressure, nozzle size, and zone layouts.
An added advantage of the pressure-regulated gear-driven sprinkler heads is that they eliminate the problem of flow-variance throughout your irrigation system. In other words, the flow and spray remain constant no matter how close the heads are to the pump.
Gear-driven Rotors are the Best Sprinkler Heads for:
Medium to large properties
Properties with many slopes
Clay-type soils
Gear-driven rotors offer lower precipitation rates which guarantee better water absorption in more compact soil types.
Pop-Up Nozzle And Rotator Sprinkler Heads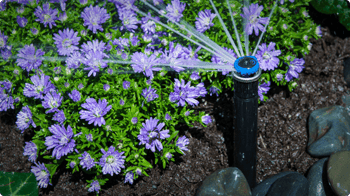 Pop-ups sprinkler heads are ideal for residential and small commercial sprinkler systems and are designed to supply a continuous stream of water. Most pop-up rotators are protected from dirt and debris with a double pop-up function; the nozzle pops up from its protected position only after the riser is fully extended.
Pop-up sprinkler heads range in height from 2 to 20 inches and are fitted with nozzles designed to cover relatively small areas from a 5' to a 35' radius to deliver a specific spray pattern to fit the contours of the landscape, such as a full arc, a half-circle, quarter circle, or strip. The precipitation rates depend on water pressure, spacing and nozzle size and pattern, and varies from 1 to 2.5 inches per hour. They also have an operating pressure between 15 and 30 psi and their distance range depends on the nozzle pattern and height of the pop-up.
Typically, two-inch pop-ups are common in areas where digging trenches for pipe and spray bodies is difficult, four-inch pop-ups are used in turf areas to provide a sufficient two to three-inch clearance and six to twelve-inch pop-ups are used to irrigate ornmental grasses, ground cover, garden beds, and borders containing shrubs and tall plants. If your application requires a height greater than 12 inches for clearance and plant growth, you can install extra risers to increase the efficiency of the spary head.
Pop-up Rotators are the Best Sprinkler Heads for:
Small properties
Strips or irregularly shaped properties
Rocky soil
Garden beds
New irrigations systems
Old irrigation systems with low pressure
Old irrigation systems with poor coverage
Pop-up spray heads are inexpensive and simple to operate and they can reduce the precipitation rate, which improves water absorption and reduces run-off.
Cost Differences
The cost difference between these three different types of sprinkler heads is negligible.
The real expense of your sprinkler system comes from the water pressure systems, underground components and other accessories, such as:
Water pumps
Water holding tanks
Pipe
Valves
Valve boxes
Electrical components
System Controllers
Precipitation Sensors
If you opt for the least expensive sprinkler head of the three options, you might end up saving a few hundred dollars in a system that can range from $3,500 to $6,500 depending on the size of your property.
So, Which Is The Best Residential Sprinkler Head For Your Property?
Deciding whether you need an impact rotor, gear-driven rotor or a pop-up rotator may seem simple at first glance, but there are many factors — both above and below ground — to consider before you put your shovel in the dirt. These three different types of sprinkler heads are designed for different applications. And depending on the type of water, soil, slope and design of your property, you may need only one type or possibly all three.
The best way to determine which residential sprinklers are the best for your new irrigation system, or whether you need to repair or replace sprinklers in your existing system, is to have one of Outback's irrigation professionals come out and visit your property.
Located in Idaho Falls, Idaho, we complete irrigation audits for residential and commercial properties in Rexburg, Pocatello and Idaho Falls, Idaho, as well as Bonneville and Bannock counties. Call us at (208) 656-3220 to set up a no-obligation irrigation inspection with one of our talented team members. Or fill out the contact form and we'll be in touch.