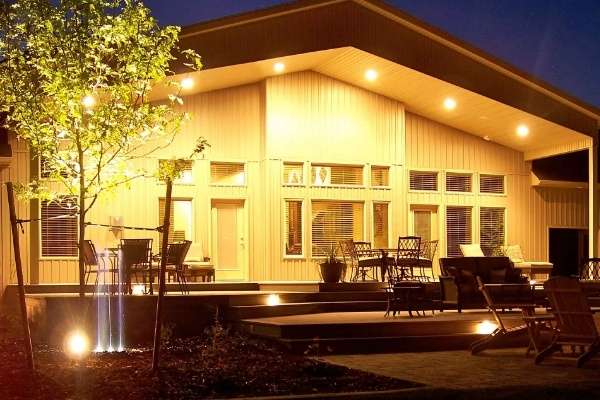 The days are getting shorter as we head into fall, but that shouldn't mean you have less time to enjoy your outdoor space.
You can still entertain and relax in your yard well into the night with outdoor lighting.
You can add lighting to patios, steps, walkways, pools, pergolas, outdoor kitchens, sitting walls and other areas to enhance and add safety to your space.
There's a wide range of products, technology and applications for outdoor lighting, making it a top request from customers.
For 2015, 72 percent of landscape architects say they expect landscape lighting to be a popular outdoor design element, according to an American Society of Landscape Architects (ASLA) survey. That's something we've seen here at Outback Landscape, too.
As the popularity of outdoor lighting continues to grow, so do the trends.
Here are the Top 4 outdoor lighting trends.
1 Control Systems Remotely
We live in a wireless world, so why should your landscape lighting system be any different?
There are now wireless control systems that allow you to program and adjust the lights for different areas of your yard.
So, if you want the outdoor kitchen to be illuminated while leaving the garden area dark, you can with controllers. Using a system is a cost-effective way to control and customize your lighting throughout the year.
Lighting manufacturers like FX Luminaire offer lighting control with zoning, dimming and color, which can be adjusted to match your landscape or the season.
You can also set up, change and control the colors from your smartphone.
2 Stay Out of Sight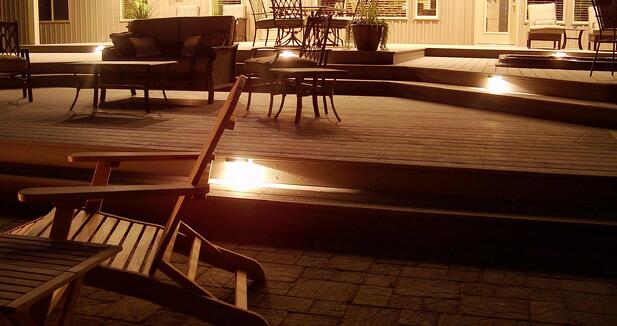 More people are asking for outdoor lighting, but they just want to enjoy the light — not all of the wires and fixtures.
So, the trend is to have everything installed out of sight so there's a more stunning, natural look.
This can be done during or after construction, although adding the lights from the beginning has its advantages.
You can create this look by installing lights under sitting walls, steps or retaining walls. You get to enjoy the lighting, without having any fixtures taking away from the ambience.
3 Use Low-Voltage Options
To be more efficient and conserve energy, people are asking for low-voltage lighting in their landscapes.
LED lights are a low-voltage option that continue to be a top trend for landscapes.
They use less electricity and last much longer than incandescent lights, which will save you money in the long run even though LEDs have a higher initial cost. LEDs also require less maintenance.
You can use these lights for up- and down-lighting, making your plant areas and architecture focal points into the night. They can also be used along paths to illuminate your way.
4 Set the Outdoor Lighting Trends
There are a variety of lighting styles and products catching people's attention, from wireless controllers to low-voltage lights. Customers want convenient, efficient and stunning outdoor lighting designs.
While these are some good trends to check out, you need to go with what's best for you and your property. So, follow some of these outdoor lighting trends or don't — it's really up to you.
You can make your bright ideas a reality by working with Outback Landscape. We offer a variety of lighting options that will add security, safety, accents and an entertainment element to your landscape.
Our experienced team can bring your landscape to life at night by lighting features like patios, arbors, steps, decks, walkways, driveways and planting areas.
Contact us at 208-656-3220 or fill out the contact form, and one of our Idaho Falls lighting experts will be in touch shortly.