Years in the landscaping industry: 16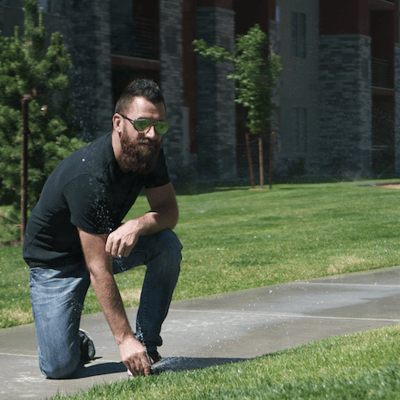 Position: Outback Landscape Founder and Owner
How did you find your job at Outback? He started Outback Landscape as a teen, after years hanging out and working at his parents' landscaping business
Family: Wife, Renee
Pets: Dogs Harleigh, a Maltese and Bentley, a Yorkie
Hobbies: Flying planes (he got his pilot's license in 2016); travel; cooking ribeye steaks and Brussels sprouts, shrimp scampi and chicken schnitzel; talking to friends in industry peer groups
A Typical Day For Chase:
If you can keep up, you'll see Chase meeting with clients, handling sales, checking in with designers, tweaking his business models.
Big stuff.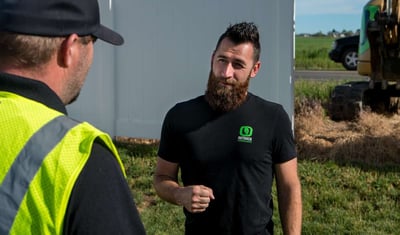 But it's the little things that set Outback apart from its competition.
And he's thinking about those things every day.
Sure, he's the owner, but don't be surprised to see Chase stop by when your project is done, checking on your plants, making sure the layout is exactly right.
"People want to be able to trust you," he says. "They want to be kept in the loop.
"It's how you treat people, how you take care of them," Chase says. "That's what sets you apart."
He tells of a former customer who called him about a stuck sprinkler head in the lawn of her new house. He had landscaped her former house, but not this one. She didn't know who else to call.
He stopped over, discovered a loose screw on a valve and tightened it. No charge.
"As we get bigger, I still want the personal touch of how I do things carried through to everybody here," he says.
Outback customers might spend $50,000 on landscaping, or $150,000.
"Outside of buying their home, that may be the most money a homeowner will probably ever spend on their property," Chase says. "I want them to be excited."
"That hand off is important," Chase says. "So it's not just the crew driving away and you putting the bill in the mail.
"Treat people with respect and empathy," he says. "I want you to know I'm here looking out for you."
When he first started in this business, as a teen back in 2003, the fun was in mowing a lawn 10 minutes faster than he had done it before.
"It was about making things look good and having fun doing it," he says.
Now, an impressive new headquarters and 40 employees later, his fun is on a higher scale.
Streamlining procedures. Tweaking his business model. Helping his staff grow and develop.
He's grown a lot, too.
"I realize now that nothing is the end of the world," Chase says. "I try not to stress about every little thing that happens."
He's had to reinvent himself and his business several times along the way. But he still likes getting his hands dirty.
On a Friday afternoon you might see him zipping around on a skid steer, smiling. Or tucking a few plants in the ground.
He'll probably have a photo in his pocket of a dream landscaping project he wants to build, just because it's cool.
A guy's gotta have fun.
People Come First At Outback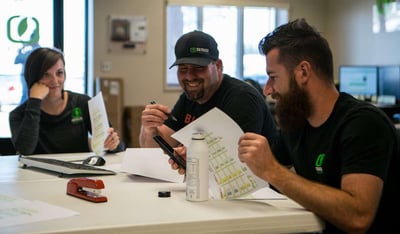 Do you pay attention to the important details that make fantastic service? Like Chase, do you believe in the power of treating people with respect and empathy?
You might be a great fit for our Outback team.
Need skilled, creative landscaping experts to tackle your property's needs? We're on it.
Located in Idaho Falls, Idaho, we serve residential and commercial properties in Idaho Falls, Rexburg and Pocatello, Idaho, as well as Bonneville, Madison and Bannock counties.
Contact Outback Landscape at 208-656-3220, or fill out the contact form to schedule an onsite consultation.
Want to join our team? Apply here.
We'd love to hear from you.