Everybody loves lights. Adding sparkle to your house for the holidays makes you happy — and it feels great when everybody who passes by exclaims, "wow."
But while we all love watching Clark Griswold struggle with his light show every year in "Christmas Vacation," we don't want to be him.
So, in the spirit of the holidays, we're sharing a few of our favorite holiday outdoor lighting tips, from design ideas to safety precautions.
1. Highlight Your Architecture
Take a good look at your house. What stands out? Do you have great gables or arches? An impressive chimney? Simply creating an outline that highlights those features can be as effective as trying to cover your entire house or yard in lights.
Or is it your landscaping that packs a punch? Do you have an impressive stand of trees? Wrap the trunks and branches for a stunning effect.
Highlight your home and yard's best features with lights.
2. Break Out Of Your Comfort Zone
White is classic, but multicolored holiday lights are packing a big punch lately. Sure, red and green are holiday mainstays, but why not shake things up a bit?
Combine green and blue lights for a display that will wow your neighbors. Or how about a tunnel of lights that spans your entire driveway? If you have kids, they'll love it.
Try a few "meteor lights" this year. A fun new animated twist on traditional icicle lights, these light tubes contain a row of diodes which light up and then descend, creating the effect of shooting stars.
3. Don't Skimp On The Lights
It's easy to underestimate how many lights you'll need. Measure all of the areas you plan to light. Then, plan on 100 lights per foot for the most impressive effect. So a 6-foot evergreen needs at least 400 lights. With holiday lights, less isn't more.
4. Respect The Electricity
Connecting strings of lights together? Stick to five or six strands end to end so you don't overload the circuit. And don't pull the light strands too tight in order to reach an outlet. You could damage the wiring.
Use UL approved extension cords for outdoor use. And check light strings for frayed or damaged cords.
5. Keep The Moisture Out
Electricians say most blown fuses are caused by moisture getting into the connectors that attach strings of lights to each other. Seal each connection and the loose ends of a string with duct or electrical tape to keep everything dry.
Creating a lighting display on your lawn? Keep your connections out of any possible ground water.
6. Choose LED Lights
LED lights use 10 percent of the energy incandescent bulbs do, and they last much longer. No more crawling up onto your icy roof because a bulb burned out. And today's LED outdoor lights have come a long way from the originals, with warmer light and bright colors.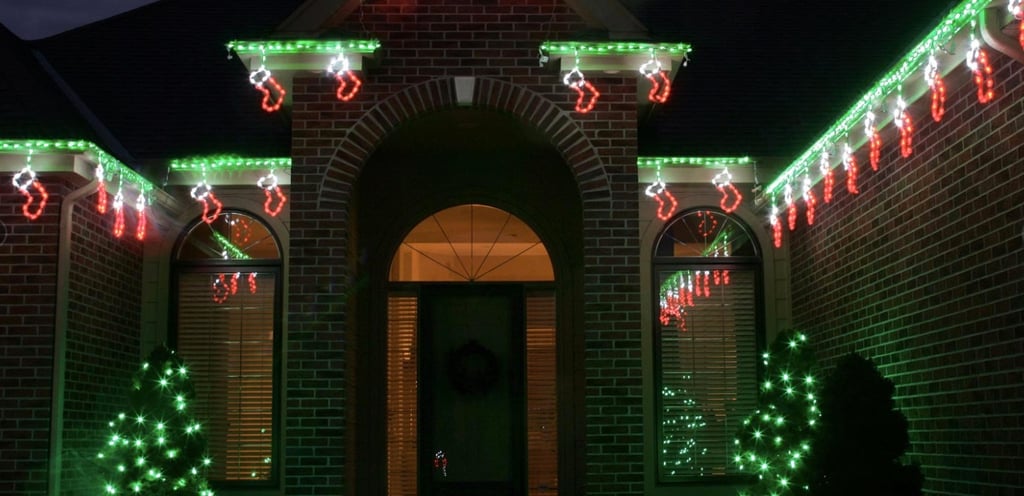 7. Ladder Lessons
Chances are, you'll need a ladder to do the job right. Since you won't be able to enjoy your dazzling light display from the emergency room, follow these safety tips:
Have a spotter to hold the ladder in place.

Don't use a ladder that's broken or bent.

Make sure all of the extension locks are engaged.

Don't stand on the top step.

Avoid using it if the ground is frozen and icy.

Keep the ladder away from electrical hazards like overhead power lines.
If your roof is too steep or high, don't risk having an accident. Hire a professional instead.
8. Clips Are Your Friends
Forget the staple gun or nails —they can pierce or wear away the protective insulation in your cords, creating a hazard. There are handy clips designed to attach lights to every area of your house. They're cheap, so buy a bunch.
9. Take Your Lights Down At The End Of The Season
We know — it's no fun climbing up to take down the lights in January weather. It's tempting to just wait until spring.
But if you expose the light to blustery weather all winter, the daily exposure can damage the wires, lights and sockets.
10. Or, Leave The Lighting To Us
At Outback Landscape, we love this time of year. We have the best holiday outdoor lighting ideas and the expertise to make your home a twinkling holiday wonderland.
We'll help you create a dazzling display, untangle the lights, climb the ladders — and we'll even take it all down and store it for you until next year.
You just nibble some Christmas cookies and relax.
Outback Landscape, located in Idaho Falls, Idaho, serves residential and commercial properties in Idaho Falls, Rexburg and Pocatello, Idaho, as well as Bonneville, Madison and Bannock counties.
Call us at 208-656-3220. Or fill out the contact form to schedule your free holiday lighting consultation.