Ever had that feeling that you're forgetting something? We've all been there.
You have so many different responsibilities as a property manager, so there may be some things that slip your mind.
But unless you want to have safety and liability issues on your property this winter, you need to make sure you cover all of your bases when hiring a snow and ice removal company.
Here are four things to remember when choosing a snow removal company to manage your Idaho Falls commercial property.
1. The Lowest Price Isn't Always Best
When you're comparing commercial snow and ice removal companies, it can be easy to just look at their estimates and pick the cheapest one.
But, choosing a company solely based on how much they will charge you is a costly mistake. Instead of just looking at the price amount, see what all is included in the estimate.
Here are some questions to ask the snow removal contractor to give you a better idea of what they are offering:
What is included in their services, such as deicing, plowing parking lots, hauling snow, clearing sidewalks and applying a pre-wetting agent?

Do they have snow removal insurance coverage and workers' compensation?
Finding out if they will provide all of the services your property needs is a must: Paying less for the services won't do you any good if they don't offer everything you need.
Another reason some companies can offer a lower estimate is by not having the required insurance. If a company doesn't have snow removal insurance and one of their crewmembers is injured on your property, you will be liable.
The Bottom Line: Know what you are (and aren't) paying for before hiring a snow removal company.
2. Devil is in the Details

You need to have all of the details figured out before the first snowfall and make sure the contractor is prepared for anything, as well.
Check to make sure the snow contractor has the ability to provide proof of service for your property. If they have GPS systems installed on their equipment, they will be able to tell you exactly when their crews were on the site.
So, if someone is injured and says they slipped on the ice in your lot, your contractor should be able to provide court-admissible GPS reporting on their plowing and deicing crews.
You should also make sure there's a solid plan for every snow event possibility. If it snows during business hours, do they have a plan for where to to stack the snow? Ironing out these variables prior to October is preferable.
The Bottom Line: The contractor should have GPS on their equipment and be prepared for any snow or ice event.
3. All Equipment Is Not Equal
The company needs to have a variety of snow removal machines — all of which should be in good working order.
Asking about their equipment is especially important if you want a quick, reliable response. If the company's machines are old and broken down — allowing them to submit a lower bid — they may not be working when there's a snowfall.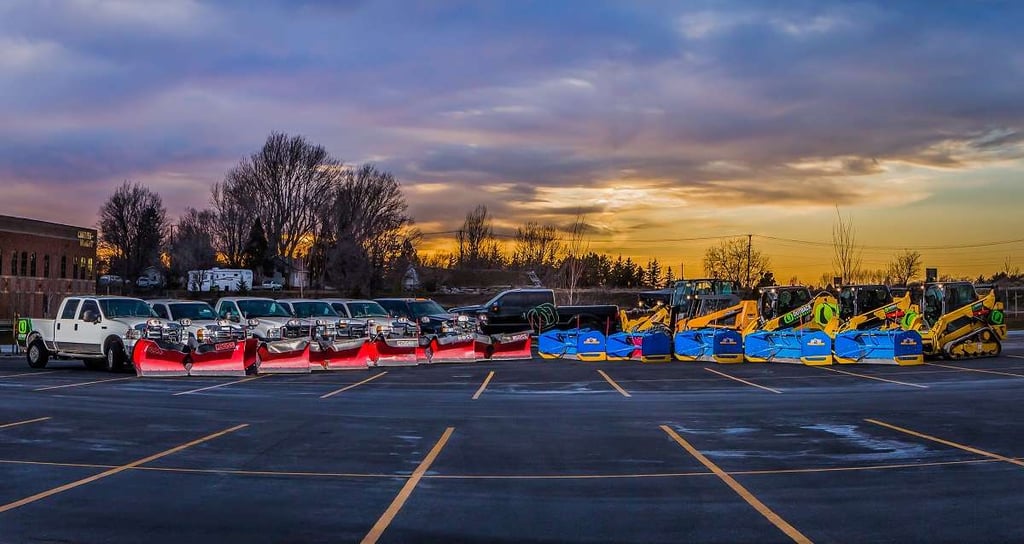 The equipment should also be well maintained. You don't want your snow removal services to be delayed just because their machines aren't working. Newer models will be more efficient on your site, so make sure their equipment isn't worn out.
If your property has parking lots, sidewalks and walkways, it's going to take a mixture of plows and blowers to maintain the site.
So, ask what types of machines the company has to ensure they can handle your entire property.
The Bottom Line: The snow removal company should have a reliable, diverse fleet of machines that can tackle your site's needs.
4. Crew's Size Really Does Matter
Beyond having the right equipment, the company should also have a large enough team to properly manage your property this winter.
If a large amount of snow falls in a short time, do they have the resources needed to take care of your commercial property? Or, will they be stretched to find enough crewmembers?
Just because they have a few truck plows doesn't mean they will be able to meet your needs in a big snow event. Do they have the ability to haul snow off site, de-ice or bring in larger equipment if needed?
You want to hire a company that has enough personnel to efficiently manage your snow removal services. Having more than one person and machine on your site — if it's a large site — will also mean the snow and ice will be cleared sooner.
The Bottom Line: The snow removal team should be experienced and large enough to provide reliable and timely services.
Find a Company that Checks All of Your Boxes
Keep your commercial property safe this winter by not overlooking these three things.
The company you hire should have the right equipment, an experienced team and insurance coverage. They should also be easy to reach, since snow and ice can hit at any time, day or night.
Outback Landscape understands how important it is for your site to be safe and clear this winter. Our team monitors the weather and prepares for storms three to four days out for our clients.
We provide a full list of snow removal services, including snow plowing, hauling and ice melt applications. We only use environmentally friendly de-icing products, so they won't harm your property's turf or plant materials.
Our staff includes certified snow professionals, and we are also insured for snow removal. All of our snow removal equipment has GPS systems on board and is well maintained.
Located in Idaho Falls, Idaho, we serve residential and commercial properties in Idaho Falls, Rexburg and Pocatello, Idaho, as well as Bonneville, Madison and Bannock counties.
Contact Outback Landscape for a free snow removal estimate at 208-656-3220, or fill out the contact form to schedule an onsite consultation.