Pergolas are beautiful garden structures that add drama to your landscape and provide the perfect little getaway spot in your own backyard.
But there are some decisions to make. What size pergola do you need? Should it be attached or detached? What material is best?
Let's take a closer look at pergolas, how they can improve your landscape and how to decide what size is right for you.
First, What's A Pergola?
This popular garden structure is made of vertical posts or pillars that support crossbeams and sometimes sturdy open lattice. The pillars and beams offer a perfect place to train pretty vines that offer dappled shade overhead.
A pergola can be attached to your house to extend over your patio or deck, or freestanding and located anyplace on your property where you want to add shade, an entertaining spot or just a little garden getaway.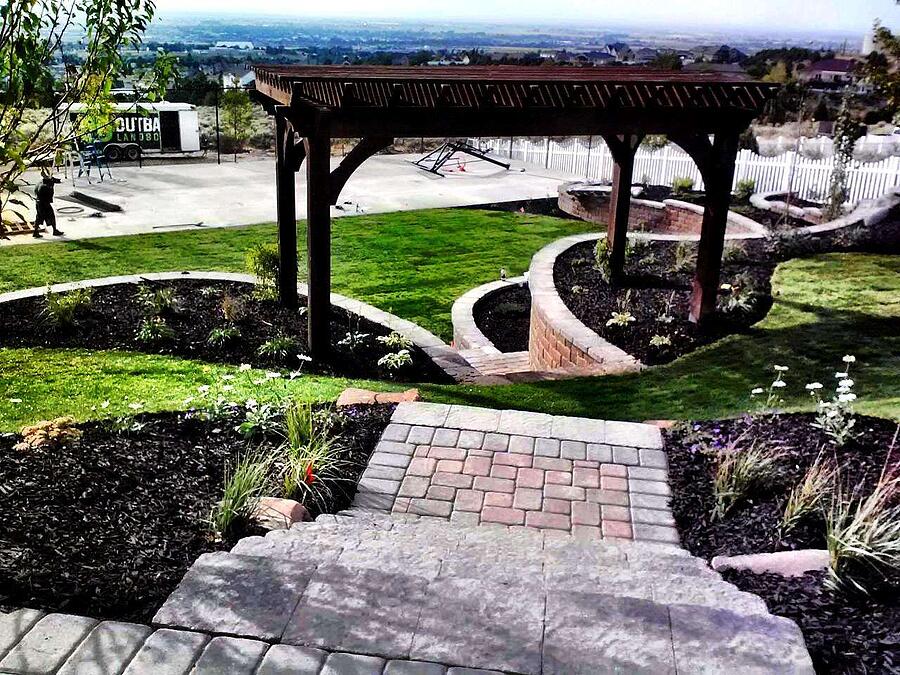 Why Build A Pergola?
Why not build a pergola? They add a beautiful, romantic feel to your outdoor space. They offer protection from the harsh sun while still allowing a nice breeze to drift through.
A pergola is a great spot for entertaining. If you want to entertain outside but want to stay close to your kitchen, you can plan your pergola for right next to your house.
On a hot sunny day, a pergola's open roof casts filtered light that lessens the sun's intensity.
Pair your pergola with other hardscape elements — maybe over your spa to add an element of design. Consider a pergola as part of your outdoor kitchen. Have it next to the swimming pool.
Use a pergola to extend your garden. Train vines up the support posts, wind wisteria or grape vines through the lattice overhead. Install a border of plantings around the pergola to create even more blissful seclusion.
Pergola Under The Stars
Don't forget about your pergola at night. Twinkling white lights strung in the lattice overhead create an outdoor bistro. Add a few friends: instant party.
What Size Pergola Do I Need?
If your pergola will be attached to your house, the roofline or architecture of your house will likely determine how tall your pergola should be.
If you belong to a homeowners' association, be sure to check about any regulations that could affect the size or placement of your pergola.
Vinyl pergolas typically come in kits, which means the sizes and shapes of the pergolas are predetermined. Typical sizes are 10 by 10 feet,12 by 12 feet, 10 by 16 feet, for instance.
A custom-built pergola can be any size you like, and it usually only takes about two weeks longer to have a custom pergola built.
Consider how many people will typically be enjoying it. If you entertain big groups, you'll need a larger pergola than if you'll mostly be enjoying dinner beneath it as a couple.
The experts at Outback Landscape can help you decide what size pergola will best suit your property and your lifestyle.
Should I Choose An Attached Or Detached Pergola?
What's the difference? Attached pergolas have one side attached to the wall of a home or structure. They use the wall to support that side of the pergola, and the other side of the pergola is supported by beams and posts anchored to the ground.
Freestanding pergolas have at least four posts and stand without being attached to any other structure or wall. The posts are sunk into post-hole footings or are surface mounted to concrete footings.


How To Choose?
Think about how you want to use your pergola. Do you want it close to your kitchen for entertaining? Do you want it to shade your patio or deck? An attached pergola might be your best bet.
Or maybe you'd like a garden getaway elsewhere on your property, away from the hustle and bustle of your house. Maybe you envision one out by the pool to add to your poolside entertaining. A detached pergola can enhance your property just about anywhere.
If you have an intricate roofline or windows that would complicate construction of an attached pergola, a freestanding version might be easier and less expensive.
What's The Best Material For Your Pergola?
Pergolas are typically made of vinyl, fiberglass or wood. Each has its advantages and disadvantages, and they vary in cost.
Vinyl Pergolas
Vinyl is a snap to maintain and needs no staining. But it's the weakest of the three pergola materials. Vinyl pergolas typically come in kits, which means the sizes and shapes are predetermined, but some customization is still possible. All of the pieces are pre-measured and pre-cut, so you'll be relaxing under it with your iced tea faster, and labor cost is less.
Fiberglass Pergolas
Fiberglass is very similar to vinyl in that it's easy maintenance. Like vinyl, if fiberglass is exposed to too much wind, snow or freezing and thawing temperatures, it can crack.
But it's strong, so fiberglass beams can span longer distances than vinyl or wood. While a vinyl pergola can get soft and sag a little bit after big loads of snow, a fiberglass pergola is sturdier.
Wood Pergolas
Wood is the most customizable and strongest material for a pergola. It can be painted, stained or allowed to weather naturally. But it's more expensive to ship and because it's so customizable, it takes longer to install.
How Much Does A Pergola Cost To Build?
The cost of a pergola depends on both the size and the construction material.
The total cost for a vinyl pergola is typically $3,800 to $9,500 depending on the size.
Fiberglass pergolas can range in price from $3,500 to $8,000 based on size.
A timber frame pergola typically runs $43-$49 per square foot installed so a 10x20 would be about $8,700.
Trust Outback Landscape With Your Pergola
At Outback Landscape, we love enhancing properties with beautiful pergolas. Our pergola design and construction experts would love to meet with you and discuss your pergola design needs.
Located in Idaho Falls, Idaho, we serve residential and commercial properties in Idaho Falls, Rexburg and Pocatello, Idaho, as well as Bonneville, Madison and Bannock counties.
Call us at 208-656-3220 or fill out our contact form to schedule a no-obligation meeting with one of our team members.