Pergolas have been adorning landscapes for more than 3,000 years. In fact, the earliest known surviving garden plan, which was for an Egyptian high court official and dates back to 1400 B.C., included a pergola over a garden entrance.
Then the Great Italian Renaissance in the 17th century brought new life to pergolas as artistic garden elements made out of large, dramatic stone pillars.
During their long-lived existence, pergolas have served many purposes.
They have adorned landscapes as gorgeous hanging gardens. They have functioned as creative ways to grow climbing plants. They have dressed up garden or landscape entryways. And, most of all, they've provided homeowners with elegant shade structures, protecting them from the sun's harsh rays.
While pergolas have stood the test of time, they are not typically crafted from stone as they once were. While considering the style of pergola to choose for your landscape, there are three distinct pergola materials: vinyl, fiberglass and wood.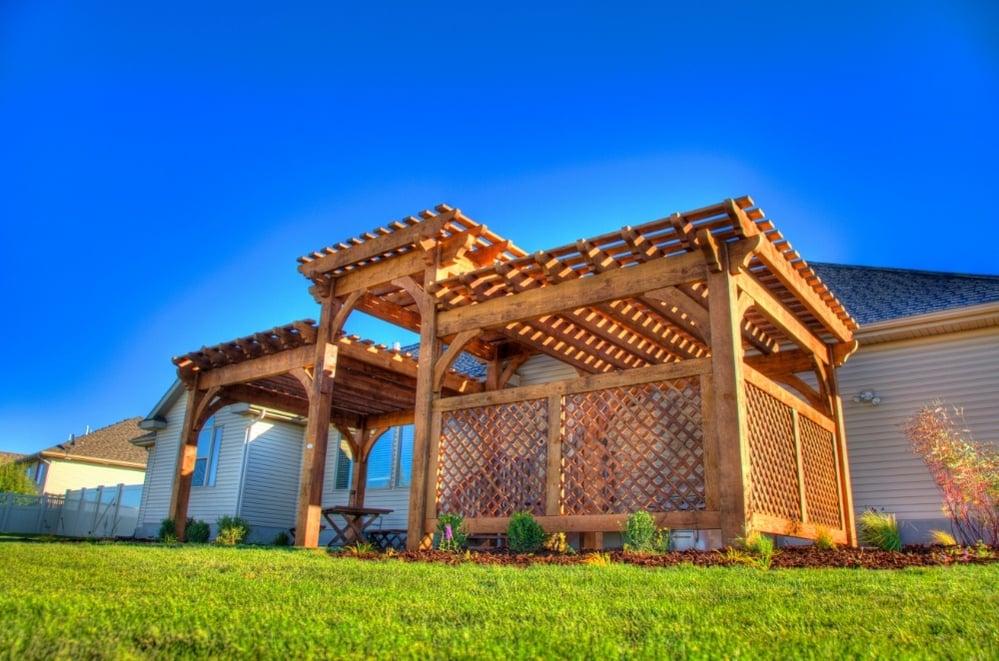 You want to choose quality pergola materials that coordinate with your overall landscape design scheme and provide long-lasting enjoyment.
Each of these three materials has its advantages and disadvantages. Choosing the best pergola type that is right for your situation requires careful understanding of these materials.
Best Pergola Material #1: Vinyl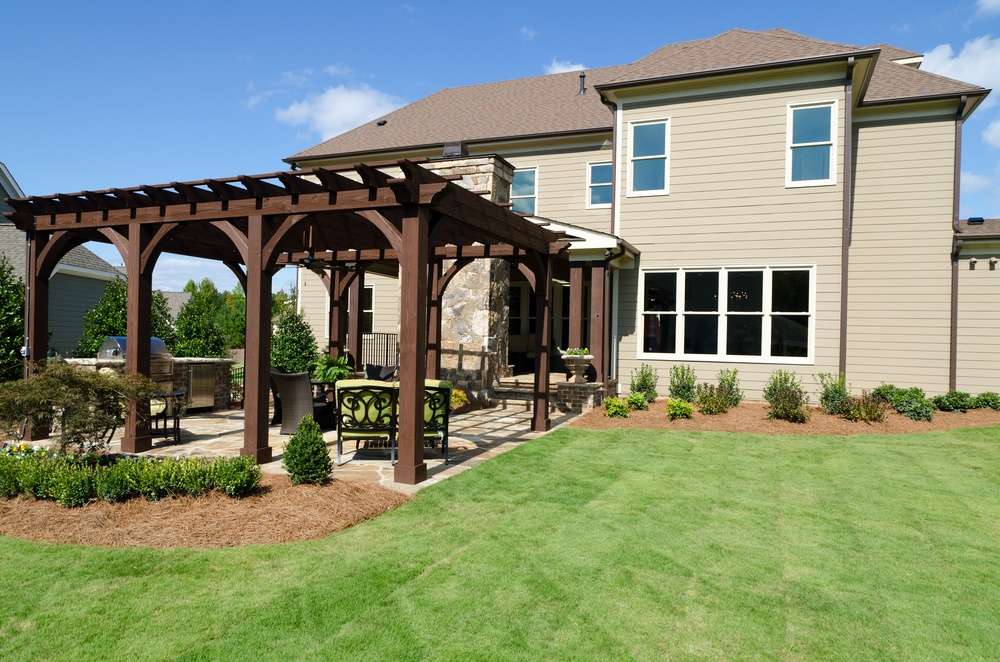 Want a crisp, clean, white or beige pergola to go with your cottage landscape or traditional garden? A vinyl pergola could be the solution you're seeking.
Because of their clean, simple colors, vinyl pergolas can feel more formal, looking like columns, for instance. The material is very easy to maintain—requiring no staining.
You can easily get away with a power wash once annually. The only time vinyl shows any dirt is in a muddy area where mud is splashing up on the surface or beneath trees that are dropping leaves or berries.
While a vinyl pergola can work everywhere, this material is the least strong of all the pergola materials, so we won't recommend vinyl in an area that receives heavy snow loads, such as near the mountains. It can also soften and sag a bit after repeated bouts in varying temperatures.
Vinyl pergolas typically come in kits, which means their sizes and shapes are predetermined, so customization isn't always possible. However, since all of the pieces are pre-measured and pre-cut, the installation time is shorter and labor costs can be reduced.
In fact, the total cost for a vinyl pergola is typically $4,500 to $9,500 depending on the size.
Pros of vinyl pergolas:
Least expensive pergola material

Shorter installation time

Clean, formal colors

Little to no maintenance

Lightweight, so it can cover bigger areas without needing additional posts
Cons of vinyl pergolas:
Not the strongest pergola material; can soften and sag under heavy snow loads or after being exposed to varying temperatures

More formal, so not as fitting for a rustic landscape design

Pre-measured and pre-cut kits mean less customization is available

Cannot be connected to a home
Best Pergola Material #2: Fiberglass
Fiberglass is very similar to vinyl as a pergola building material.
Fiberglass comes in light colors like white or beige. Since the material is naturally corrosion resistant, it won't rust, corrode or pit, regardless of the environment it's in.
Fiberglass is also non-porous, so it will not absorb moisture. Maintenance is as simple as a yearly power wash. However, like vinyl, fiberglass exposed to too much wind, snow pileups or freezing and thawing temperatures can experience cracking.
But fiberglass is very strong, so fiberglass beams can span longer distances than vinyl or wood. Where a vinyl pergola can get soft and sag a little bit after snow loads and after experiencing varying temperatures, a fiberglass pergola doesn't have that problem.
This added strength boosts the cost of the pergola a bit—fiberglass pergolas can range in price from $3,500 to $8,000 based on size.
Pros of fiberglass pergolas:
Middle-of-the-road material in terms of cost

Shorter installation time

Clean, formal colors

Little to no maintenance

Strong enough to withstand heavy snowfall or winds and cover more distance
Cons of fiberglass pergolas:
More formal, so not as fitting for a rustic landscape design

Pre-measured and pre-cut kits mean less customization is available

Cannot be connected to a home
Best Pergola Material #3: Wood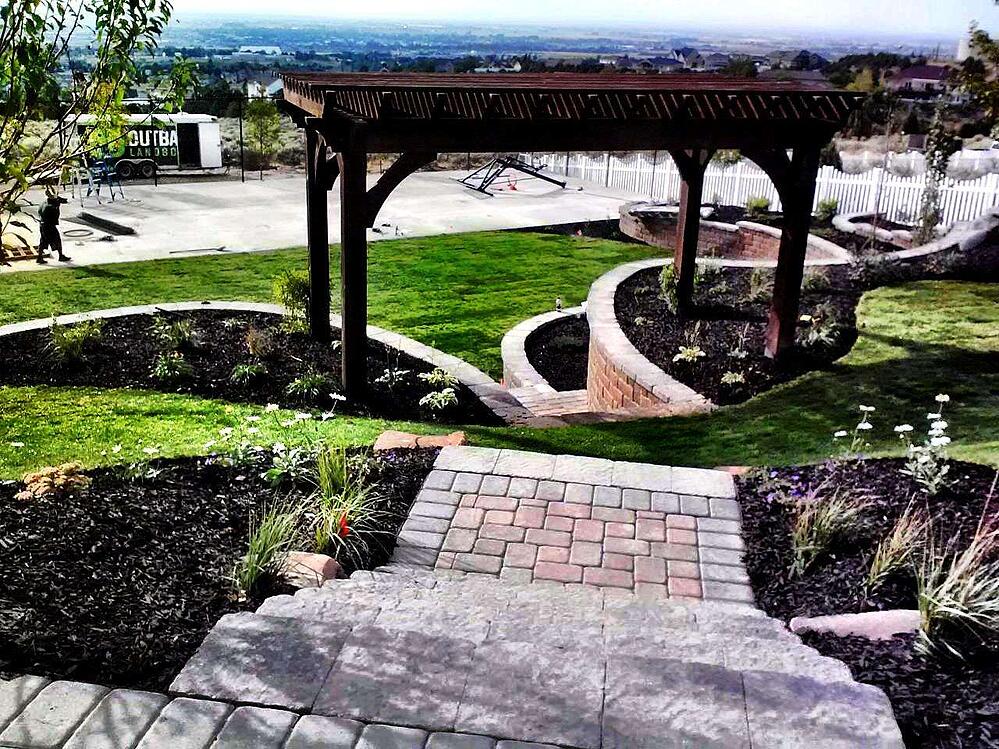 Wood is perhaps the most customizable and strongest material for a pergola.
Wood can be painted, stained or allowed to weather naturally. This natural look blends perfectly with the very popular rustic landscape design style that's very common in Idaho Falls. These are two of the reasons wood is so popular—because it's so adaptable and easy to mesh with the local home and landscape look.
Many people in Idaho Falls love hefty, oversized pergolas, and wood is the way to create these customized, beefy landscape structures.
Pergolas made of wood are strong enough to attach to homes; they also blend in better. However, the material is more expensive to ship and the customizability of it extends its installation time. For that reason, wood pergolas are the most expensive material, ranging in cost from $7,500 to $18,000. The price varies based on materials and size.
Wood pergolas last a long time, but they do require some maintenance. To increase its longevity, annual or biannual staining or sealing may be necessary.
Pros of wood pergolas:
Blends greatly with the rustic landscape style, but can also be modernized

Can be stained or painted any color

Can be connected to a home

Long-lasting material

Strongest material
Cons of wood pergolas:
Most expensive building material

Longer installation time

Requires regular maintenance
So, What's The Best Pergola Type?
Pergolas are seeing a resurgence in contemporary home and garden landscapes. They make for great entryways and gates, and can be especially spectacular when adorned with climbing flowers and vines.
While vinyl and fiberglass pergolas are clean and modern, require limited maintenance and cost less, they are also less customizable.
Wood, which is the stronger, more customizable pergola material, can be more expensive and require some maintenance, but the reward is a long-lasting pergola that blends beautifully with the rustic landscape style typical of an Idaho Falls countryside home.
Outback Landscape's experts would be happy to meet with you and discuss your pergola design needs. Contact our landscape experts at 208-656-3220 or fill out the contact form to set up a no-obligation meeting with one of our team members. In the meantime, for more landscape tips, be sure to subscribe to our blog.