Once spring arrives in Idaho Falls, there's no stopping folks from getting outside and getting to work on their landscape.
A traditional spring landscape service is spring sprinkler maintenance. This service is crucial at this time of year to ensure everything is running properly so your landscape can receive the water it needs and you aren't wasting water or causing any flooding problems in the process.
But as you feel the itch to get outside and get your hands dirty, you may be tempted to just turn on your sprinkler system and get things going. Our advice: Don't do this until you have had your system professionally inspected. You never know what sort of damage with winter winds, cold weather and freeze/thaw cycles can cause, not to mention the possible salt or snowplows that may have affected your system.
Let's dive into what spring sprinkler maintenance includes and how much it costs to have a professional inspect and repair your system.
Spring Has Sprung: Time For Spring Sprinkler Maintenance
As freezing temperatures cease, the ground begins to warm up again. This is when it's time to turn irrigation systems back on for the spring. But taking the right steps is crucial to ensure pipes or other irrigation components aren't damaged.
To get your sprinkler system ready for spring, first open the system's main water valve slowly to allow the pipes to fill with water gradually. If they open too quickly, you can subject sprinkler main lines to high-pressure surges and uncontrolled water flow, which can cause cracking. If you're not sure how to do this — and you want to prevent causing problems with other parts of the system — Outback can come out and do this to make sure it's opened properly.
Next, verify each station or zone is operating properly by manually activating each irrigation zone from the controller and walking through them. Here, you're making sure sprinkler heads are rotating properly and providing adequate coverage and that there aren't any leaks. As you go through each zone, adjust heads as needed and clean the filters on poorly performing sprinklers. You're also looking for proper operating pressure because that can clue us in on system problems. For instance, low pressure can indicate a line break or missing sprinkler.
Then, reprogram the irrigation controller for automatic watering as necessary and take care of any controller needs, such as replacing the backup battery. If the system has a weather sensor, you'll need to uncover and clean that as well. You'll also need to check the backflow preventer to ensure it's working properly.
How Much Does Spring Sprinkler Maintenance Cost?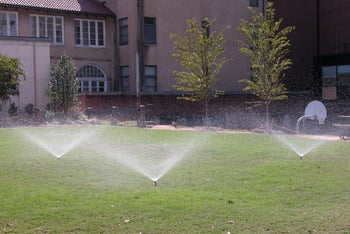 In Idaho Falls, our spring sprinkler maintenance service typically lasts between 30 to 60 minutes. And since we supply most of the parts necessary for repairs on our irrigation maintenance trucks, we're ready to get your system running right away.
The prices of our spring sprinkler start-up services are based on the size of each individual system, but a residential spring start-up service for a landscape in the ¼ acre to 1 acre range typically costs approximately $65. If there is anything broken beyond the basics, then the cost can go up from there.
The additional cost is typically the cost of parts plus labor. We charge $65 per hour for a service call, which includes that first half-hour of work, and is billed in 15-minute increments. So a solid hour of work, for example, can cost $97.50. If we find anything on a system that will cost more than $100 to repair, we like to talk to the homeowner first to let them know what the problem is and how we can fix it for them.
Irrigation Systems Need A Professional Eye
As Outback Landscape goes through its spring sprinkler maintenance jobs, we usually find that 40 to 45 percent of them have an issue we can fix to make the system work better, such as having sprinkler heads adjusted or moved.
We are happy to help at any time, but if you know you want spring sprinkler maintenance, it's best to let us start the system up for the first time for you to prevent any additional damage.
Having a pro maintain your landscape irrigation system is crucial to avoid any problems, such as wasted water, inadequate watering and flooding. Take care of your landscape investment this spring with a water-efficient system that provides years of trouble-free operation.
Contact our experts at 208-656-3220 or fill out the contact form to set up a no-obligation meeting with one of our team members to discuss the water needs on your property.
Image Credit: Sprinkler System & Lawn Sprinklers at NCSSM