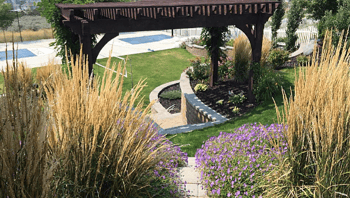 Looking at sites like Houzz or watching HGTV can get the design ideas flowing.
There are so many options like adding a paver driveway surrounded by colorful plants or installing an outdoor kitchen that rivals the one indoors.
But how do you incorporate those stunning ideas with your own style and landscape? Here are six landscape design trends to inspire the perfect outdoor living space for your Idaho Falls property.
Cook Up Good Times
Extend your cooking and entertainment space with an outdoor kitchen.
It can range from a complete chef's kitchen to a modest grill and bar. Here are some features you can include in and around your outdoor kitchen:
Appliances (stove, sink, fridge, etc.)

Shade structure

Landscape lighting

Outdoor furniture/sitting wall

Fire pit or fireplace

Patio
You can tie in all of the different features by using complementing materials and a flowing landscape design.
The location is another important factor to keep in mind. Installing an outdoor kitchen attached to your home will making going in and out of your house more convenient — and will also probably cost you less.
Deck Out Your Landscape
Give your outdoor living space a solid foundation with a professionally built deck.
You have two options when it comes to constructing your deck: wood or composite decking. In the past, natural wood has been the most popular choice, but composite materials have been becoming more common.
Wood is cheaper to install, but it requires more maintenance — which could mean a higher cost in the long run.
On the other hand, you have composite decking, which normally consists of some type of plastic material. They are a low-maintenance option but can get scratched or warped like wood over time.
Take a look at both materials to see which one you like and will work best for your needs.
Come Home in Style
Tired of staring at your worn-out, uneven, cracked driveway? Then it might be time to redesign your driveway and give your home some definite curb appeal.
You can choose from hardscape materials like pavers, concrete (stamped or colored) or bricks. There are also several patterns and color combinations you can use to give your driveway a unique look.
Want to make your driveway more sustainable? You can use permeable pavers, which allow water to move through the surface — meaning less stormwater runoff and erosion issues.
Heat Up Your Backyard

Create the perfect gathering spot for you and your family to enjoy year round with a fire pit or fireplace.
Fire pits cost less than fireplaces. However, fireplaces can create a stately focal point that can really complete the outdoor space, especially if you have a larger area.
You can also choose between gas or wood-burning options for both fire pits and fireplaces. Whichever one you choose will give you plenty of warmth and light, making your outdoor living area a four-season retreat.
Brighten Up Outdoor Space
Another way to brighten up your property is with landscape lighting. Plus, installing lights will also give you more security and safety.
Unless you enjoy sitting in the dark, you'll need to install landscape lighting around your outdoor living area. You can put the lights around patios, steps, walkways, outdoor kitchens, driveways, shade structures and your home.
While you want to enjoy the light, you don't want to stare at unsightly wires and other components. So, make sure you have a professional install them who understands how to hide the wires and make the landscape lighting look as natural as possible.
Add Structure and Erosion Control

Retaining walls are as eye catching as they are useful. This feature can transform your sloped areas and help prevent erosion issues.
The wall serves as a barrier to contain soil and other planting materials from washing away. They are especially efficient on steep slopes.
In addition to helping with erosion, these structures can also add aesthetic value. About half of the retaining walls we install are out of necessity, but there are other ways you can incorporate this hardscape feature:
Seating walls

Around fire pits

Enclosing outdoor rooms

Hot tub barrier (serving as a windbreak)

Design element
You can use either segmental concrete or boulders to construct the retaining wall.
How To Incorporate Landscape Design Trends
You need an experienced partner you can trust to create the landscape design you've been envisioning.
That's where Outback Landscape comes in. We'll take your ideas and turn them into a design that fits your landscape and budget.
Once the design is exactly what you're looking for, we'll start the construction process and keep you updated throughout the process. And if you have questions, we are just a call or email away.
Our certified teams install outdoor living features like decks, patios, outdoor kitchens, driveways, shade structures and plant beds throughout Idaho.
Ready to transform your outdoor space and start enjoying it? Contact us at 208-656-3220 or online to bring your landscape design ideas to life.
Image: Deck