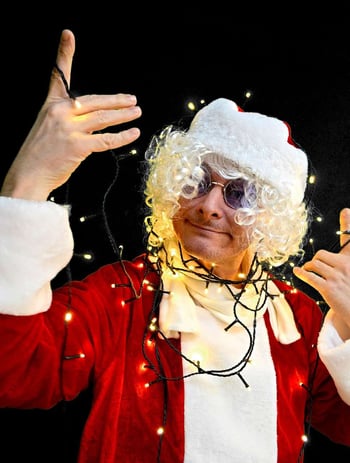 Yes! It's time to get ready for your outdoor holiday lighting display!
Drag that bin of tangled lights out of the basement and see if you can make any sense of the mess.
Make your way to the back of the garage to get the ladder. Watch out for the gas can, the rake, all the bikes, the wheelbarrow and that overflowing recycling bin.
Where are those little clips that attach the lights to the roofline? Is somebody home who can hold the ladder for you? Where's the extension cord?
Is it getting stressful in here, or is it just you?
Relax. We're here to simplify outdoor holiday lighting, hassle by hairy hassle.
Hassle: It takes too much time. Who has a whole weekend for house lighting?
Solution: Get organized first. All those trips back and forth to the garage, basement and attic to rummage for supplies add up.
Gather your ladder, your lights, extension cords, clips to attach the lights, measuring tape, a long pole if you'll be lighting tall trees. Test your lights to be sure they all work before installing them. Once everything is handy, you can just focus on the lighting.
Hassle: You hate ladders. Climbing up high makes you nervous.
Solution: Follow a few safety tips to feel on steadier ground.
Does your ladder look damaged? Don't use it.
Be sure somebody is there to hold the bottom steady.
Make sure all of the extension locks are engaged.
Resist temptation — don't stand on the top step.
If the ground is frozen or slippery, stow the ladder and wait for another day.
Keep the ladder away from electrical hazards like overhead power lines.
Steep roof? Forget the ladder and hire a professional.
Hassle: You never know how many lights you need.
Solution: Measure all of the areas you plan to light. Then, plan on 100 lights per foot for the most impressive effect. That 6-foot evergreen near your front door will need at least 400 lights. When in doubt, add a few more than you think you'll need. Extra sparkle is always a good thing.
Hassle: It's all sort of overwhelming. What should you light?
Solution: Pick a focal point. You don't have to rival Disney World. Take a walk out to the front of your house and just gaze at it for a few minutes. Does it have an interesting roofline? Cool columns? Charming front porch railings?
Front yard trees and shrubs? One towering evergreen?
Light the architectural and natural highlights. You might discover that's all you need.
Be sure to check your artistry once it's dark. You might need to make a few adjustments.
Hassle: Your attempts never look professional.
Solution: Pick one theme and stick with it. Maybe snow and ice. Outline your roofline with snowflake-shaped lights. Wrap lights tightly around your front tree branches, or try those cool meteor lights that look like dripping icicles in motion. Stick with classic white or cool blue. Maybe one fun illuminated snowman.
Use clips that attach lights to window frames, gutters and siding — they keep lights evenly spaced and straight for that professional look.
Don't mix warm white LED lights with cool white LED Lights. Don't be "that" house. Trust us — it will look terrible. There is a difference in color. Cool white has a blue tint while warm white looks like an incandescent light bulb. If you come up short and the store is out of warm white lights, resist the temptation to finish it in cool white. Try another store.
Hassle: You worry about the fire hazard.
Solution: Take some key safety precautions.
Be sure your outlet is a ground fault circuit interrupter (GFCI) outlet. It will shut the circuit down if there's too much current. Don't have one? Call an electrician to install one outside. You can also buy portable versions.
Don't pull the light strands too tight in order to reach an outlet. You could damage the wiring.
Use an extension cord. And make sure your cords are UL approved for outdoor use.
Check your light strings carefully for any frayed or damaged cords.
Hassle: You don't have room to store all the lights and animated displays. You're trying to simplify.
Solution: Hire a professional landscaping company. Not only do they use their own lights, decorations and supplies, they store them for you all year.
Hassle: You really don't have the time or energy for any of this. But man, you really love holiday lights.
Solution: Call us at Outback Landscape. We love this stuff.
Light Up The Holidays With Outback
At Outback Landscape, we're outdoor holiday lighting experts. We have the best holiday outdoor lighting ideas, the latest lighting effects and the expertise to make your home a twinkling holiday wonderland
While you relax inside in your cozy pajama pants and a steaming latte, we'll deck your house in sparkling splendor.
We'll help you create a dazzling display, untangle the lights, climb the ladders — and we'll even take it all down and store it for you until next year.
Outback Landscape, located in Idaho Falls, Idaho, serves residential and commercial properties in Idaho Falls, Rexburg and Pocatello, Idaho, as well as Bonneville, Madison and Bannock counties.
Call us at 208-656-3220. Or fill out the contact form to schedule your free holiday lighting consultation.
Light up your home for the holidays — hassle-free.