Mother Nature has a great sense of humor.
She often decides to unload the season's first blast of snowy, icy weather just when shoppers flood the stores for holiday shopping.
Here — have a snowy, slushy parking lot! How about ice-slicked sidewalks to make shopping even more of an adventure?
If you own or manage a retail center, you better be on top of it.
Here's a look at the three most essential retail center snow services to keep your customers safe.
First, A Word About Liability
Of course, you want your customers and employees to navigate your property comfortably and shop without hassle on the most blustery days.
But retail center snow services are vital for another reason — liability.
As a property owner, you're legally liable if a customer gets injured on your site. You're responsible to carry out "reasonable care" in managing the property so that people are safe from harm.
One of the most common injury and liability issues on commercial sites? Slip-and-fall accidents.
Keeping your retail site free of slick snow and slippery ice isn't just for convenience. It's crucial.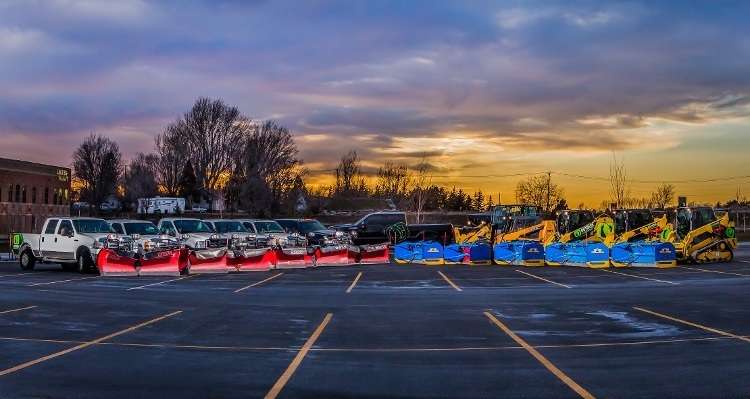 Snow Plowing — And The Value of GPS
This is a basic. Of course you need plowing to push the snow off your parking lots, out of your entrances and off your walkways.
But does your snow removal contractor have GPS tracking for snow plows, trucks and loaders? Not all do. But they should.
GPS tracking software gives real-time data of the location of each truck as they're attacking a storm, helping to navigate where the truck's been and where it should go.
Because the software makes historical information available, snow removal managers can review past performance on snow removal and adjust their responses for the next big storm.
But there's more.
If someone is injured and says they slipped on the ice on your property, can you prove you had a snow and ice removal company clear your lot and walkways?
If your contractor uses GPS tracking, they have proof of exactly where they were, at what time.
Snow Hauling
When a property runs out of room to store the pushed-aside snow — or doesn't have room for it in the first place — the snow has to be hauled away, off your property. There's an extra charge for this, because it requires additional big equipment, dump trucks, loaders, and crew time, but it's worth it.
When there's no more room on your property to store snow, and it should be hauled away, you'll start to see problems.
Parts of your property can be damaged. Like curbs. If you have tight spaces and expect your contractor to "find room" you'll end up with damage. Snow will be pushed places it shouldn't, and that's not fair to our contractor. Especially if you expect them to pay for any damage. In addition snow ends up being pushed into valuable parking spaces or blocking drains.
If you don't have the space to store large amounts of snow, you need to pay to have it hauled away.
De-Icing
Ice is tricky. And treacherous. One product won't take care of all a retail properties icy conditions.
That's why Outback uses a whole menu of ice melt products to do the job right.
We use an ice melt mixture that's less corrosive than straight rock salt and friendlier to the environment.
When our crews apply ice melt it won't refreeze. We use liquid magnesium for pre-treating concrete or important parking lot areas such as walk ways or handicap spaces. This prevents the ice from bonding to the pavement and on light days will burn off any accumulation or ice from freezing fog.
We love Ice Slicer for parking lots. This product includes three different sizes of ice melt — fine, medium and larger pieces. While the fine pieces quickly melt light, thin ice, the larger pieces burn through thick ice and break the bond with the pavement to allow for ice removal.
Sidewalks get coated with treated rock salt, a finer product good for places with foot traffic. The treated rock salt we use is safe for both concrete and landscaping.
Trust Outback Landscape With Your

Retail Center Snow Services


At Outback Landscape, we're snow and ice experts. And keeping retail properties clear of winter's hazards is one of our specialties.

Our snow removal service operates 24 hours a day, 7 days a week. We have certified snow professionals on staff and we're insured for snow removal. All our snow removal equipment has GPS systems on board, so property managers know we were there.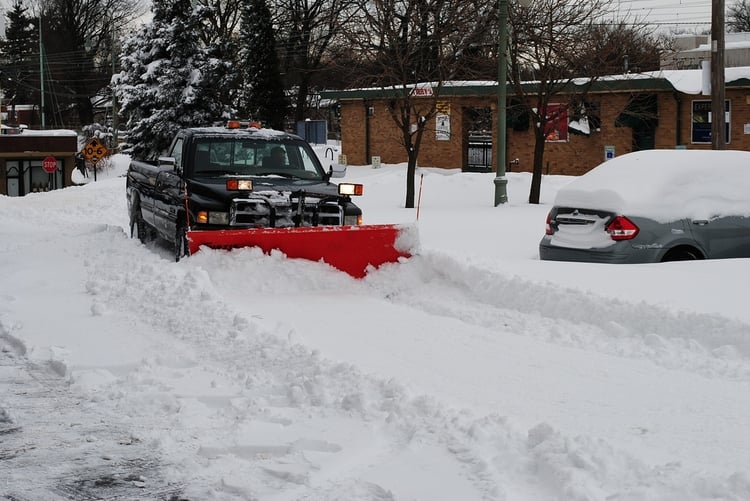 We know your business depends on people having safe, convenient access. We promise to have you opened up and ready for business in the morning. If a storm hits during the afternoon, we'll show up to clear your walks and keep your parking lot safe throughout the day.
And we use environmentally friendly de-icing products that won't harm your lawn or plant material.
Give Us A Call
Reduce your liability and keep your customers safe this winter with Outback's comprehensive menu of retail center snow services.
We offer snow plowing, hauling and ice melt applications. Located in Idaho Falls, Idaho, we serve residential and commercial properties in Idaho Falls, Rexburg and Pocatello, Idaho, as well as Bonneville, Madison and Bannock counties.
Contact Outback Landscape for a free snow removal estimate at 208-656-3220, or fill out the contact form to schedule an onsite consultation.
It's getting slick out there. We'd love to hear from you.