Trees can give you shade, wildlife homes and your landscape a more established look.
Add in some colorful blooms, and you've got a stunning focal point with some major aesthetic value.
Sounds like a real win-win, right?
There are a variety of flowering trees that will thrive in your Idaho Falls landscape, but it's important you choose the right ones for your space.
Check out the benefits and best trees you can start enjoying on your property.
Benefits of Flowering Trees
Beyond providing seasonal color and livening up your outdoor space, flowering trees have some other important features, as well:
Emit floral scents

Attract wildlife
Provide shade for you and plants
Reduce water amounts needed for surrounding grass and plants
Add value
So if you want to start enjoying all of those things on your landscape, consider installing these four flowering trees that grow in Idaho Falls.
Chanticleer Pear
This tree definitely doesn't disappoint with its generous amounts of flowers.
The Chanticleer pear tree has white blooms and produces little to no litter, so it's especially ideal along streets or around other outdoor features.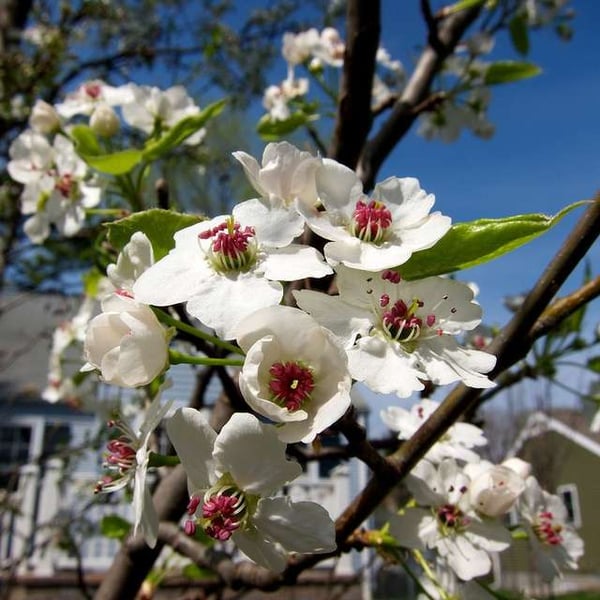 The Chanticleer pear grows 25 to 35 feet tall and can have a spread of 16 to 25 feet. The tree requires full-sun conditions and blooms in April and May, and its leaves turn orange to red/purple during the fall.
It produces small fruit during the winter, giving you visual interest throughout the year.
Spring Snow Crabapple
Another white bloom option is the spring snow crabapple. It has fragrant flowers that come out in spring and showy foliage in the fall.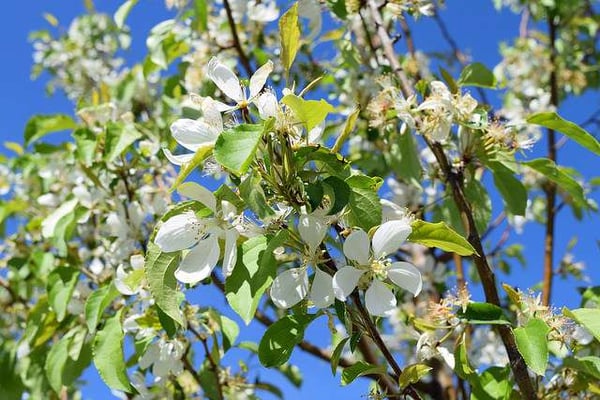 This tree grows 20 to 25 feet high and wide, and it needs full sun. You could install this tree to make a bold impact on entrances or as natural screening between homes.
Despite the name, the spring snow crabapple doesn't produce fruit.
Autumn Brilliance Serviceberry
A smaller tree option, the autumn brilliance serviceberry is perfect for landscapes big and small.
It grows 15 to 25 feet tall and 15 to 20 feet wide, and the tree requires full-sun conditions. Birds and other wildlife will enjoy its purplish-black fruit, while you can gaze at its stunning fall color.
Prairiefire Crabapple
Add some intense color with the prairiefire crabapple tree. Its pinkish-red blooms come out in spring.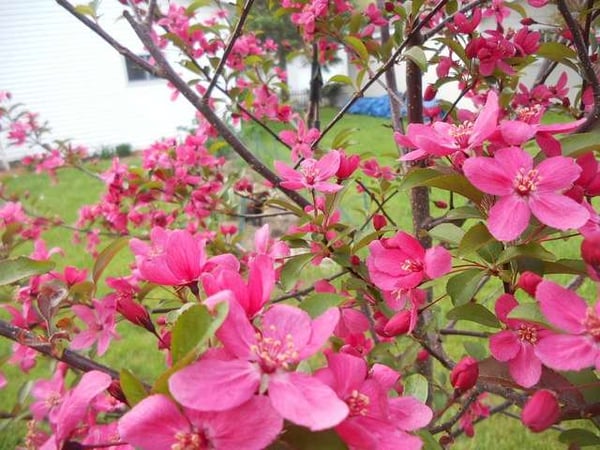 You'll also get red fruit into late fall that will attract wildlife, but there's not much of a littering problem with this variety. The tree needs full sun and has a 15- to 20-foot height and spread.
Another popular crabapple option is the profusion variety, which has violet-red blooms.
Add Flowering Trees to Your Idaho Landscape
All hardy options, these flowering trees will liven up your landscape and help make it more established (which adds value.)
Just as important as choosing the right tree, you also want to make sure you pick the right landscaper to install them.
Working with a professional will help ensure you pick a tree that will thrive in your soil conditions and is the right size for your space. Plus, most landscapers will give you some sort of warranty on the tree if it dies or has issues.
At Outback Landscape, we not only know which trees will work best for your landscape, but we also have a landscape design team that can show you exactly where to install the flowering trees for the biggest impact and most sustainability.
Call us at 208-656-3220, or fill out our contact form to start adding some natural color to your landscape.
Photos: Blooming Trees, Chanticleer Pear, Spring Snow Crabapple, Serviceberry, Prairiefire Crabapple