Everyone tosses around the words "green" and "sustainable" — but what do they actually mean, and why are they so important?
Most of the time, going green or sustainable involves taking steps to limit your environmental footprint. That could include recycling, carpooling, using solar power and even making your landscape more energy efficient.
Benefits Of Sustainable Landscaping In Idaho
You know it's important to take care of the environment, but there are actually several benefits of having a sustainable landscape design that will have a more direct effect on you:
Conserves water

Lowers utility bills

Requires less maintenance over time

Uses less electricity (if you have LED lights, for example)
It's no wonder going green and sustainable is so popular. Here are five sustainable landscaping ideas for your Idaho property.
1. Reuse Rainwater
The idea of harvesting rainwater might seem a bit out there, but it's actually growing in popularity.
A top sustainable landscaping trend is rainwater harvesting, according to a survey by the American Society of Landscape Architects (ASLA). Of those surveyed, 88 percent said they expected rainwater harvesting to have a high homeowner demand.
The purpose of rainwater harvesting is to collect, store and reuse rainwater. You can catch water in containers like cisterns. Then, that water can be used on your plants, grass or any other outdoor needs you may have.
2. Install Native Plants
Curb appeal and sustainability can go hand in hand if you choose the right foliage. Another great sustainable landscaping idea is to use native plants.
Native and adaptive plants can handle our climate here in Idaho Falls better than non-native ones. So, they will require less water and maintenance on your end. These plants will also thrive better, giving you the wow factor you're looking for.
Beyond going native, you also need to pick plants that match your landscape's conditions. For example, pair a full-sun plant with areas in your yard with little to no shade.
3. Update Your Sprinkler System and Schedule
Having a well-maintained and updated sprinkler system is key to having a sustainable landscape.
Sprinkler heads can break or need adjustment, so it's important you have them examined at least once a year. New technology is always coming out to make the system more efficient, so you could benefit from upgrades — like controllers and sensors — as well.
You also need to make sure your system schedule is still properly set. Having the sprinkler system run during the mornings and/or evening helps prevent losing water to evaporation in the hotter part of the day.
4. Lighten Up Your Landscape (And Costs)

Enjoy your outdoor living area well into the night with energy-efficient landscape lighting.
LED lighting uses 75 percent less electricity than traditional incandescent bulbs, and they also last longer — with a life span of about 50,000 hours compared to 1,200 hours for incandescent bulbs.
You can even control some LED lighting systems remotely to turn them on and off or even dim them.
In addition to making your landscape more sustainable, installing lights will also improve your outdoor living area's levels of safety and security. Some popular places to add landscaping lighting is along walkways, stairs, patios, outdoor kitchens, plant beds and along your home.
5. Make Changes To The Landscape Design
Having a sustainable yard really starts with the initial landscape design. Luckily, you don't have to rework your entire outdoor space to have an efficient layout.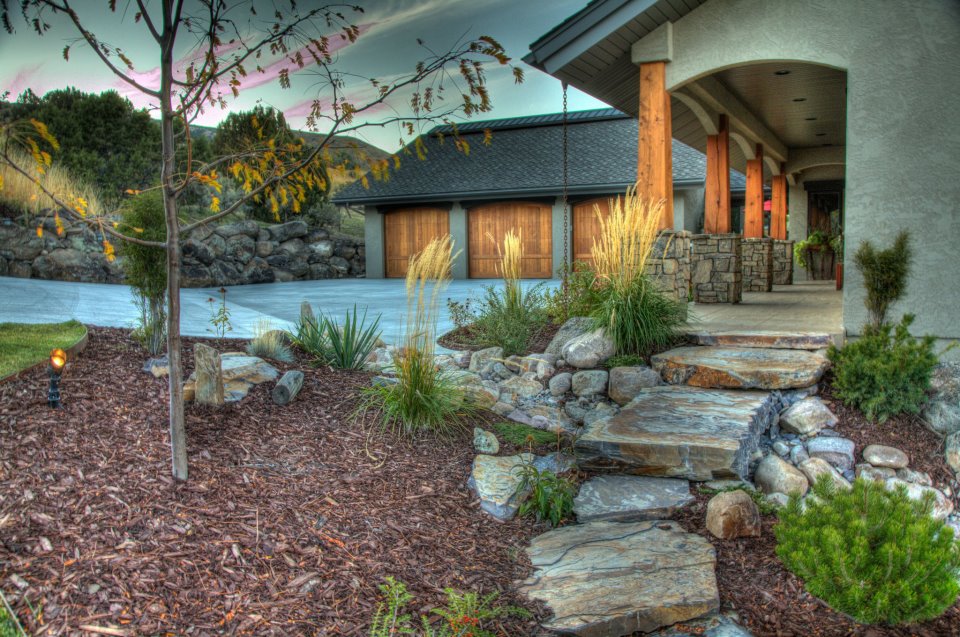 Here are some design changes for sustainable landscaping:
Check drainage. Does your landscape have puddles after it rains? Is water building up on your patio? See where rainwater goes on your property, and make sure it has a clear path to move freely. You may need to grade the landscape to encourage the flow of water in the right direction, remove obstacles like plants or install a French drain.
Reduce the amount of grass.

Grass

can be pretty needy, requiring water, maintenance and

fertilizer

. So, look for areas where you can limit the amount of grass you have. Instead of having grass on a steep slope, for example, you could install groundcovers or a

retaining wall

to reduce the amount of maintenance needed (and make the job a lot easier).

Use plants for shade. Installing shade trees or shrubs can help prevent your grass or smaller plants from getting stressed during the summer — which means less watering.
Look for a professional who offers sustainable landscape design services so they can help you see what changes would be best for your outdoor space.
A More Sustainable Landscape Starts With Outback Landscape
But be careful: A lot of landscapers like to say they are "sustainable" or "green," but in reality, their work doesn't back that up.
At Outback Landscape, we walk the talk to make sure your landscape is as efficient and sustainable as possible. We offer a full list of in-house maintenance and design services including installing (and suggesting) native plants, updating sprinklers and adding landscape lighting.
We truly care about protecting the environment and natural resources, and you'll see that in everything we do.
Ready to make your property more efficient? Contact us at 208-656-3220 or online to see how we can make your landscape more sustainable (and start saving you money).