Choosing a hardscape material for landscaping projects is one of the hottest homeowner topics out there.
Hopefully, our last post on this subject helped you zero in on the type of hardscape that best suits your taste, your home's aesthetic and your outdoor living needs.
If your next step was to explore the price options, weighing the cost of brick pavers vs. stamped concrete, you probably said, "Whoa."
So, next up: a bit more detail on that price difference.
Why Are Brick Pavers More Expensive Than Stamped Concrete?
The biggest factor? Labor.
Concrete is a pretty easy install. And the material itself is inexpensive, too. Stamped concrete costs about $12 a square foot to install.
Brick pavers, on the other hand, are each laid by hand. Piece by piece. It's a painstaking process that takes extra time, skill and effort.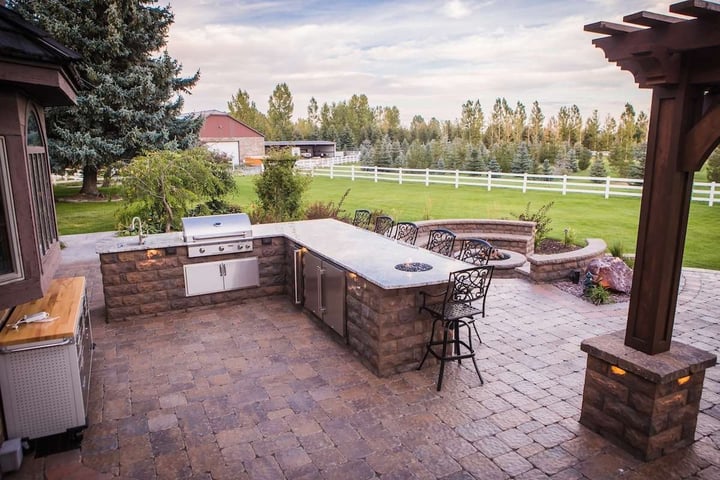 And even before the pavers are laid, extra preparation goes into the base underneath. The time-consuming prep involves excavating the site, adding layers of crushed granite, ensuring it's level, repeatedly tamping it down.
All this extra labor equals more expense. Pavers cost between $12 and $24 per square foot to install, depending on the size of the project, access, slope, shape and other variables.
We'll do the math for you — that can be twice the cost.
Why Spring For That Extra Cost?
There are lots of advantages to using brick pavers in your hardscape project.
For one thing, you can get almost any look you can imagine with a paver. Classic-style pavers that mimic the look of brick are perfect for traditional and historic homes — your patio, walkway or driveway will look like it's been there for decades.
Contemporary home? These pavers suit you, too. Irregular shapes and precision cuts create stunning modern designs.
Secondly, pavers are much more forgiving than poured concrete. They move as the ground shifts. Freezing and thawing? Bring it on.
Why does this matter? Stay with us.
The Trouble With Stamped Concrete
As we've said before, poured concrete is the most inexpensive hardscape option. Add decorative stamping and you get a high end look at half the cost of pavers.
But, as we also like to say, there are two types of concrete: Concrete that hasn't yet cracked.
Concrete that will crack.
Concrete — even stamped concrete — will crack eventually, especially in our Idaho climate.
As the ground freezes and thaws, shifting over time, concrete cracks and breaks, while pavers move with the ground.
Can't Those Cracks Be Repaired?
Well, not perfectly. The cost to repair cracks in stamped concrete is usually higher than other materials and the repairs are often noticeable. It's tough to exactly match the color. Worst case scenario? Your concrete patio will have to be removed and re-poured.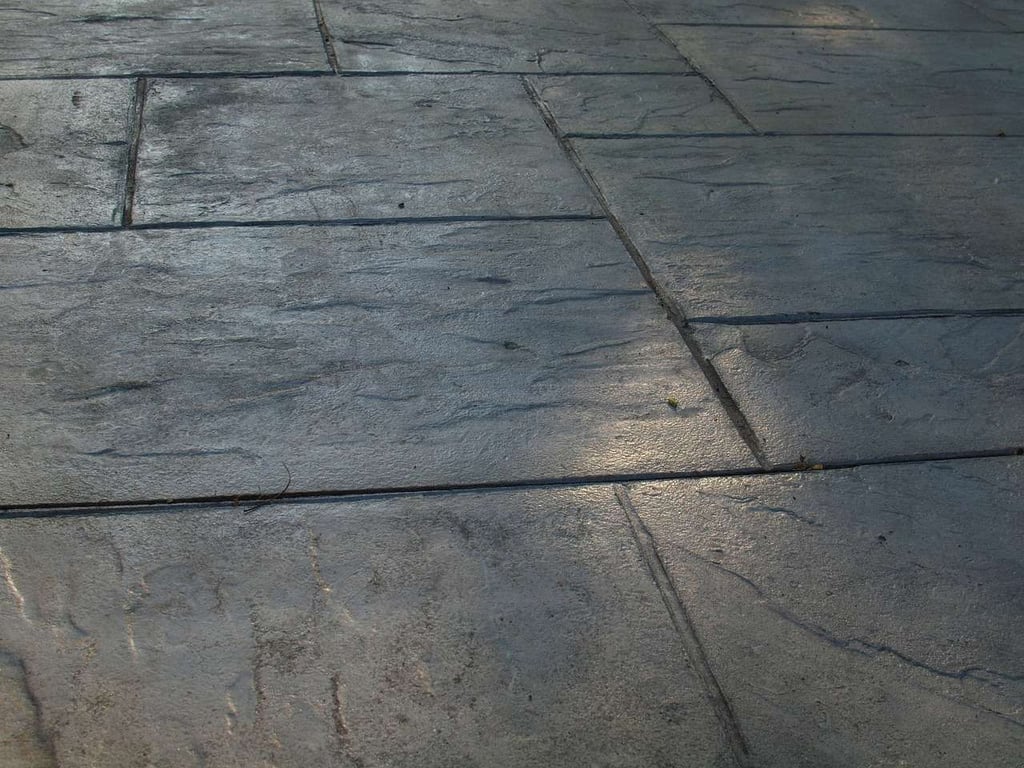 Beyond The Backyard Patio
While the patio is often the highlight of your backyard entertaining, your hardscape options go way beyond.
The same hardscape materials you use in your patio can be used to create retaining walls, outdoor kitchens, fireplaces and fire pits. Don't forget paths, walkways and driveways.
If your landscaping plans include several of these elements, you may want to consider materials that harmoniously blend all of the features together to create an inviting, cohesive atmosphere. Pavers fit that bill perfectly.
Want To Know More? Ask Outback — We'd Love To Help
Still pondering brick pavers vs. stamped concrete? The best way to determine which hardscape material is right for you is to have one of Outback Landscape's hardscape specialists come out and visit your property.
We have Interlocking Concrete Pavement Institute (ICPI) certified installers on staff, and we'll help you choose the right material and design to build the patio, walkway or driveway of your dreams.
Located in Idaho Falls, Idaho, we serve residential and commercial properties in Rexburg, Pocatello and Idaho Falls, Idaho, as well as Bonneville and Bannock counties. Call us at (208) 656-3220 to set up a no-obligation meeting with one of our talented team members. Or fill out the contact form and we'll be in touch.