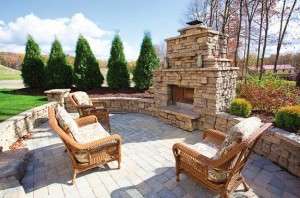 The sun settles into the horizon, reflecting brilliant shades of orange, hints of blue and specs of purple in a dreamy sunset. The view is something many homeowners enjoy after catching up with their families during dinner and settling down from a long day's work. Sunsets provide those moments of reflection that pass by almost too quickly.
But what happens after the sun goes down and the temperatures cool? Fire up your landscape by adding one of the most popular, high-demand additions this year: a landscape fire feature. In fact, the National Association of Home Builders ranks fireplaces among the top three features desired by new home buyers.
Fireplaces and fire pits provide gathering spaces for friends and family. They're the perfect spots to roast marshmallows or have warm cups of cocoa while bundling together to share stories and spend time together.
Whether you have a cozy outdoor room or kitchen that you love spending time in or want to create a special space for extended get-togethers with family and friends, adding extra warmth, light and ambiance with fireplaces or fire pits might be just what you need.
When creating an outdoor room, deciding between fireplaces or fire pits is important. Both fire features provide relaxation, heat, light and come in a variety of options (gas-burning vs. wood-burning or stone or brick), extending outdoor enjoyment beyond daylight hours. Yet, each feature has unique differences that can impact your space.
Here are the main benefits of fireplaces and fire pits. You'll see, you can't really go wrong with either one!
The Benefits Of Fireplaces
A fireplace provides a complete and total package: a grand space that becomes a decorative and aesthetic landscape focal point, as well as a practical way to bring light and warmth to your backyard.
A fireplace's height and mass provide one-hundred and eighty degrees of enjoyment, which makes it a great option for a smaller group. It provides a more romantic, intimate setting for connection and conversation. This partial enclosure also protects flames from the wind, making it easy to light in almost any condition.
The Benefits Of Fire Pits
A fire pit, which can be portable in some cases, can be a more flexible way to enjoy the benefits of warmth and a comfy atmosphere.
Typically, fire pits create a three-hundred and sixty degree enjoyment space, ideal for social entertaining with larger groups and provides that cozy campfire-like environment. Think storytelling, lots of laughter and s'mores.
Because fire pits are open to the elements from all sides, windy days may prove more challenging for use. Homeowners should always think safety first when using any fire feature.
A fire pit can also be built low, as not to distract from any other nearby views your property provides. Placed in the right location, homeowners can enjoy not only an inviting fire, but also the view that extends beyond it and frames it.
Getting To The Hearth Of The Matter
Interested in providing a warm gathering space that adds dimension to your backyard and extends your living and enjoyment space?
Contact Outback Landscape's design professionals for a free consultation to help you decide between a fireplace or fire pit. Then sit back and embrace an outdoor space that provides you with maximum enjoyment day or night!
Image credits: Rosetta Hardscapes, Belgard