Everybody loves a fire pit.
Warm, flickering flames offer the perfect gathering spot. They keep you cozy on a chilly night, extending the time you can enjoy beneath the stars.
And, one word: s'mores.
Before you break out the sticks and marshmallows, you have a decision to make: gas vs wood burning fire pit?
We get this question a lot. How to decide?
Here are 5 things to consider when choosing a wood or gas fire pit.
1. Cost of Gas vs Wood Burning Fire Pit

Gas fire pits are more expensive than wood burning fire pits.
Why? A few reasons.
— You need a burner for a gas fire pit. This is where your gas ignites and lights up the night. You'll also need a burner pan. This holds the media (lava rock or glass) to hide the burner.
— You need a gas hook up and installation. Your landscape contractor will subcontract out the gas installation to a qualified and licensed heating, ventilation and air conditioning company to hook up the gas line to your new fire pit. This will add an additional contractor to the job, which adds to the cost.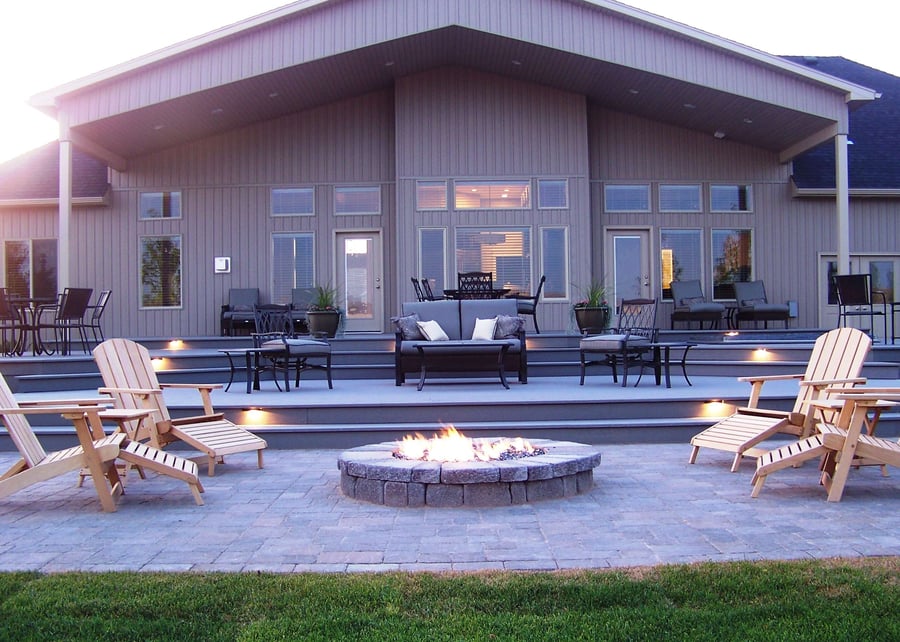 2. Ease of Fire Pit Operation

How rustic are you? Do you love the idea of throwing logs on the fire, watching the sparks fly, and tending the flames?
Do you want to roast hot dogs on the fire or cook up pouches of potatoes and onions, cowboy style?
Then a wood burning pit is perfect for you. A wood burning fire pit offers a campfire feel and emits more heat for cooking.
Or do you want to stroll out to your fire pit in white pants, with a glass of wine in one hand and a cheese board full of camembert in the other? That sounds like you'd prefer to flip a switch for the flames. A natural gas fire pit lights quickly and easily and doesn't produce smoke or sparks.
Like natural gas, propane also lights quickly and doesn't produce embers. You'll need to refill the propane when it runs out.


3. Accessibility Of Gas Or Propane

Where you live might help make the decision between a gas or wood burning fire pit. Is natural gas available in your area? Do you have ready access to propane?
Is firewood easy to come by, or scarce in your neighborhood?
You want convenient fuel.


4. What's The Wind Direction?

Wind direction needs to be considered when choosing between a gas fire pit and a wood burning fire pit.
If your house is downstream of the wind and you opt for a wood burning fire pit, the smoke will blow toward any open windows or doors. Unless you want to smell that smoky scent long after the fire is doused, this is something to consider.
5. What If You Change Your Mind?

It happens. You can convert a wood burning fire pit to gas by installing a gas line and fire ring.


Gas vs Wood Burning Fire Pit? Outback Installs Them All

Here in Idaho, we love fire pits. Our chilly fall and winter temperatures are perfect for gathering around warm, flickering flames.
At Outback Landscape, we start by talking with you about how you'll use your fire pit and entertainment area to settle on the best style and design for your lifestyle.
Once you approve the design, we'll move forward to expertly install it. And, good news — a fire pit can typically be constructed in less than a day.
Enjoy those s'mores.
Located in Idaho Falls, Idaho, we serve residential and commercial properties in Rexburg, Pocatello and Idaho Falls, Idaho, as well as Bonneville and Bannock counties.
Give Outback Landscape a call at 208-656-3220 or fill out our contact form to request a free consultation to discuss your landscape needs.