There you are, happily standing in the middle of your great new patio or strolling your nifty new deck.
The next big question: How to decorate my outdoor living space?
We've got you covered, with outdoor living space decorating ideas from top to bottom.
You'll love your stylish new hangout.
1. Outdoor Furniture Worthy of Indoors
Quality outdoor furniture is a great way to decorate your outdoor living space. We're talking about something more comfy and plush than those dusty wood Adirondack chairs you've had in the garage for years.
Think solid, substantial furniture — aluminum, maybe, or that great outdoor wicker. Consider matching the style to the style of your home and outdoor space for a cohesive feel.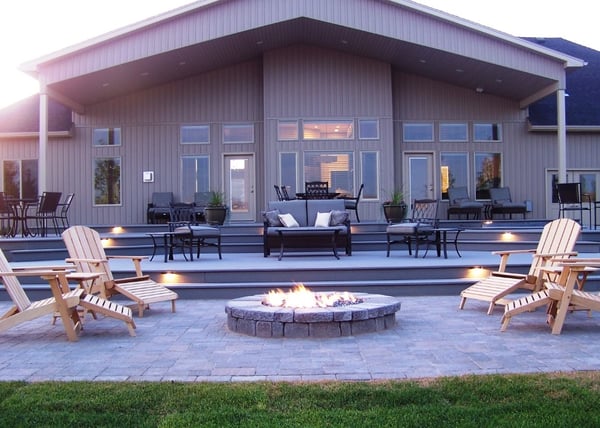 Add plump outdoor cushions you can settle into for a couple hours — or more.
Would it look just as nice in your living room?
Perfect.
Toss on some outdoor pillows to complete your outdoor room look.
2. Install Built-In Seating
Is your patio crafted of standard concrete pavers, or a mosaic sculpted stone that mimics a cobblestone courtyard?
Either way, we can create built-in seating that perfectly matches your new outdoor space.
Built-in seating is great because it's always there when you need it and you don't have to lug it indoors for the winter.
Want a more natural look? Boulders can step in as casual seating that beautifully blends with your natural landscaping.
3. Add a Fire Pit
A fire pit is a great feature for decorating your outdoor living space. Here in Idaho, we love fire pits. Our chilly fall and winter temperatures are perfect for gathering around warm, flickering flames.
You have a couple choices here.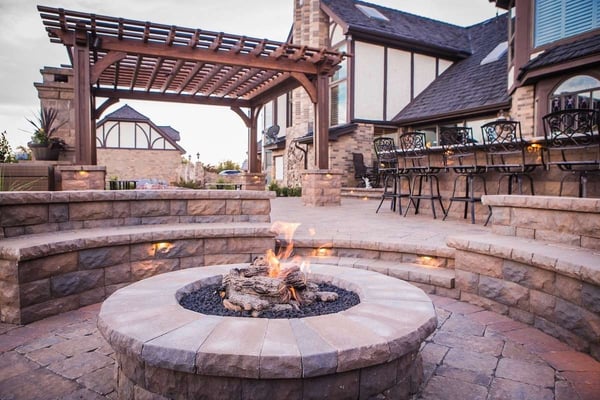 Are you the rustic type? Do you love the idea of throwing logs on the fire and watching the sparks fly? A wood burning pit might suit you.
Or do you want the no muss, no fuss kind of fire? Maybe you'd rather spend more time rustling up the perfect appetizer and just flip a switch for the flames. A natural gas fire pit lights quickly and easily and doesn't produce smoke or sparks.
4. Other Outdoor Fire Features
Want an outdoor fire feature, but on a smaller scale? There are other outdoor fire feature options for your outdoor living space design.
Portable fire pits and fire tables abound. Gather around a table with your wine and cheese, the flickering flames as a centerpiece.
Tiki torches offer a fun tropical vibe that make you feel like you're on vacation — on a regular old Wednesday.
5. Decorate With Planters
Planters and container gardens are great for decorating your patio. You can really have fun here. We're not talking about boring orange clay pots.
Choose sleek, modern cylinders to hold your plants. Or elegant, curvy urns. Some planters offer such fun splashes of vibrant color, they're stunning even without plants.
Go big. Oversize planters can show off banana trees, exotic palms and colorful canna.
Play around. Maybe start with a tall, graceful ornamental grass that will wave in the breeze. Add a mounding sweet potato vine, a bright geranium and a cool speckled coleus. Finish it off with a trailing golden creeping jenny that will spill over the sides.
Personalized planters can really make this outdoor living space your own.
6. Use Cozy Outdoor Rugs
These days, outdoor rugs are as cozy and beautiful as indoor rugs — and you can hose them off.
Use them to anchor a grouping of furniture on your patio or deck for a living room feel. Plop down more than one to designate different areas of your outdoor space.
Coordinate the colors with your outdoor furniture cushions and pillows.
It's the best of indoor decorating — outside.
7. Install Water Features
The sound of water makes everything better.
Feel the stress of work bubble away. Splash your toes in the water. Have fun watching golden fish dart in the ripples.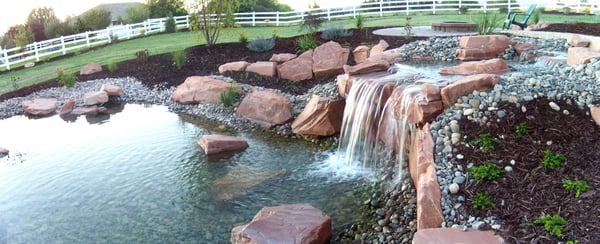 Add a small fountain, a tranquil pond, a water wall, a bubbling column.
Water features and ponds attract wildlife and add ambiance. They drown out pesky traffic noise and neighborhood nuisances.
Pondless water features are perfect for patios and intimate sitting areas. They can snug into small corners, making a big impact in a small space.
Not sure what type is right for you? We'd love to help you decide.
8. Add Festive Landscape Lighting
You might have the typical deck lighting covered — downlighting under benches and seating walls, step lights under each deck or patio step for safety and ambiance.
But don't stop there. Get fancy. Add an outdoor chandelier, either an electric one or one that holds flickering candles. Landscape lighting can be crucial to decorating your outdoor living space.
Surround your seating area with stylish candle lanterns. Use real wax candles or opt for battery powered candles inside that flicker just like the real thing.
Bistro lights strung overhead say "the party's here." Just the two of you? Even better. They're pretty romantic.
Bring On The Comfort
Take a look around your favorite indoor room — what makes it a place you want to linger?
Take your outdoor decorating ideas from here.
A TV? A well-stocked fridge? A great sound system? A nice lamp?
There are outdoor versions of all these amenities, designed to stand up to the elements.
Treat yourself.
Add Those Perfect Finishing Touches With Outback
At Outback Landscape, we're experts in creating stunning, inviting outdoor spaces you'll love to live in.
But it won't feel like your own until you add your own finishing touches.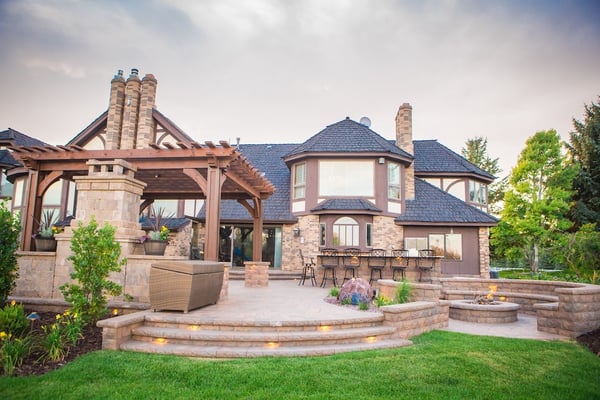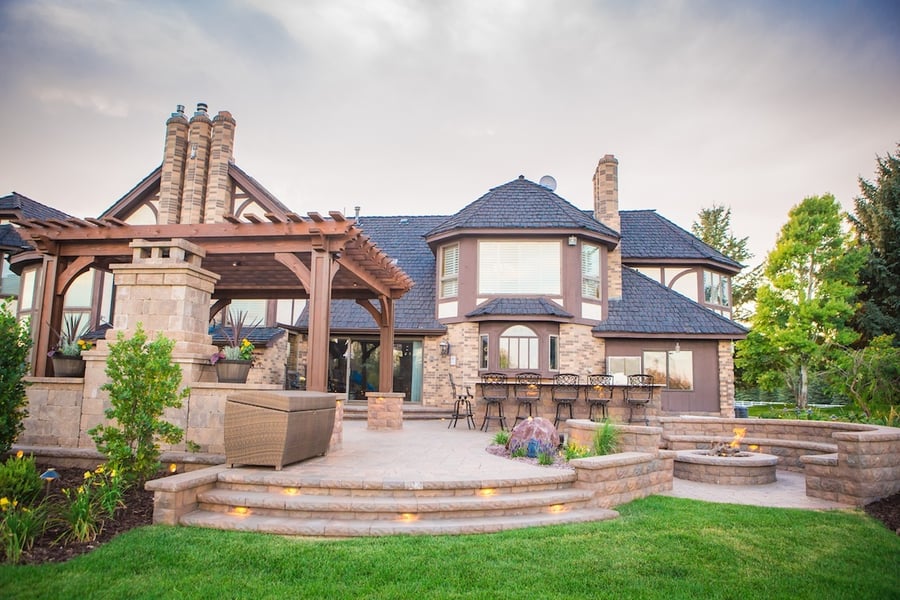 Need outdoor decorating ideas? Give us a call.
In addition to knockout outdoor patios and decks, we offer landscape design, construction, maintenance, irrigation and lighting services to enhance your property.
We serve residential and commercial properties in Idaho Falls, Rexburg and Pocatello, Idaho, as well as Bonneville, Madison and Bannock counties.
Call us at 208-656-3220. Or fill out our contact form to schedule a no-obligation meeting with one of our team members.
We'd love to hear from you.