Websites, business cards, advertising, social media — there's a lot to think about when you're creating and maintaining your company's brand.
Don't forget landscaping.
The landscaping and maintenance of your property — and the company responsible for it — make a huge impact on your brand.
How? We'll show you.
Keeping Things Tidy
You know as well as anyone the importance of first impressions. A messy landscape can really mess with your brand.
A skilled, responsive landscaping company will make sure your property looks neat and appealing no matter who shows up to visit, or when.
Details matter. You need expert mowing with clean lines. Regular blowing and edging. Weed control. Dead-heading. Bright, beautiful, healthy flowers.
You have a lot on your plate, attending to all the other details to keep your place running smoothly.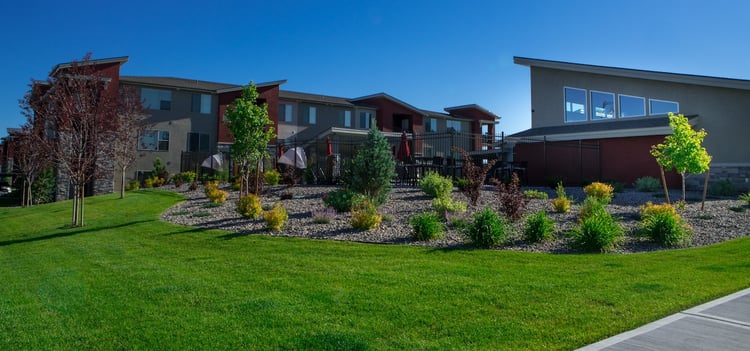 A top-notch landscaping company takes care of the outside, so you don't have to worry about it.
Enhancements Make You Memorable
A landscaping company that specializes in enhancements can suggest great additions to your property that visitors will love — and remember. That's branding.
Stylish and comfortable outdoor seating. Refreshing water features. Creative playscapes for kids. Walking paths. Exotic planters and plants.
If it makes people say, "wow," that's great branding.
We Look Good, So You Look Good
Appearances matter. And we're not just talking about a green, healthy lawn and lots of pretty flowers.
The landscaping company you choose says a lot about you. Make sure their trucks are clean and in good working order. Do crews have professional, neat uniforms? Is their equipment up to date? Does the company guarantee drug-free employees?
Shoddy appearances make you look shoddy, too.
What Surrounds Your Signage?

You've probably put a lot of thought and expense into your company's signage. That's basic branding, right?
But is it enough to convince potential customers to stop in? Or will they drive right by?
Grab attention with colorful flowers planted around it, lush layers of plantings that span the seasons and great lighting to boost both your sign and the landscaping around it.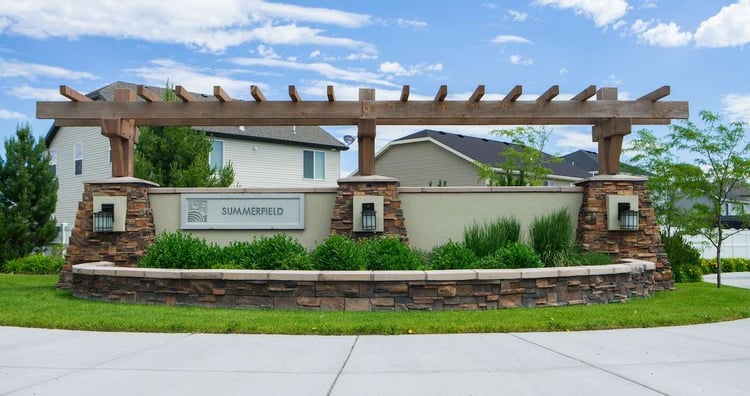 That takes your branding to the next level.
Safe, Prompt Snow Removal
You don't want to be known as the business with the slushy parking lot and slick sidewalks.
One of the most common injury and liability issues on commercial sites? Slip-and-fall accidents.
Your business depends on people having safe, convenient access, no matter what the weather.
So be sure your snow removal company is up to the task.
At Outback Landscape, our snow removal service operates 24 hours a day, seven days a week. We have certified snow professionals on staff and we're insured for snow removal. All our snow removal equipment has GPS systems on board, so property managers know we were there.
We make sure winter safety and accessibility is part of your brand.
Go Ahead And Sweat The Small Stuff
Perfecting your brand often comes down to the details. Here at Outback, we know the tiniest things can pack a powerful punch.
Our fine gardening service adds that extra touch that brings landscaping from average to "wow."
Beyond regularly weekly maintenance, fine gardening brings skilled gardeners to your property to pay attention to the details that, if overlooked, leave landscaping lacking.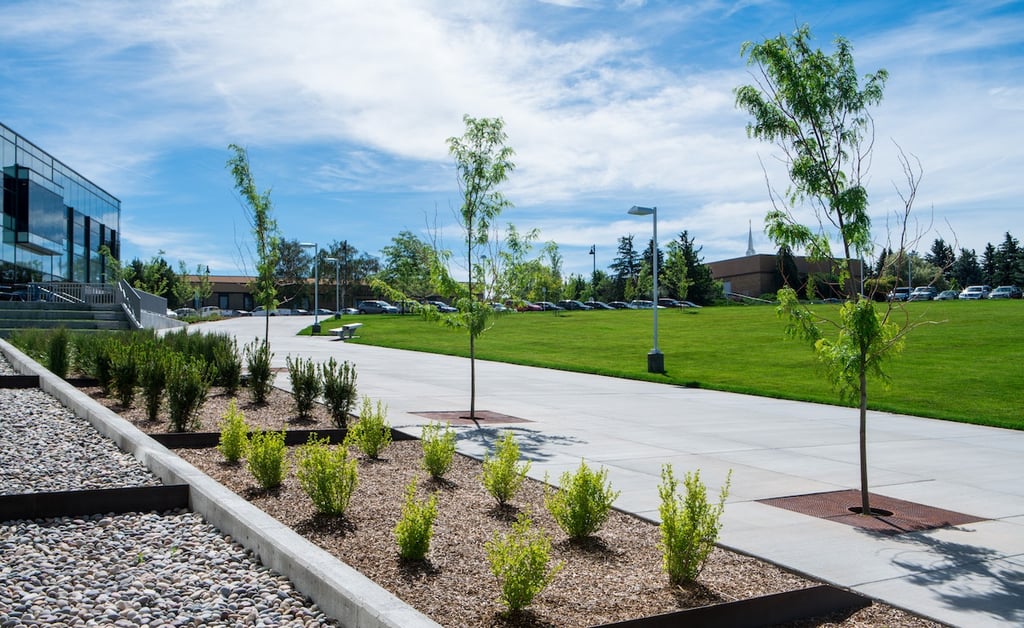 These finishing touches, from detailed flower bed care to litter pick-up to pond maintenance, bring a polished look to your landscape — and automatically boost your brand.
Above All, Safety
Don't get so caught up in the bells and whistles of branding that you forget the basics.
Above all, you have to keep your customers and visitors safe. Nothing ruins your brand like a reputation for dark corners or slippery sidewalks.
And there's much more at stake. An unsafe property not only makes you look bad, but it can cause you to be sued if someone gets injured.
Landscaping plays a huge part.
Skilled maintenance crews trim dead branches before they crash to the ground. Lighting experts can help you brighten up all your dark corners.
We keep an eye on your property during our regular visits, and will point out any safety concerns we see.
How Bad Landscaping Can Batter Your Brand
Great landscaping can boost your brand. So it only makes sense that bad landscaping can trash it.
What do you want to be known for? The building with the weedy lawn and barren, boring walkways?
Will customers see a rusty landscaping truck parked out front? Unprofessional crew members?
The choice you make can have a huge impact on your reputation and brand.
If you don't care about the outside of your property, it's safe to assume things aren't so great inside, either.
Outback Landscape: Brand Boosters
At Outback, we work hard on our own company brand, so we know how important your image is to you.
We're experts in all the services and details that make a real difference at your property.
Impeccable landscape maintenance. Impressive seasonal color. Intriguing, unusual plants. Professional landscape lighting design.
We offer landscape design, construction, maintenance, irrigation — everything you need to put your company's best face forward.
Our crews are painstaking, conscientious and always have safety in mind.
All the things that contribute to your company's brand.
Give Us A Call


We'd love to tell you more.
Located in Idaho Falls, Idaho, we serve residential and commercial properties in Idaho Falls, Rexburg and Pocatello, Idaho, as well as Bonneville, Madison and Bannock counties.
Contact Outback Landscape at 208-656-3220, or fill out the contact form to schedule an onsite consultation.
Let us help boost your brand.