If you close your eyes, you can imagine your great new outdoor kitchen, right?

A gleaming grill, sleek countertops, an inviting patio with plenty of seating. Maybe a pergola overhead, strung with twinkling white lights.

Listen, and you can almost hear the sound of your steak fajitas sizzling. Yum.

Or is that the sound of your wallet panicking?

How much does an outdoor kitchen cost? It depends. Sure, a high-end, decked-out kitchen can start to add up. But even a few key features can set you up for a ton of enjoyment.

Let's take a look at the cost of an outdoor kitchen in Idaho Falls:
Average Cost of an Outdoor Kitchen
As you'd probably guess, there's a wide range here, depending on the features you include, the materials you choose, and the size of the outdoor kitchen you plan.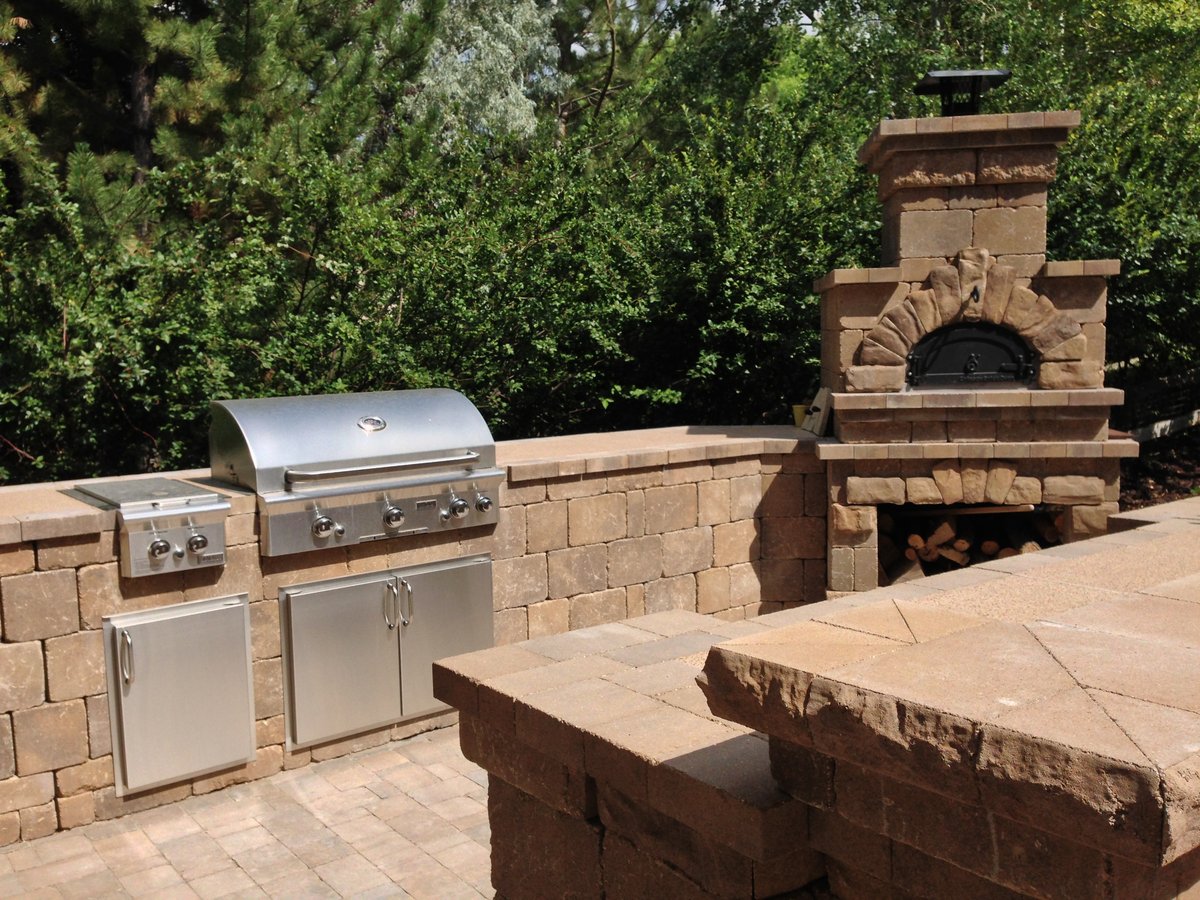 But you want some cost figures, so let's get right to a few key prices to get you started:
You could get a basic outdoor kitchen for $15,000 to $18,000 or a higher-end grill and cooking space for $25,000 to $50,000.


Or splurge, and spend up to $100,000 for a luxury kitchen, outdoor patio, and fire pit with all of the bells and whistles. A great outdoor kitchen builder in Idaho Falls will have options for almost any budget.


Countertops are a key element. You need someplace to set those platters of balsamic grilled mushrooms, right? Choose granite (about $70 to $110 per square foot), concrete (about $75 per square foot) or bluestone (about $75 per square foot).


You also need to choose what type of structure and cabinets you want, from brick (about $50 per square foot), to stone ($35 to $50 per square foot), to stucco ($20 per square foot.)


You can add light plus warmth with an outdoor fireplace or fire pit. These can range from $10,000 to $20,000 depending on size, materials and if you want gas or wood to fuel the flames.
Cost to Build an Outdoor Kitchen: How Location & Size Play a Part
Where you want the kitchen in your yard affects the cost.

If you want the kitchen closer to the house, the cost to build an outdoor kitchen can be less, because you can rely more on existing walls, utilities and appliances inside the home.

On the other hand, if you want the outdoor kitchen to stand alone further away from the home, it will need more components to be self-sufficient. There can be additional costs for this type of kitchen, like running all of the utilities.

The size of the kitchen will also play a role in the price. The larger it is, the more materials, time and labor it will take, which will increase the cost.
How Much Does an Outdoor Kitchen Cost? Adding the Fun Stuff
Thinking ahead can save you money. It's cheaper to add certain elements to your outdoor kitchen up front, rather than waiting and adding them later.
Pondering a patio? A sitting wall? Lighting? All great ideas. An adjoining patio gives you and your guests a place to relax, while creating more usable space. A sitting wall is a great spot to perch while you munch shrimp and pineapple skewers straight from the grill.

And landscape lighting extends your outdoor kitchen's use well into the night. Late dinners! Midnight snacks! The lights will improve safety and also give your kitchen that high-end wow factor.
It All Starts with a Great Design
Before you break ground on the outdoor kitchen area, you need to have an expert design.

The design not only helps you envision your great new space, but it also helps to make sure you and your Idaho Falls outdoor kitchen builder are on the same page from start to finish.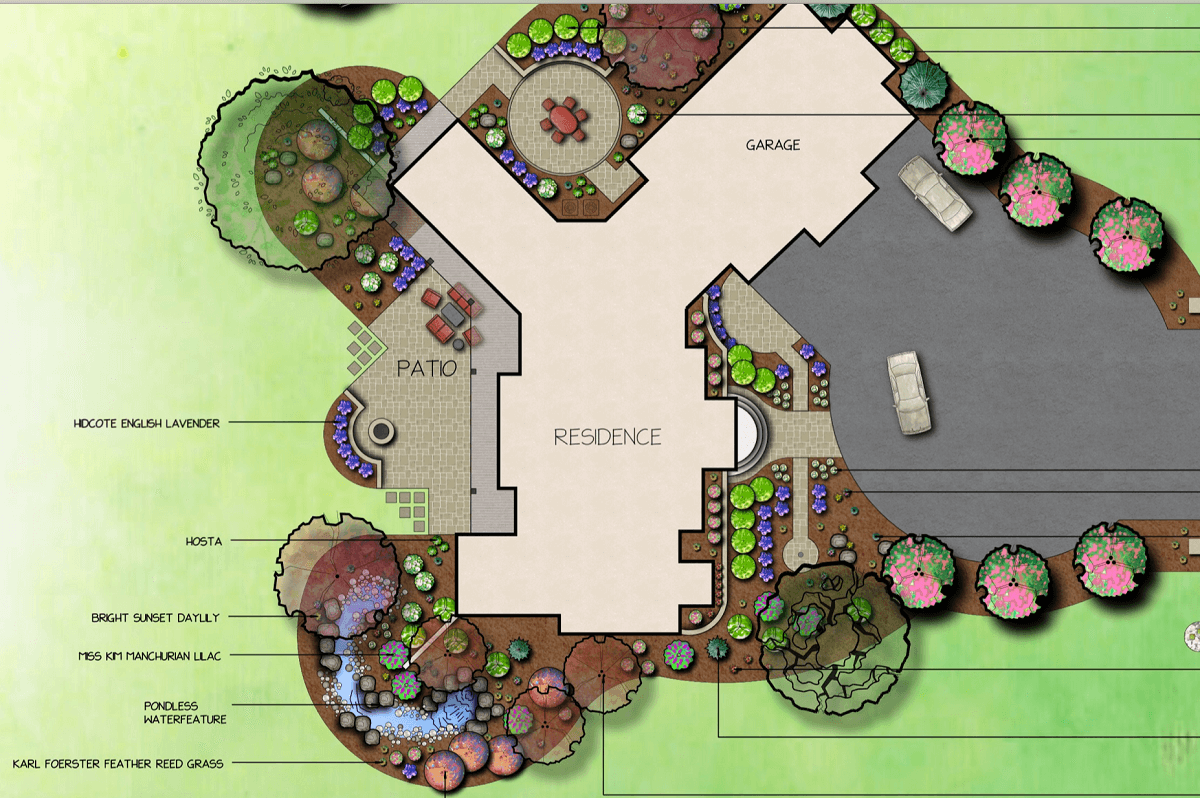 Outback's professional landscape design service starts at $1,500. Here are some of the things your design fee includes:
Full-scale 2D or 3D landscape design of your project
Ability to request changes and receive updated design
Plant and material list
Open lines of communication to answer all of your questions
Input from expert landscape designers
Having a professional landscape design for your outdoor kitchen also gives you a direct line to an expert who can answer all of your questions.

And you'll have a lot of questions.

Which patio pavers will look and last the best? How much space do you need for dining? What size countertops do you need?

A great, experienced outdoor kitchen designer will walk you through it all.

Having a design also allows you to visualize your future space and make sure you're happy with it before construction gets underway. Making changes once installation has started is costly and delays the completion date.

Worried about your budget? A designer can help you there, too. Which leads us to….
How to Cut Costs When Building an Outdoor Kitchen
What? You don't have an unlimited budget? Few people do.

Give some thought to what features are most important to you. A designer comes in handy here, too.

Designers can advise you on what outdoor kitchen elements you don't want to skimp on — like high-quality hardscape materials and the grill — but point out other areas where you might be able to save money.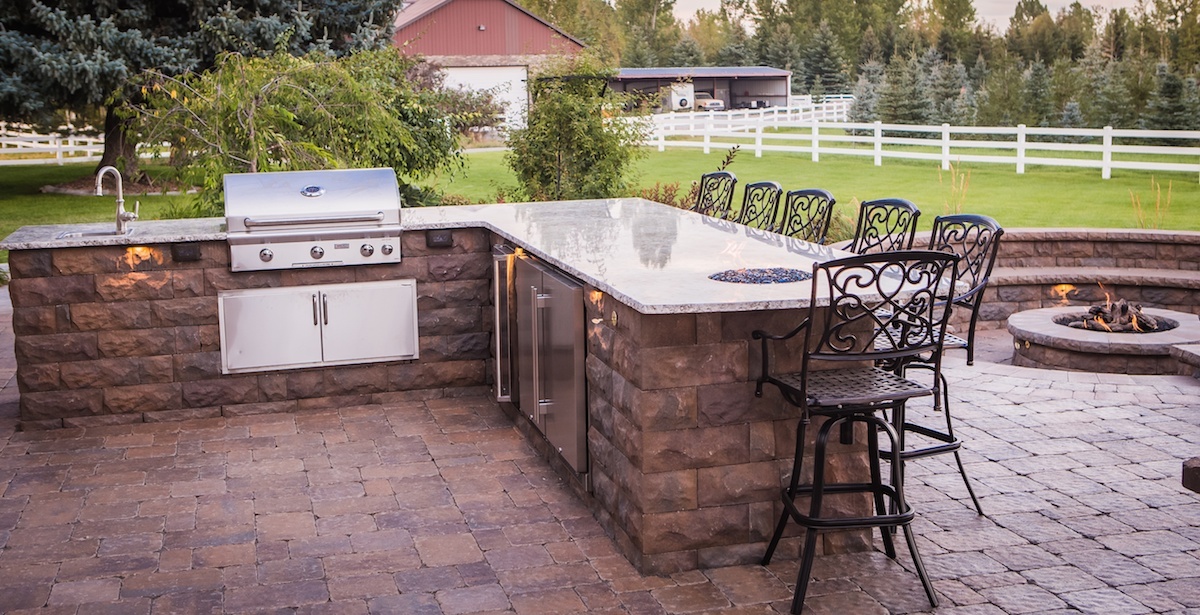 Maybe you don't really need a sink in your outdoor kitchen if you have one close by indoors. Outdoor sinks need to be inspected by your local plumbing inspector, and can add quite a bit of cost.

But other components like refrigerators might be more of a necessity outdoors and don't require anything more than electrical.
Cost to Build an Outdoor Kitchen Starts with Hiring an Experienced Contractor
One place you definitely don't want to cut costs is with the landscaping company you hire.

Installing an outdoor kitchen is a big investment in your property, so make sure you're using an outdoor kitchen builder in Idaho Falls you can trust to do a good job.

At Outback Landscape, you'll be working with professionals with years of experience, from your first design consultation all the way through the installation.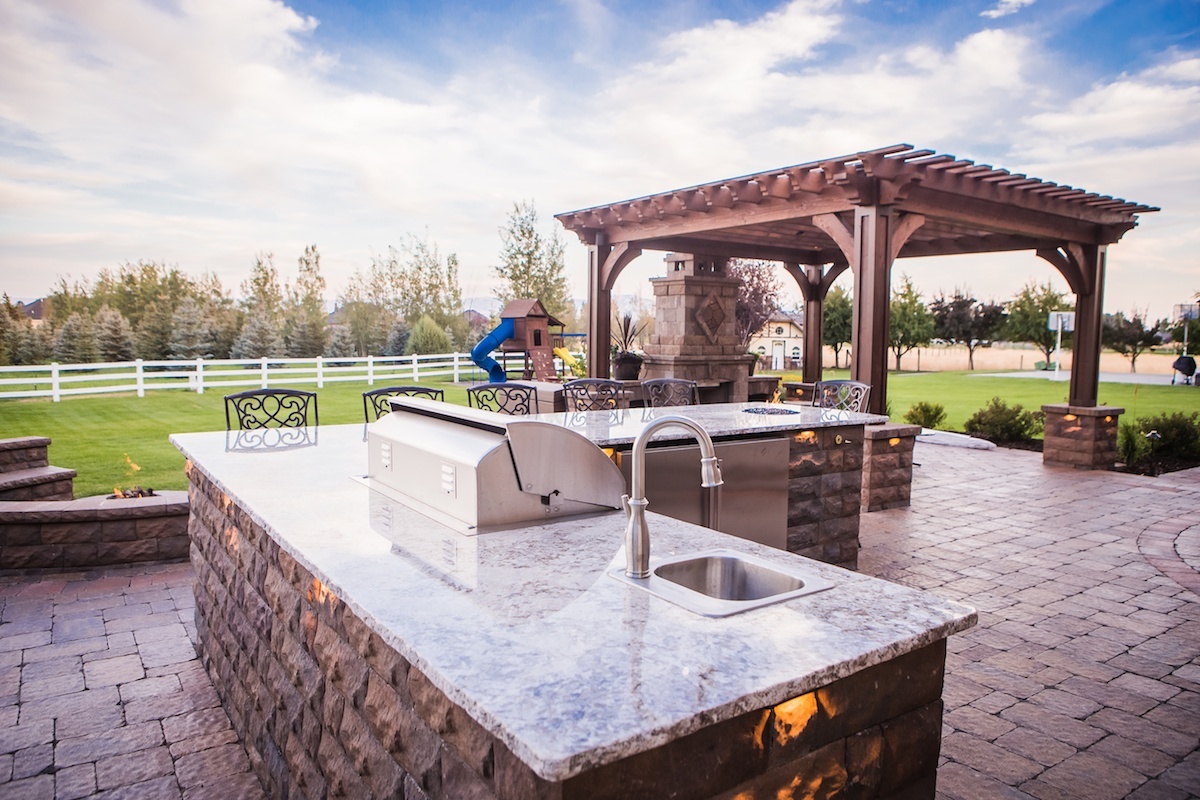 We'll talk with you about everything from your expectations to the timeline to your budget during our initial meeting.

Before starting the project, one of our in-house designers will create a 2D or 3D design to show you how your space will look. We'll give you samples of materials so you can pick out your favorites.

Once we have a design and plan in place, we can start working on making your outdoor kitchen dream a reality.

Start looking up margarita recipes.
Ready to Start Your Dream Outdoor Kitchen? Trust Outback in Idaho Falls
Can't wait to get started? We thought so.

The cost to build an outdoor kitchen can seem overwhelming. Partner with an Idaho Falls outdoor kitchen builder who will make it easy, start to finish.

Worried you'll spend so much time enjoying your new outdoor kitchen you won't have time to weed your planting beds or spread fresh mulch?

We also offer landscape maintenance services, so we can keep the space around your outdoor kitchen looking its best year-round. All you have to do is enjoy it.
We serve residential and commercial properties in Idaho Falls, Rexburg and Pocatello, Idaho, as well as Bonneville, Madison and Bannock counties.

Call us at 208-656-3220. Or fill out the contact form to schedule a no-obligation meeting with one of our team members.

We can't wait to hear from you.