Grilling out, enjoying drinks with friends and spending time in your backyard: Those are all things you can do with an outdoor kitchen.
To make sure you can actually do all of those things, though, you need to have a well-designed outdoor kitchen space.
Here are seven common outdoor kitchen design mistakes to make sure you avoid.
1. Kitchen and Patio Area Are Too Small
One of the most common outdoor kitchen design mistakes is not making the area large enough. We never hear anyone say they wish it was smaller.
It happens too often because people don't think about the logistics of using the outdoor kitchen space. You need room for outdoor furniture, people to walk around comfortably and standing space (if you want to accommodate more guests).
A good rule of thumb is to have at least three feet of walking space between elements, like the furniture and kitchen or around the edge of the patio.
Knowing the size of your outdoor furniture, planters or any other items that will be on the patio before you install the outdoor kitchen will help you know how large of a space you need.
2. Not Enough Counter Space
This is another example of forgetting about the practical uses of your outdoor kitchen area. You need to have enough counter space so that there's room for you to place dishes, drinks and ingredients on them.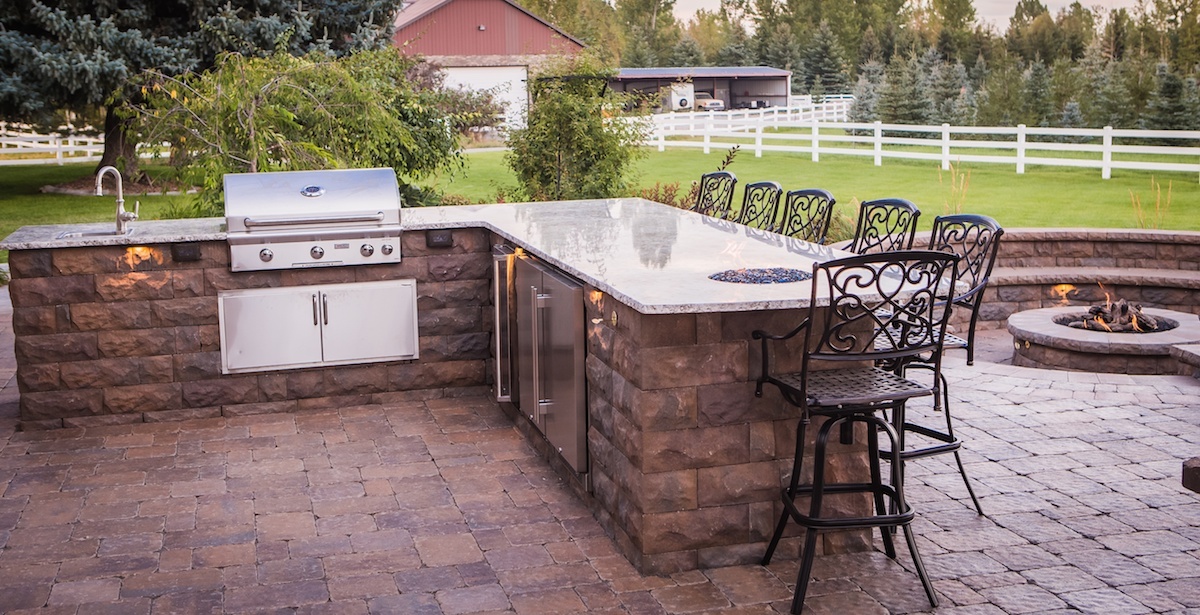 When you pull food off of the grill or guests are finished with their plates, you'll need a place to put them all.
Think about how much counter space you use to prep and cook food indoors, and that will give you a better idea of what you need outside. You can also extend and raise the counters if you want to include barstools.
3. Turning the Grill the Wrong Direction
Another outdoor kitchen design mistake homeowners make is with the placement of the grill.
You don't want your back to the party while you're grilling: You want to be able to look out to the bar and patio areas, entertain and cook all at the same time.
So, make sure your grill is positioned correctly.
4. Not Enough Landscape Lighting
The majority of people want to grill out for dinner, so it's probably going to be dark when you want to be in the outdoor kitchen. So it's surprising that so many people forget to install landscape lighting around the kitchen.
You could put the lighting under overhangs, on your home, in trees or shade structures to illuminate the space. Don't limit the space's use by forgetting landscape lighting.
5. Not Factoring in How You'll Use The Kitchen
An outdoor kitchen design can look great on paper, but if it doesn't actually fit with how you want to use the space, it does you no good.
Here are some questions to ask yourself before designing your outdoor kitchen:
What will I use the outdoor kitchen for (ex. grilling out, entertaining, aesthetic value, etc.)?

How many people should the space accommodate?

Do I want the kitchen next to my home for convenience, or would I rather have it disconnected?
The answers to these will play a big role in the outdoor kitchen design, so it's important you figure them out before breaking ground.
For example, if you plan to use the space for entertaining guests, you'll want to make sure the design includes a large patio space and maybe even add-on features.
Some popular outdoor kitchen trends include adding fire pits, fireplaces, sitting walls and landscape lighting. Those features will also help extend the use of the space well into the night.
6. Cutting Design Costs in the Wrong Places
There are outdoor kitchen options for almost any budget. But, you need to figure out how to make what you want fit in the design before you get started.
There are some good (and bad) ways to cut costs with your outdoor kitchen. You may not need every appliance, like ovens and refrigerators, and not having those will save you a few thousand.
You just don't want to try to save money with the fundamentals, like having a solid structure and high-quality grill. Those are the outdoor kitchen essentials, so don't skimp there.
Make a list of your wants and needs to see what you can realistically fit in your budget. You don't want to go into the project blind to cost, only to end up cutting corners at the end.
7. Trying to DIY
It may look fairly simple on TV or YouTube, but installing an outdoor kitchen requires the right tools, experience, materials, design and a good amount of time.
You may be tempted by the idea of saving a few bucks by installing it on your own: I mean, who doesn't want to spend less? But, you could end up spending more by the time it's all done because you either end up calling a professional to fix your mistakes, or you have to pay for later repairs because it wasn't constructed well.
Imagine putting in days of work and countless dollars, only to have the kitchen look like it was thrown together and will fall apart at any minute. Talk about a big outdoor kitchen design mistake.
Investments are Nothing to Mess With
An outdoor kitchen is an investment in your home, so make sure it's done right from the start by hiring an outdoor kitchen builder. You'll also be able to pick the professional's mind to get design and material ideas — and that's insight you wouldn't have if you DIY.
So if you're ready to have a stunning, professionally designed outdoor kitchen, we'd love to work with you.
Call us at 208-656-3220, or fill out our contact form to schedule a free consultation with one of our experienced landscape designers.