It's almost time to dazzle your neighborhood with your holiday decorating. Are you ready?
This year, stash the ho-hum decor you've hauled out for years and try something new.
Cherry blossom lights that create a magical glow. Meteor lights that add a stunning shooting star effect to your front yard trees. "Linkable" lights that adorn your roofline with strings of brightly lit candy canes, stockings or holly leaves.
This year's holiday decorating trends offer more sparkle than ever. Here's a look at some of our favorites.
Round up the extension cords. Get ready to glow.
Dazzle With Color
Maybe you've decked your house and trees in classic white lights for years. They're elegant, they're easy and, well, that's what you've always done.
This might be the year to break out of your white lights rut and try a burst of color.
Multicolored lights are having a moment.
Kids love color, and families are including children more than ever in holiday decorating choices.
Commercial properties that have relied on traditional white lights for holiday decor might catch the eye of new customers with a dazzling new light display packed with color.
Biting your nails over this one?
Compromise: mix a few red and green lights in with your white bulbs for the best of both worlds.
Cherry Blossom Lights
These dazzling tree lights feature hundreds of petal-shaped bulbs that make a tree explode with texture and color. Choose one color or opt for lights that cycle through several different hues.
Wow Your Neighborhood With An RGB Light Show
RGB is the latest in lighting techniques and it's here in full force for the holidays. It stands for red, green and blue, which sounds simple enough. But these three colors combined, when varied in intensity, have the ability to produce millions of different colors.
That makes for a dazzling holiday light show, right in your own front yard.
These high-tech lighting systems have built-in Wi-fi receivers, remote controls to change the effects at whim, and limitless color and design options. Change the colors with the click of a button.
Wowing your friends and family has never been so easy.
Dress Up Your Roofline With Linkables
Bored with the same old strings of icicle lights? Or tired of the dangling icicles blowing up onto your roof whenever a gust of wind blows through?
Linkables are 4-foot sections of connectable decorative lights in all sorts of holiday shapes. They keep the lights right where you want them — decorating your roofline.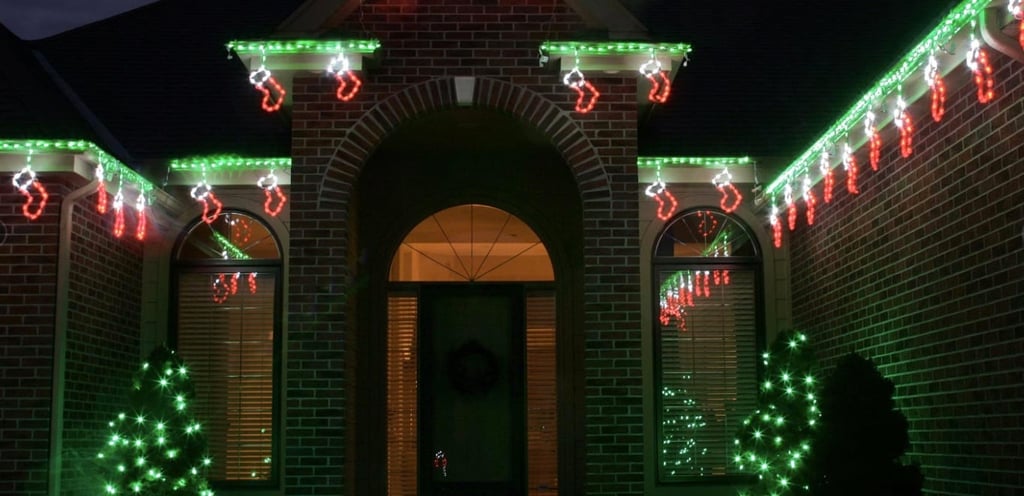 Opt for icicles that finally stay put or choose from a host of LED designs to stretch across your roofline. Green holly leaves with red berries. Stockings. Bows and swags. Snowflakes. Candy canes.
Coordinate a whole-house look with larger LED light displays in the same designs to decorate your porch, rooftop or yard.
Whole-House Decorating
If you limit your outdoor holiday decor to just a few strings of lights, you're missing out. And so is anyone who passes your house during the holidays.
Go all out for a festive look that will make you happy every time you pull in the driveway.
Wrap tree trunks in lights. Festoon your porch with garland that offers fluffy greenery during the day and twinkling lights at night. Hang a lighted wreath or two.
Have fun with large-scale reindeer, toy soldiers or oversized packages on your lawn, roof or porch. Choose a trio of lighted elves for your rooftop, happily putting a star atop a tree. Celebrate the season with an illuminated nativity scene for your front lawn.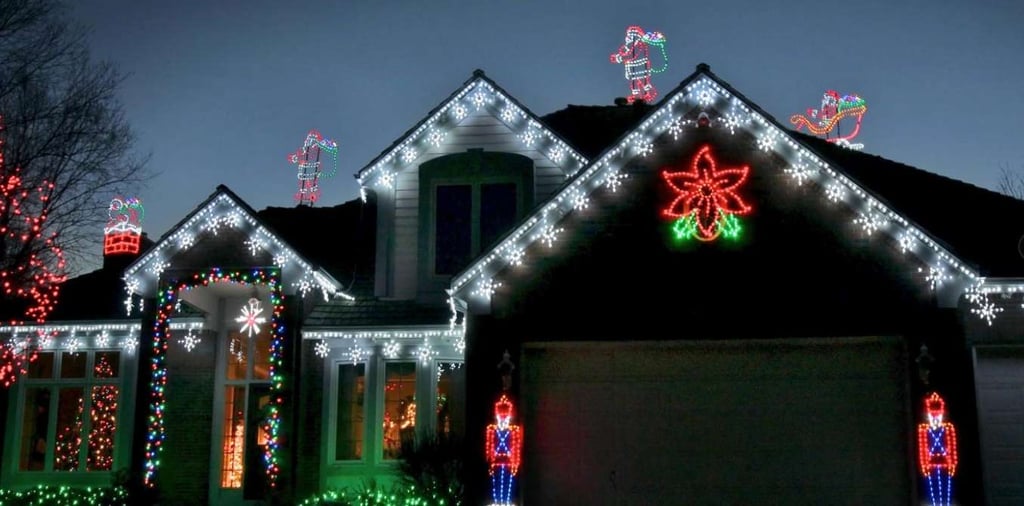 Customize a look that's uniquely your own.
Meteor Lights
A fun new animated twist on traditional icicle lights, these "meteor lights" look like shooting stars. These light tubes contain a row of diodes which light up and then descend, creating the effect of shooting stars — or dripping icicles!
Display these eye-catching animated icicles across your porch or suspend them from tree branches. You'll have the most mesmerizing light display in town.
Make The Switch To LED
If you haven't switched to LED holiday lights, what are you waiting for?
By now you likely know that LED lights save a lot of electricity but there are other good reasons to make the switch.
You can typically connect 8 to 10 times more light strings together end to end while only using one plug outlet.

LEDs produce next to no heat, which means they're always cool to the touch and safe for children and pets.
The quality of LED light has come a long way since they first came on the market. Today's LEDs produce a much warmer white light than the blue-ish tint of earlier versions.
Many LED light sets are rated to last tens of thousands of hours — well beyond a traditional set of incandescent mini lights that may last just a season or two.

You'll have fewer blown fuses. In the past, it was easy for homeowners to overload circuit breakers by stringing way too many lights together, creating not just blown fuses, but a fire hazard.
Let Us Light Up Your Holidays
At Outback Landscape, we love making your holidays sparkle, and we're on top of all the latest holiday decorating trends.
Sure, you could break out the shaky ladder, clamber up onto your roof and spend a weekend untangling 100 strings of holiday lights. But why?
Let us do the work. You sit back with some peppermint cocoa and enjoy the twinkling display.
We can outline your roof, gingerbread house style, or custom wrap your forest of spruce trees in glittery lights.
We provide everything. We want to be sure you have the highest quality holiday lighting, from bulbs to cords to connectors.
If a bulb does blink out, we'll be over within 24 hours to take care of it. (We're faster than Rudolph.)
When you're ready, we'll be there to take it all down and store it for next year. You get all of the dazzle, without all of the hassle.
We'd Love To Hear From You
Located in Idaho Falls, Idaho, we serve residential and commercial properties in Idaho Falls, Rexburg and Pocatello, Idaho, as well as Bonneville, Madison and Bannock counties. Call us at 208-656-3220. Or fill out the contact form to schedule your free holiday lighting consultation.