Retaining walls are practical and aesthetically pleasing elements to include in your backyard or front yard landscape.
They can help solve a variety of problems in your landscape, as well as create unique planting opportunities. Retaining walls are most often used on sloped terrain to restrain soil and improve the value of your space.
With the help of retaining walls, landscape designers and architects can ensure soil is bound between the levels of a hillside, as well as create picturesque views in your landscape.
By cutting into a slope, a retaining wall can free space and make it more suitable for a patio or walkway.
Or a retaining wall can cut into a lawn area and form a sunken garden room to extend your interior living space outdoors. A once-sloped backyard can even be transformed with a series of retaining wall terraces—turning a hillside into a multiple level landscape.
Retaining walls are carefully engineered landscape additions that provide both form and function.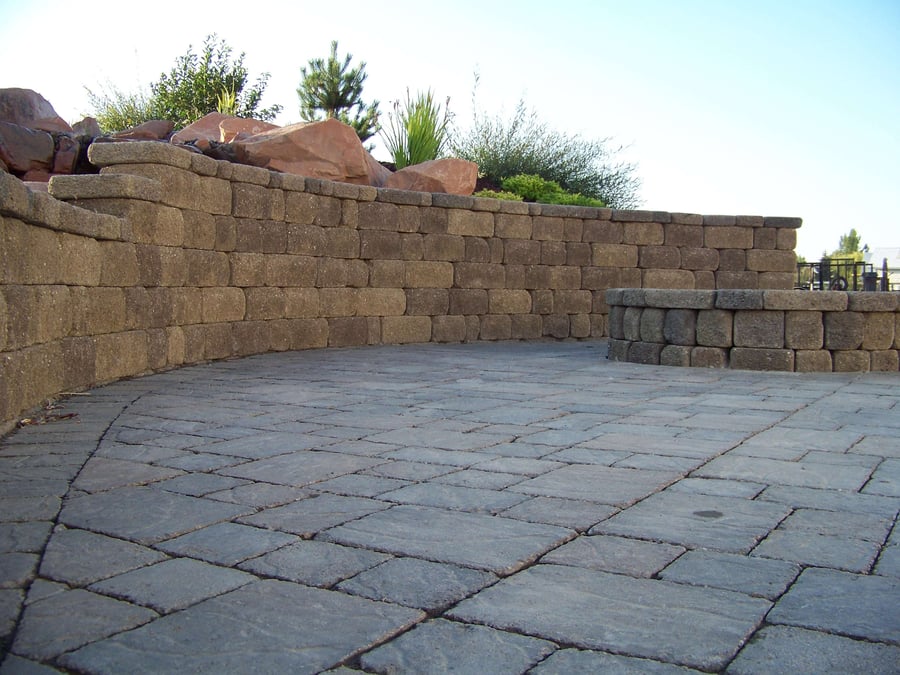 Before you decide to include one in your landscape, you may want to review the two main retaining wall materials, boulders and segmental concrete blocks, to determine what type of structure you'll need, as well as evaluate the pros and cons and costs of each type.
Segmental Concrete Retaining Wall Blocks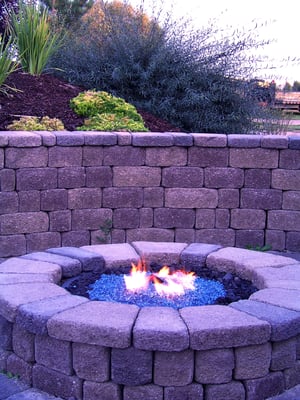 Segmental retaining walls consist of modular concrete blocks that interlock with each other. They are used to hold back a sloping face of soil to provide a solid, vertical front.
Without this type of adequate retention, slopes and hills can cave in or slide.
Because segmental retaining walls are extremely sturdy, you can construct higher and steeper walls while retaining the force of the soil behind it.
They will also flex and move a bit as the earth moves and, in that way, not suffer cracks the way a poured concrete structure would.
Segmental retaining walls can be built in tight spaces on your property. We just need to bring in pallets of stone.
Setting the base course of a retaining wall is always the longest and most challenging part. Once the base course is done, the rest of the wall goes up quickly.
These walls also come in so many colors and textures. The least expensive wall is the gray tri-face block that isn't finished on the back side.
The cost of installing a segmental concrete retaining wall starts at approximately $35 per face foot. Decorative or colored blocks can come in different colored and tumbled blends with finished front and back sides. These walls go up to $75 per face foot, including the preparation, installation and drainage.
Pros of Segmental Concrete Retaining Walls
Segmental concrete retaining wall blocks are the most stable wall materials and these walls can be built taller than any other wall.

Segmental concrete retaining wall blocks shift and move with the earth to prevent cracking.

These walls can be built in tight spaces.

These blocks come in a wide variety of textures and colors.

A segmental concrete retaining wall provides a formal look.

Segmental concrete retaining wall blocks are so versatile they can be used to retain slopes or hillsides or create multiple terraced walls.
Cons of Segmental Concrete Retaining Walls
Segmental concrete retaining walls are traditionally more expensive than boulder.

These walls need solid base courses to stand strong for many years.
Boulder Retaining Walls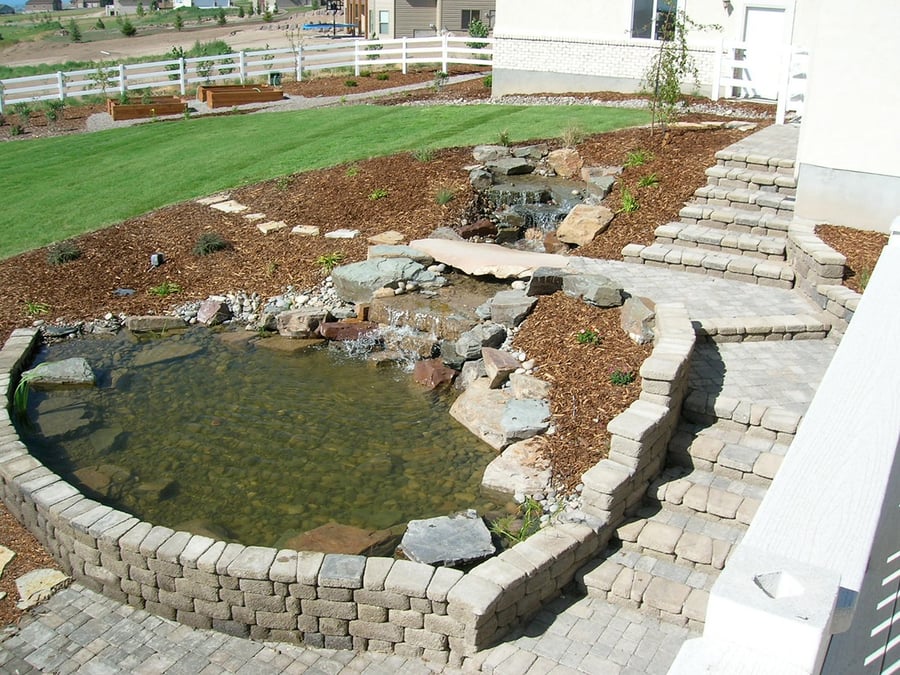 Stone and boulder retaining walls fit naturally with the rustic landscape design style that is very popular in Idaho Falls. It delivers a natural look that is unique to your property.
Boulders are extremely easy to obtain in Idaho Falls—we can get gray- and rust-colored boulders from Montana and red- and tan-colored boulders from Utah.
Installing boulder retaining walls is fairly simple compared to segmental concrete retaining walls because each 3-foot to 4-foot boulder can be set with equipment, while blocks have to be stacked by hand. For this reason, the cost of boulder retaining walls can range from $25 per face foot to $55 per face foot.
To do this right, however, the property needs to be large enough for mini excavator access. The walls themselves also take up a lot more room. A 16-foot wall, for instance, can take up 30 to 40 feet on your property.
While it's a solid wall, boulder walls will usually stack shorter than segmental concrete retaining walls.
Pros of Boulder Retaining Walls
Boulder walls provide a natural look that goes great with rustic homes and landscape designs.

They are built simply with equipment versus excess manual labor.

Boulders of all colors and sizes are extremely easy to obtain in Idaho Falls.

Boulders offer a less expensive alternative for a retaining wall.
Cons of Boulder Retaining Walls
You need more space on your property to accommodate a boulder retaining wall.

Boulder walls cannot be built as high as segmental concrete retaining walls.
Have Some Soil Erosion Issues Or Need To Reconfigure A Space With Retaining Walls?
If you need to tame an unruly slope on your property, support a pool or contour a multi-tiered garden with retaining wall blocks, you have a variety of solutions you can turn to.
A boulder retaining wall can be decorative and fit into a hillside with a freeform swimming pool.
Segmental concrete retaining wall blocks can be worked into many shapes and sizes and be built tall enough to hold soil in place or built in tiers that can be landscaped, turning a boring hill into a more useable and aesthetically pleasing space.
Give Outback Landscape a call at 208-656-3220 or fill out our contact form to set up a no-obligation meeting with one of our team members to discuss your retaining wall needs.