When you think about retaining walls, you probably imagine stacks of stones that contain parts of the landscape, prevent soil erosion and manage sloped terrain.
But, there are actually several other retaining wall ideas beyond those practical purposes. About 50 percent of the retaining walls we install into an Idaho landscape are out of necessity, while the other half are to add other elements.
Retaining walls can add aesthetic elements, create seating, serve as a windbreak for features, improve planting areas, and increase your property's value. You can use materials like segmental concrete or boulders to construct the wall, and there are a range of colors to choose from.
Here are four retaining wall ideas you can incorporate into your Idaho landscape, beyond just restraining soil.
Retaining Walls for Multi-Purpose Seating
Built-in sitting walls are one of the most popular uses of retaining walls in Idaho landscaping.
You can cap off the walls with stones that are laid perpendicular to the wall stones to create places to sit. The walls could enclose the patio space or stand alone in the overall design.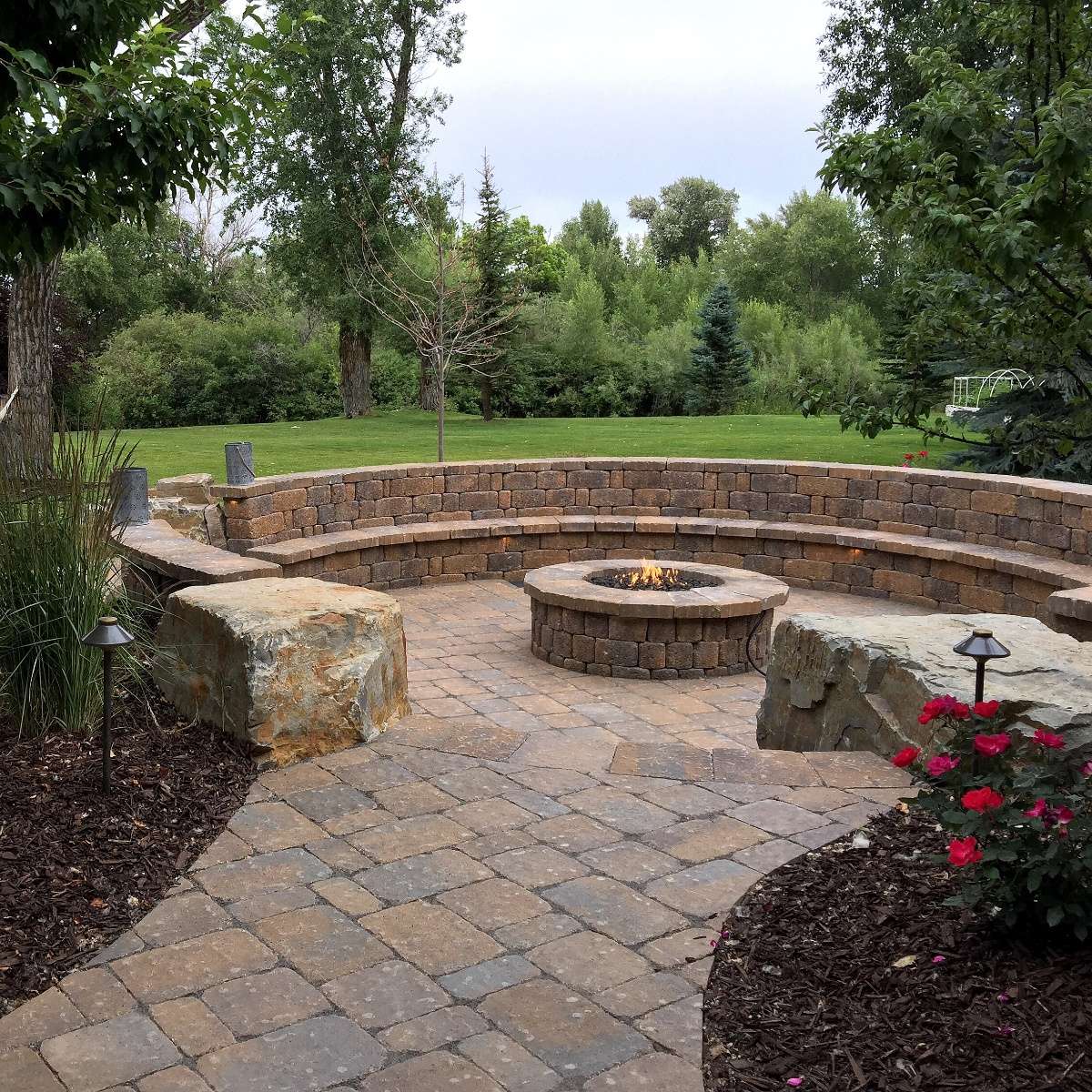 Not only do they provide overflow seating for you and your guests, the walls will also create focal points for your space.
Adding columns to your retaining wall design that have lights will illuminate your patio or pathway. The lights will add elements of safety, security and highlight the structure so you can enjoy the space any time day or night.
Retaining Walls Around Fire Pits
Tired of pulling up chairs every time you want to enjoy your fire feature, only for the flames to go out on a windy night? Another retaining wall idea is to install one around your fire pit to solve both of those problems.
The wall can serve as a sitting wall around the pit, while also creating a windbreak for your fire.
You could install a full- or half-circle wall around the fire pit, depending on the space and your preferences.
Create a Hot Tub Barrier
It doesn't get much better than relaxing in your hot tub after a long day. To make sure you stay warm even on the windiest of nights, you can install a retaining wall around the hot tub area.
The stacked wall will serve as a windbreak and also help protect the hot tub from the elements.
You can use the same materials from your home or other hardscape feature — like an outdoor kitchen — to tie everything together.
Retaining Walls For Design
Instead of only installing plant material, you can define shapes and edges in your yard by adding retaining walls.
The wall can also extend your house's footprint into the landscape.
They can also help break up an open landscape space and create focal points.
Start with a Solid Foundation
Retaining walls can cost-effectively solve landscape problems, while also adding aesthetic value and features to your property. No matter your reason for adding one, you need to make sure it's installed correctly.
Poorly constructed retaining walls can become damaged and wear down quickly — and there are no quick fixes. You will have to tear down and rebuild the retaining wall. So, you want to make sure it is done right from the start by finding a qualified landscaping company.
Outback Landscape's experienced team has years of experience constructing sound retaining walls, whether they are out of necessity or for other purposes.
We will take all of your ideas and wants for a retaining wall and creates a unique design that will enhance your outdoor space.
Call us at 208-656-3220, or contact us online to talk about adding a retaining wall to your property.