Slippery, teetering ladders. Frozen fingers. Hopelessly tangled strings of lights. Numb toes.
It's time to put holiday lights on the house — the most wonderful time of the year!
Who are we kidding?
A house twinkling with lights, festooned with bright wreaths and sporting Santa on the roof is an awesome sight.
Making it all happen? Not so great.
A skilled holiday lighting and decorating expert could save your sanity this holiday season.
Why should you hire the pros to do it for you?
Let us count the ways.
Benefit 1: Safety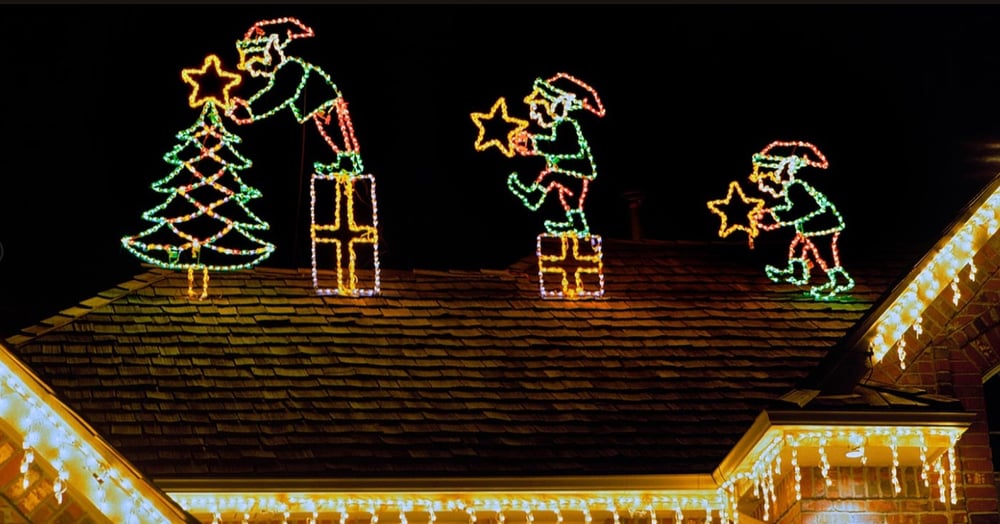 This holiday lighting stuff is more dangerous than it looks. Tall ladders. Balancing on steep roofs. Slick ice. Electricity.
No offense, but you only tackle this chore once a year — we do it every day.
Our expert crews have the correct gear, the safety training and the years of experience to do this job safely, every time.
We know all the safety tips, like adding no more than 1,400 watts on a circuit.
Wouldn't you rather watch from inside with a cup of warm cocoa while our crews scale the ladders out in the cold?
We thought so.
Benefit 2: Technology
Holiday lights have come a long way since you were a kid.
Lights that change color — and you control them with your smartphone. Holographic front-yard light shows run by projectors. Timers that ensure you're not wasting energy.
Even the bulb choices are dizzying, in different sizes and types. Have you kept track of all the changes?
We have.
Leave the technology to us. You just enjoy the show.
Benefit 3: Convenience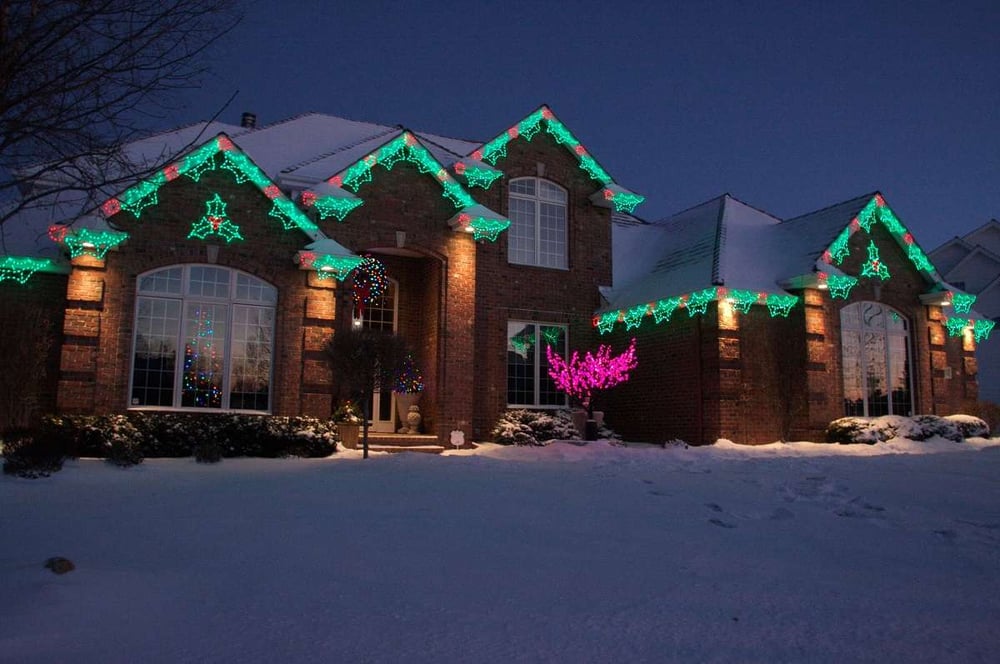 Maybe you have long, leisurely hours to untangle strings of lights, shop for new ones to replace the ones that don't work, drag the ladder out of the garage, figure out what to put where.
Or, leave it to us. We'll even do all the measuring. Why wreck a great holiday vibe with math?
You might eye that shrub by the front porch and figure it will take about 100 lights — only to find out it really needs 300. How many trips to the store do you really want to make?
Call us, and we'll be done with the whole project in a few hours. No muss, no fuss. Come home from shopping and enjoy your fabulously decorated house.
Just flip the switch.
Benefit 4: We Know The Trends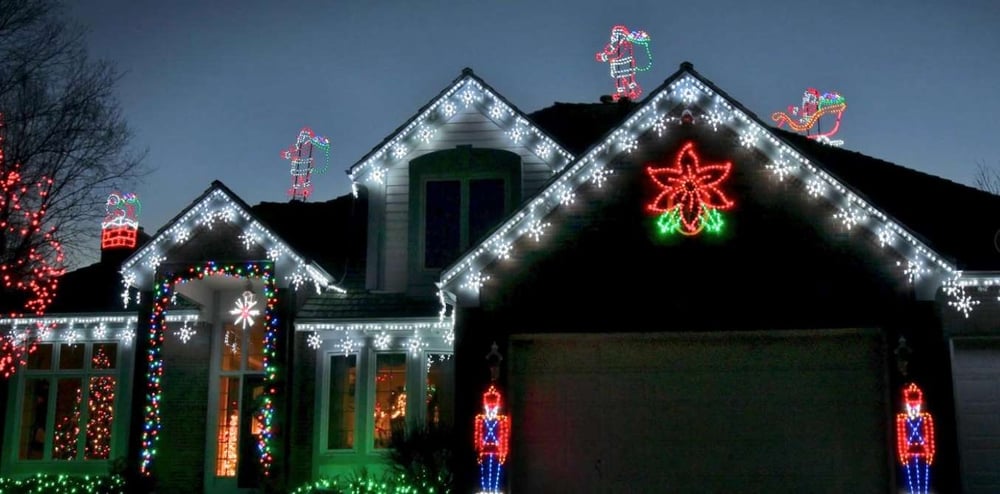 We have access to the latest lights and decor, from entire trees decked out in fanciful cherry blossom lights to shooting star lights that look like little meteors gliding through your tree branches.
Those trendy 60-inch lighted wreaths? We have them.
Glowing orbs in your tree branches? Dazzling curtains of twinkling lights on your porch? A gentle cascade of floating snowflakes projected on your house? A full-scale light show?
We'll show you options you didn't even know existed.
Benefit 5: No-Fuss Repairs
When's the last time you dragged out last year's jumble of light strings and every one of them worked? Until you got them strung up on your roof gable, THEN discovered three bulbs were out.
Who needs that aggravation?
Let us worry about it. Leave the lighting to us, and if a bulb does blink out, we'll be over in reindeer speed — within 24 hours — to take care of it.
Benefit 6: There's So Much More Than Just Lights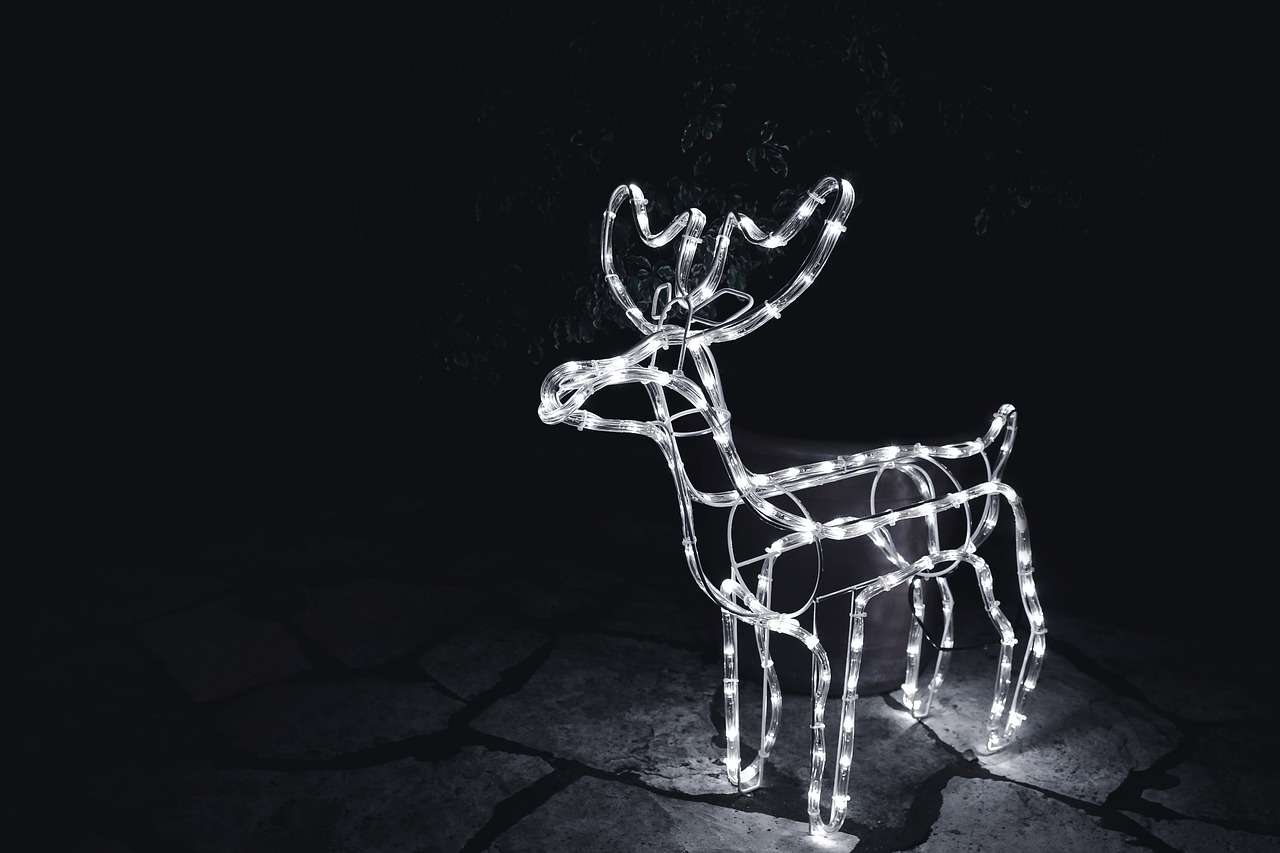 Of course you know how to decorate your house with holiday lights. But we can deck your house in so much more.
We'll wrap your tree trunks in lights to create a winter wonderland. We'll spruce up your front porch with festive garland that offers fluffy greenery during the day and twinkling lights at night.
How about life-sized reindeer, regal toy soldiers or oversized packages that will make the UPS guy jealous adorning your lawn, roof or porch?
We have automated, color-changing light shows that will stop traffic.
We'll make your home the holiday star of the neighborhood.
Light Up Your Holidays With Outback Landscape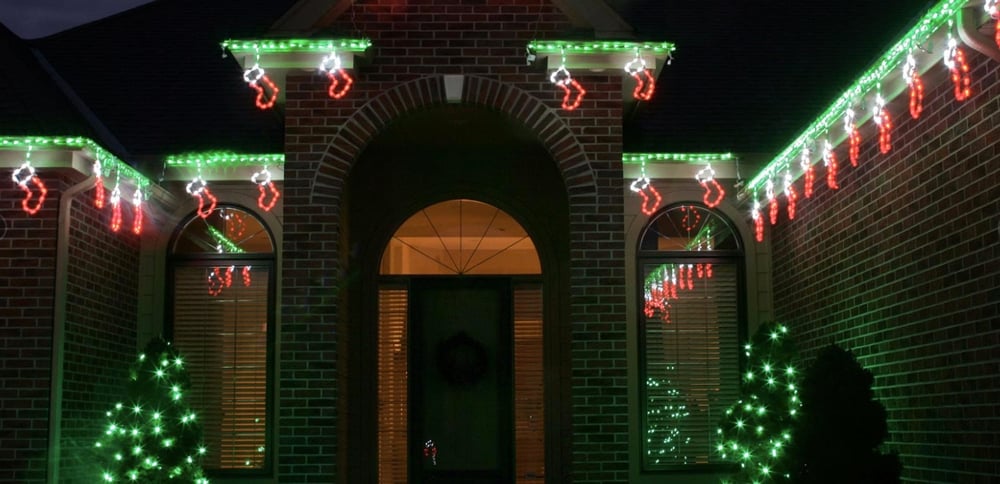 Let us do the work. You grab a handful of holiday cookies and enjoy the twinkling display.
We provide everything, from the highest quality holiday lighting to cords and connectors.
When you're ready, we'll be there to take it all down and store it for next year. You get all of the dazzle, with no hassle.
Trust us to be your holiday lighting and decorating experts.
Located in Idaho Falls, Idaho, we serve residential and commercial properties in Idaho Falls, Rexburg and Pocatello, Idaho, as well as Bonneville, Madison and Bannock counties.
Call us at 208-656-3220. Or fill out the contact form to schedule your free holiday lighting consultation.