FREE Landscape Lighting Design Guide
Create beautiful outdoor lighting for your home and property
You never realize how important landscape lighting is until you don't have it — landscape lighting provides safety, security and beauty by night.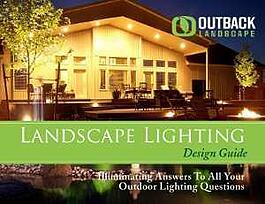 That's why it's so important to choose the right landscape lighting design for your project.
Outback Landscape's detailed 19-page Landscape Lighting Design Guide is full of gorgeous, inspiring photos. It also includes how to:
Highlight architectural elements
Add aesthetic touches
Illuminate special features and focal points
Choose the perfect fixture for your design
Get the guide by filling out the simple form on this page.