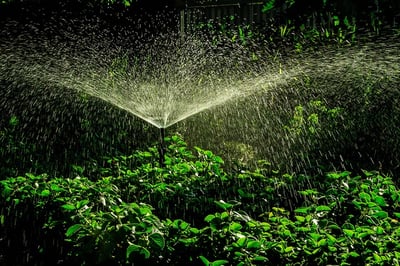 Spring is approximately four weeks early here in Idaho Falls.
As the weather warms and plants slowly emerge from the soil, it's only natural for homeowners to begin to think about ways they can water their lawns and landscapes more efficiently
But a sprinkler system can seem like a mystery because the guts of the system are mostly underground. While the value, time savings and water savings of a properly and professionally installed landscape irrigation system are priceless, figuring out how to fit this installation into your budget can be a daunting task when you don't know what a typical system might cost.
So, How Much Does A Sprinkler System Cost, Really?
Just as each landscape has its differences, each residential sprinkler system will also have its unique variances to fit the watering needs of that specific property.
Residential sprinkler systems will start in the $3,500 to $3,600 range for full system installation on smaller properties and go up from there. A system installed on 1 full acre might cost $6,000 to $6,500.
One of the big differences here is size. A larger property will require more components, such as valves, sprinkler heads and piping, to create more zones or regions in order to adequately water the entire space. As such, small residential systems might take one to two days to install, while larger systems might take two to three days to install.
Property Factors That Affect Price
While size is one big factor that determines how much a sprinkler system costs, soil type and slope can also impact price.
For instance, sandy soil may be too easy to dig through, filling in too quickly, while rocky soil can potentially cause damage to machinery, so these areas may require more labor-intensive hand digging. An area covered with tree roots can also pose a challenge for trenching, which is how piping is laid underground for the irrigation system. Here, we tend to have clay soils that can be rocky in some areas.
Slopes can also make using trenchers difficult. But a sloping ground can also alter system design since it requires different levels of water flow and pressure to eliminate pooling or flooding.
The Role of Water Type and Pressure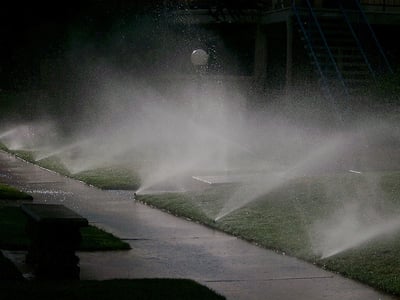 Low water flow may require a system to have a water holding tank that fills slowly to help provide enough water for a system to run.
If your home has low water pressure, we can also solve this challenge by adding a pump or increasing the size of the main water line.
Also, water type can factor into how much a sprinkler system costs. For instance, hard water like that from a well may have minerals in it that clog sprinkler valves, requiring the addition of a filtration system. With wells, we often have to dig down to connect to the well, which can take additional time.
Sprinkler System Components and Cost
The components that make up a residential sprinkler system can also impact price.
Controllers are the brains of sprinkler systems. They can range from simple irrigation timer/clock to what are referred to as "smart controllers," which use soil type, plant material requirements and weather forecasts to control the water the system is putting out. A smarter controller will cost more initially, but save more money down the road in the form of water savings.
The same can be said for sprinkler system additions like rain sensors. This is a very simple and inexpensive upgrade that can help turn the system off when it's raining by detecting the moisture levels in the ground and sending a message back to the controller to cut the system's power until the ground is dry again and that extra irrigation is necessary.
Is This A New Installation Or A System Renovation? Is Your Home New Or Old?
Obviously, it can be more cost effective to install a sprinkler system at the same time as a new landscape. Digging through existing landscapes can take more time and labor, which can boost the cost.
New homes may come with what's called a sprinkler loop in the basement to connect a sprinkler system, while older homes may require the addition of a sprinkler loop, which can cost an additional $500. Irrigating off of ditches is also something that happens in Idaho Falls quite often, but this requires an extra filter and ditch pump, which can add roughly $2,500 to $3,000 to the total cost.
Irrigation Installation Made Easy
A properly and professionally designed residential or commercial sprinkler system takes time and knowledge to install. While there are many factors to consider on each property to determine the right system that will fit its needs, irrigation experts like those at Outback can make this process easy for homeowners with the smallest residential yards to commercial property managers with the largest landscapes to understand.
We use high-quality Hunter irrigation products that, in our experience, have been the most reliable. During installation, you want someone who knows how to space irrigation heads evenly to avoid flooding or burning out system components.
When you're spending your hard-earned dollars on a sprinkler system for your home, you want it to last and bring value to your property.
Contact us at 208-656-3220 or fill out the contact form to set up a no-obligation meeting with one of our team members to discuss the water needs on your property.