You probably know how often your landscaping company mows your lawn and replaces your mulch.
But do you know how seriously they take safety?
You should.
At Outback Landscape, safety is our top concern.
"We want to make sure everybody who comes into work goes home uninjured," says Outback owner Chase Coates.
Here's how we do it.
Monday Morning Safety Meetings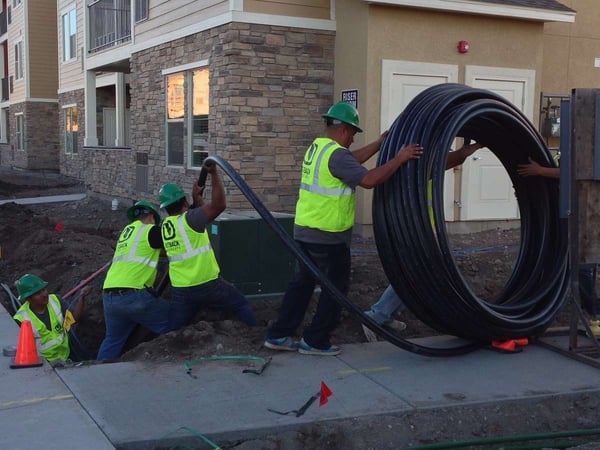 Every Monday morning begins with a safety meeting, highlighting a safety issue. Every employee signs in.
The topic might be roadway safety and the importance of using road cones.
It might be chainsaw safety, personal protection equipment or snow removal concerns.
Crews also discuss any safety issues pertaining to that day, from impending snow storms or lightning to unusual traffic situations — like the time solar eclipse watchers snarled traffic in town so much it was impossible for crews to maneuver to job sites.
Safety For Newbies
If you're new to Outback, don't expect to hop on a mower and hit the turf.
There's considerable training involved before you get behind the wheel of a mower, skid steer or other heavy equipment.
"There's supervised training in our equipment yard, training on the job site, and nobody operates equipment until their foreman is comfortable and has signed off on it," Coates says.
And More Training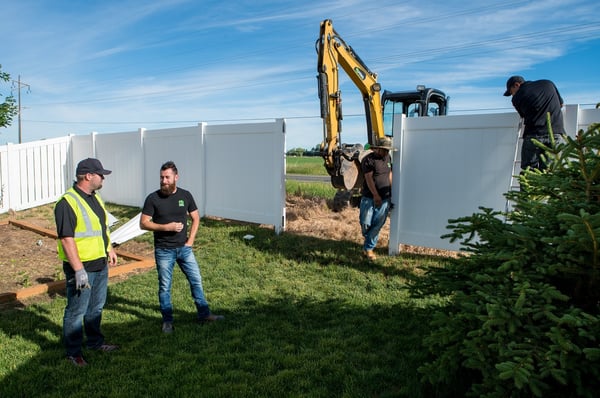 Crews get specific safety training in each landscaping task, from hanging Christmas lights on three-story houses to shoveling roofs to mixing pesticides.
The Importance Of Insurance
Outback Landscape carries specific insurance to cover all aspects of the work we do.
Not every landscaping company does.
"If your landscaper doesn't have the right insurance, the responsibility for any injury or damage falls to the customer," Coates says. "They might have an umbrella policy, but there are lots of loopholes. Be sure your company is covered for the specific tasks they'll be doing on your property. Or you could be blamed for any accidents."
Pesticide Safety
Outback has licensed pesticide applicators on staff, as required by the state of Idaho.
They wear safety equipment when they mix chemicals. They wear long pants and long sleeves when they apply them. And they test the wind speed at each individual property the day of application. If it's too windy, they reschedule the job.
Personal Protection Equipment
Safety glasses, ear protection and high visibility vests and shirts keep our crews safe on the job.
All our trucks are equipped with first aid kits, too.
Snow Removal Safety
Snow removal requires extra attention to safety details.
All our snow removal equipment has warning lights, so it's visible even in dark, blizzard conditions.
Our trucks are all equipped with GPS, so we know where everybody is at all times and can check on crews if we're concerned.
Sidewalk shovelers work in pairs, so there's no danger of someone slipping on ice, hitting their head and being unconscious alone.
We Keep You Safe, Too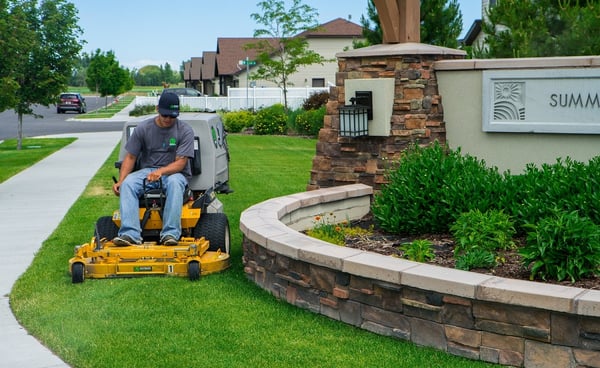 While the safety of our crews is a top concerns, so is the safety of our customers, their visitors and any passers-by.
When possible, we schedule our work early, before businesses open, so we're not trimming weeds or mowing near customers.
When pedestrians approach our crews, they pause their work until people have safely passed. We don't want our equipment to kick up rocks or other debris that could cause injuries.
Safety: A Top Priority At Outback Landscape
We're proud of the high quality landscaping services we provide and the high standards that drive our work.
But we're just as proud of how we keep our employees — and our customers — safe every day.
Landscaping accidents happen. But they happen less frequently when crews get comprehensive training, are vigilant about safety equipment and take extra precautions on the job.
Located in Idaho Falls, Idaho, we serve residential and commercial properties in Idaho Falls, Rexburg and Pocatello, Idaho, as well as Bonneville, Madison and Bannock counties.
Contact Outback Landscape at 208-656-3220, or fill out the contact form to schedule an onsite consultation.
We'd love to hear from you.