Whether you're looking to sell your home in the near future or just want to invest in your property, there are some landscaping renovation projects that can add real value.
But don't start making updates just for the sake of change: You want to be smart with all of your landscape enhancements so you can get a return on investment (ROI).
The landscaping projects should make your property worth more than the amount you spend on it. And if done correctly, you can add some real value to your home.
How To Get Your Money Back
Properly maintaining your landscape can contribute to 28 percent of your home's overall value, according to landscape economist John Harris.
Considering your outdoor area is the first thing people see, a little really can go a long way.
Some experts suggest spending 10-20 percent of your home's value on your overall landscaping, which can give you a ballpark of what's suggested. But, it's really more about making the right decisions with how you spend your money, instead of just a dollar amount.
Here are three landscaping renovation projects that will give you the best ROI.
Clean It Up
Seeing an overgrown, dull landscape can keep people from ever wanting to look at your house. It makes them think you property and home aren't well cared for and will take them a lot of time to maintain.
One of the easiest and most cost-efficient ways to add real curb appeal is by sprucing up what you already have.
You can do that by adding new mulch to plant beds, pruning trees and shrubs, killing weeds and removing any dead plants. It's amazing what a difference those small tasks can make.
Wood mulch costs $35 to $45 per yard, and premium mulches can be more like $50 a yard. The other activities will just cost you time and the tools, if you don't already have them.
Add Some Color
Eye-catching plants and curb appeal are pretty much synonymous. Colorful foliage will add lively charm and value to you property.
The cost for plants varies greatly depending on the type, size, age and availability. You could pay $20 or $30 for a small flowering plant or $180 to $250 for trees.
Just make sure you choose plants with the right sun, soil and water requirements for your landscape. If you don't, you'll be spending a lot of extra time and resources trying to keep them alive.
Bonus: You'll get even more ROI if you use native or adaptive plants in your design. These are more sustainable and will thrive better in our Idaho Falls conditions.
Native plants are expected to have an 86-percent consumer demand this year based on a survey from the American Society of Landscape Architects. People are looking for more sustainable and efficient options.
Create Backyard Wow Factors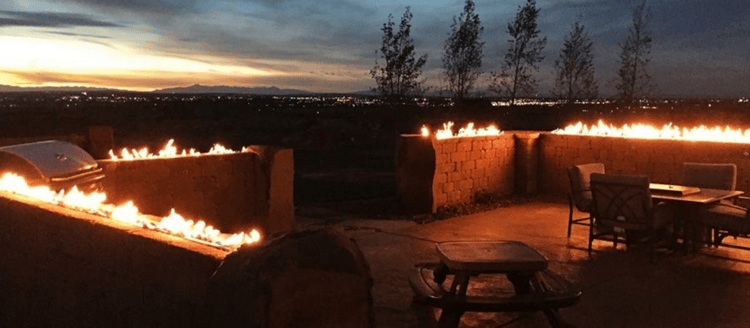 Visitors might not see your backyard right off the bat, but this space can make a great last impression that has them leaving on a high note — if it's designed correctly, that is. Give people something to talk about when they see your backyard and set your home apart from the rest.
Some of the biggest wow factors that bring the highest ROI are water, fire and hardscape features. Here are some of the most popular features to renovate your landscape (and add value):
Paver patio: $5,500-$20,000

Gas fire pit: $6,000-$15,000
Those are the prices to have the features professionally designed and installed. That takes out all of the guesswork on your side and ensures everything is done correctly from the start.
Remember: A poorly constructed feature can actually lower your property's value. It will look more like something the new owners will have to repair.
Increase the Value of Your Home with Landscaping Renovations
First impressions are everything, especially when it comes to your home. That's why realtors always tell you to paint your front door and enhance your landscaping.
Luckily with landscaping renovations, you can actually get back more money than you put in. And at Outback Landscape, getting you the most ROI is our goal.
We can add colorful plants, spruce up your foliage, design and install features, rid your lawn of weeds and add some major curb appeal. We'll also keep your yard looking great with regular landscape maintenance services.
Let our experienced team show you how to add lasting value with landscaping renovations.
Call us at 208-656-3220, or schedule a free consultation online.
Image: Weeds along sidewalk, ROI